Best Pen Gifts Under $50 - 2020 Gift Guide Pt. 1
Best Pen Gifts Under $50 - 2020 Gift Guide Pt. 1
What to get? What to get? What to get?
We've all been there - endlessly tapping and clicking through websites, Amazon, eBay, and other online shops to find the perfect gifts for friends and family. With virtually millions of options at your fingertips, how does one find a great gift?
If you're reading this, it's because you're searching for a writing gift - either for yourself or someone near and dear to you.
In this post, we're taking the guesswork out of gift-giving with the best recommendations in fine writing. Each post will tackle a price point (this one being $50 and under) and be split into three subcategories - gifts for the beginner, intermediate, and advanced.
Beginner Gifts Under $50
Beginners are usually young and use disposable or free pens to write by hand. They show an aptitude for study, reading, and creative pursuits, but just haven't been exposed to a quality pen. When introducing them into the world of fine writing, we focused on fountain pens as they provide the smoothest and most personalized writing experience. However, we didn't forget the trusty and convenient ballpoint/rollerball pen!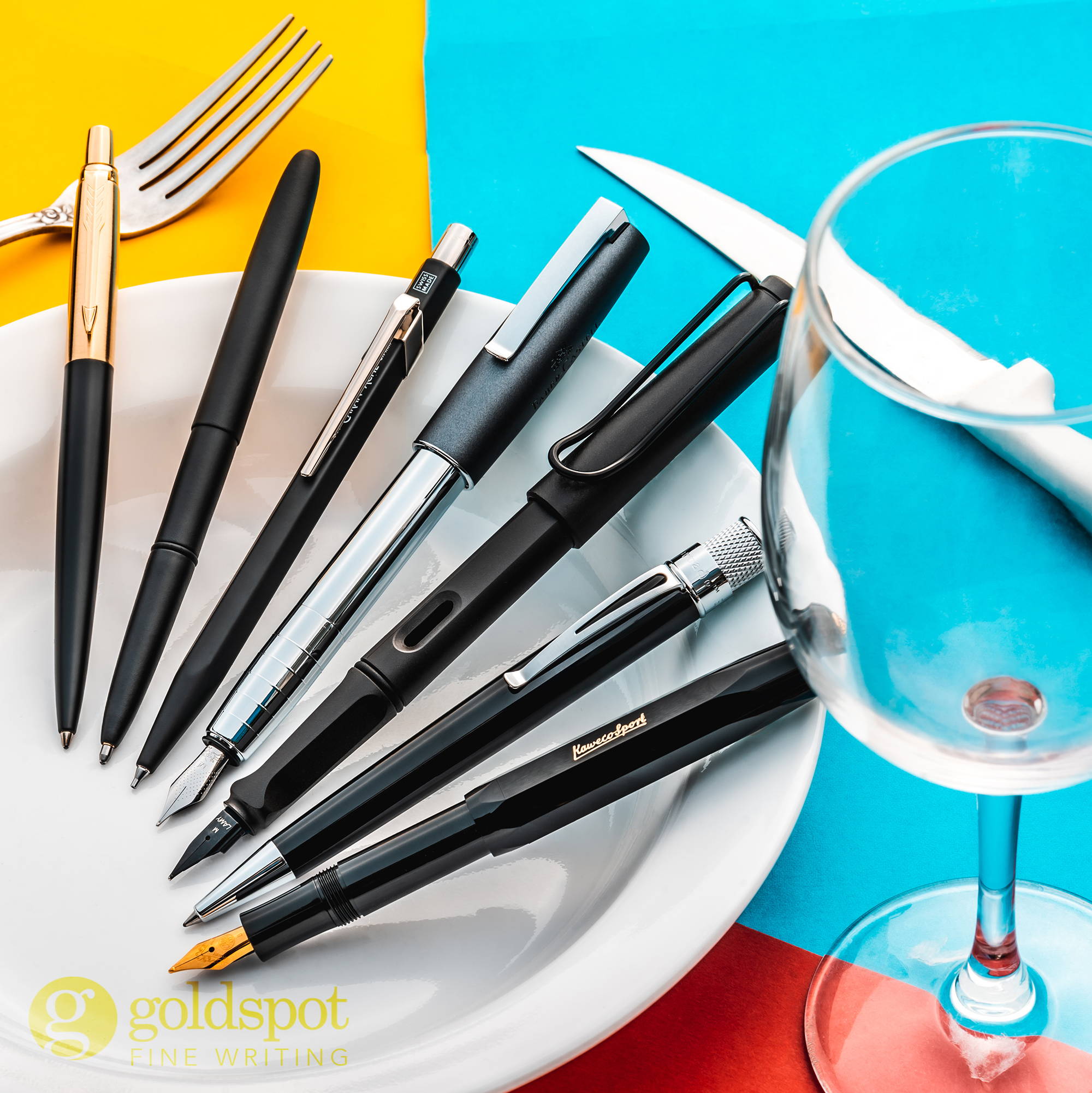 Pilot Metropolitan (starting $23.95) - One of the best value writing instruments with a classic, sophisticated flair, the Metropolitan includes an ink cartridge and converter to start.
Buy Here.
Lamy Safari (starting at $29.60) - Made in Germany from sturdy ABS plastic, the Safari has a contoured grip section to hold the pen properly. The barrel cutout makes the ink level visible.
Buy Here.
TWSBI Eco (starting at $30.99) - Detachable, piston-filling pen that provides all the enjoyment of owning a modern fountain pen at a fraction of the cost.
Buy Here.
Diplomat Magnum (starting at $21.60) - Despite the imposing name, the Diplomat Magnum is a slender, lightweight writing instrument with a contoured grip section and cut-out barrel ink window.
Buy Here.
Faber-Castell Grip (starting at $20) - Feel the writing comfort of this ergonomic, lightweight fountain pen. Fills using international ink cartridges or converter (not included).
Buy Here.
Retro 51 Tornado Rollerball Pens (starting at $20) - There's a Retro themed pen for everyone, including history buffs, aerospace enthusiasts, science, sports, animals lovers, and more. The twist-action pen writes with a fluid capless rollerball ink and can also use the ubiquitous Parker-style ballpoint refill (sold separately).
Buy Here.
Fisher Space Pens Bullet Pen (starting at $22.95) - The Fisher Space Pen is engineered to be used in space with the patented pressurized ballpoint refill. The pen writes upside down, underwater, and in extreme temperatures. The Bullet is pocket-friendly, utility-driven, and fun to personalize with our in-house engraving services.
Buy Here.
The most underrated and overlooked aspect of a quality writing experience is the paper. Especially when it comes to slinging fountain pen ink, paper quality is crucial for optimal performance. We select only the best brands that use fountain-pen-friendly paper. A small notebook or pad will show the novice just how important good paper is to their overall writing satisfaction. The best part is, it won't cost that much and you could easily add it to your gift as a stocking stuffer.
Shop our selection of paper notebooks, journals, pads here.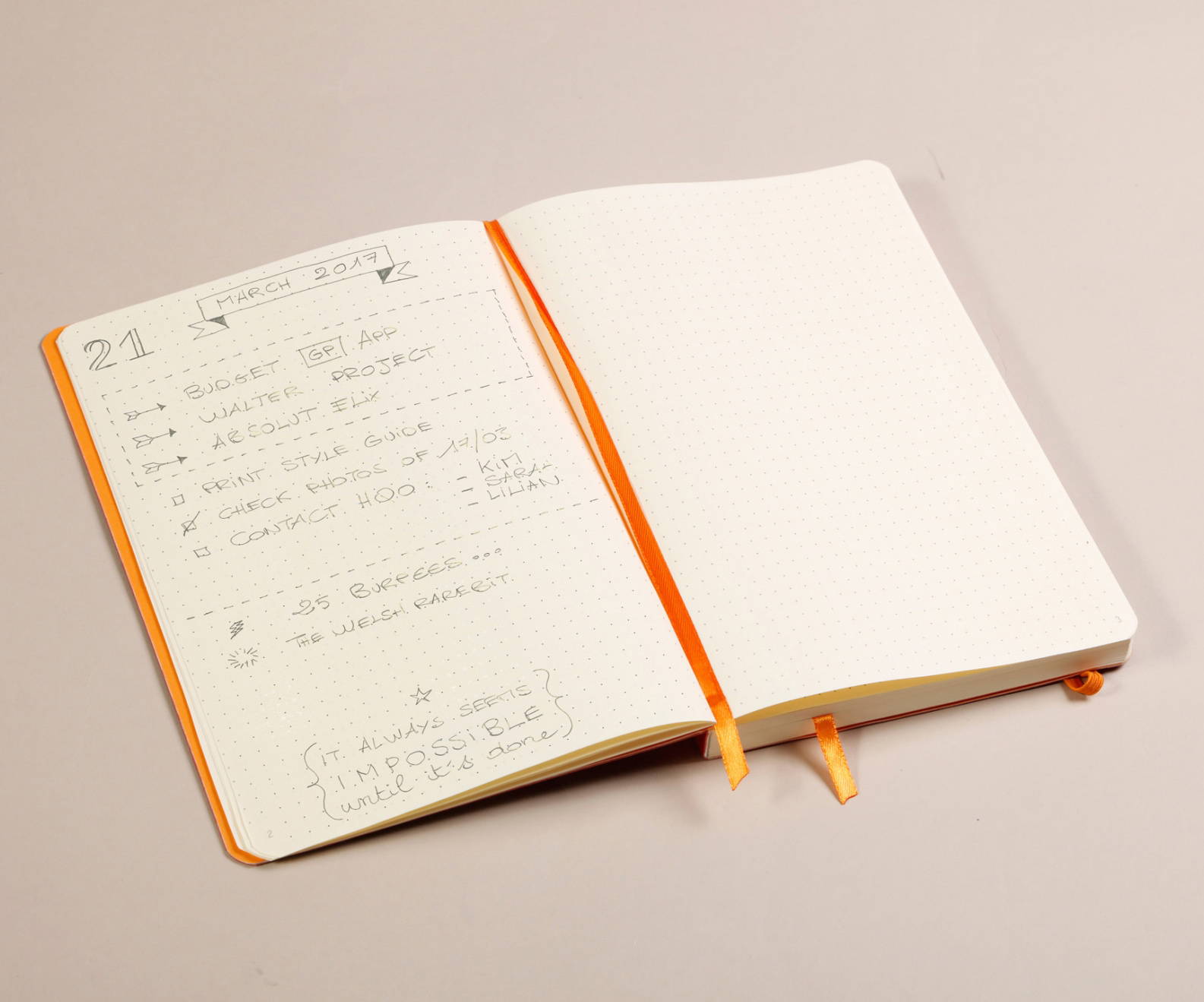 Intermediate Gifts Under $50
Intermediates look to graduate to the next level of writing instruments by opting for higher quality, becoming more selective in their preferences. In this selection, we highlight writing instruments that provide a unique writing experience and require a more experienced hand to fully appreciate.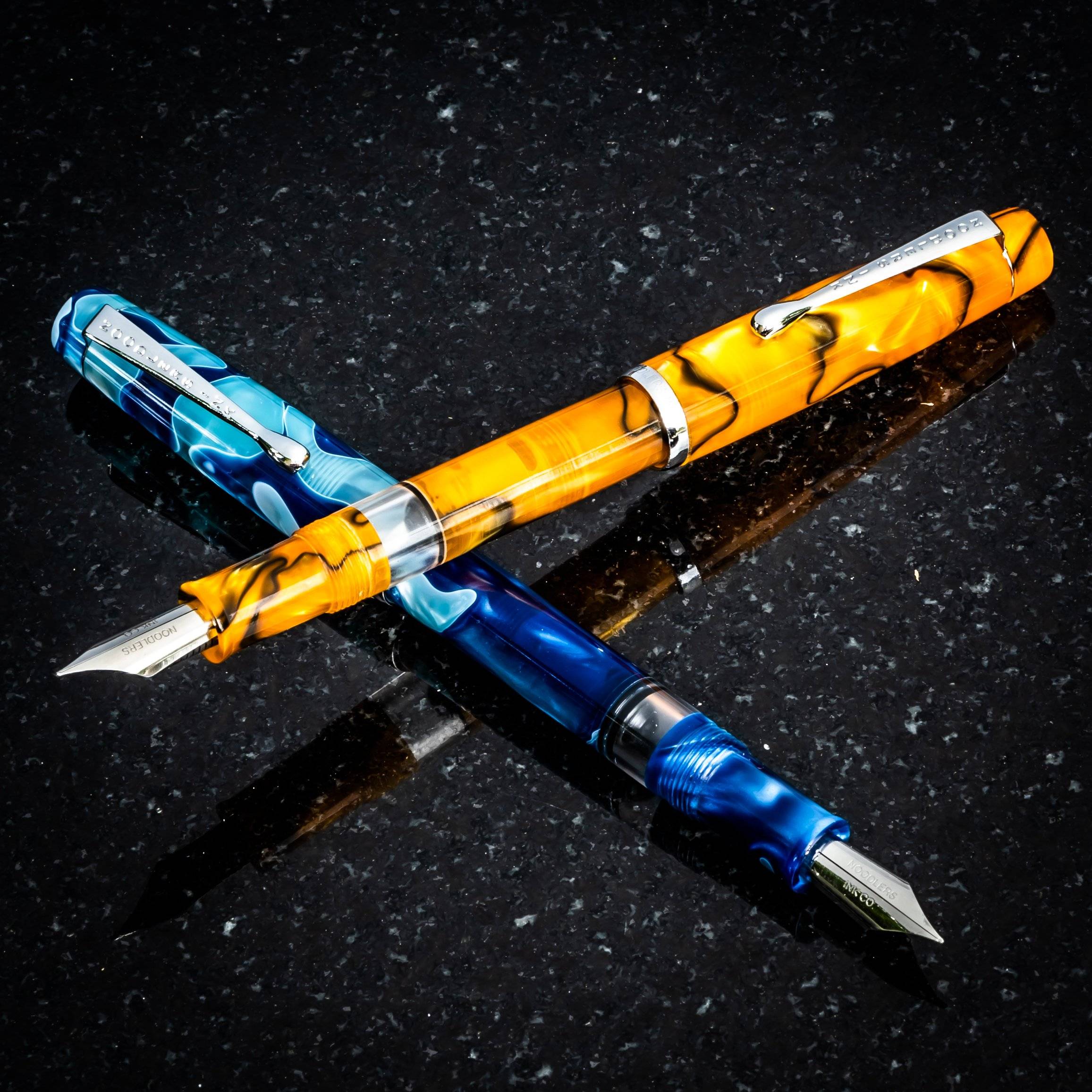 Noodler's Konrad Acrylic Flex Nib (starting at $40) - A flexible nib fountain pen provides line variation for pointed pen calligraphy or a flourishing handwriting style like Spencerian or Copperplate. Unfortunately, the best flex nib pens tend to be quite expensive and rare (vintage pens have some of the best "wet noodle" flex nibs). To get started with a budget flex nib, writers flock to the affordable Noodler's Ink fountain pens. However, the Noodler's steel flex nib is considered a "tinkerer's pen." For optimal performance, the Konrad requires some experience with nib alignment and heat-setting a nib and feed. We suggest opting for the more expensive acrylic version versus the $20 vegetal resin because most take offense to the vegetal resin's smell.
Buy Here.
Pilot Parallel Calligraphy Pens ($10 each, $24.95 for the set of 4) - In contrast to the swells and flourishes of pointed pen writing, the Pilot Parallel pen is ideal for writing italic, blackletter gothic, roman, and uncial, etc. These inexpensive pens have a broad, flat edge in four thicknesses - 1.5mm, 2.4mm, 3.8mm, and 6.0mm. Just like the Pilot Metropolitan, the Parallel uses Pilot's proprietary ink cartridge or convert to using bottled ink with a CON-40 converter (sold separately). Each pen includes basic instructions and two ink cartridges in different colors.
Buy Here.
Kaweco Sport with a calligraphy nib (starting at $32) - The pocket-friendly Kaweco Sport is beloved for its compact size, ruggedness, and utility. Add to it a calligraphy style, stainless steel nib and you have an everyday carry (EDC) pocket fountain pen that is capable of adding flair to your everyday handwriting. Their stub nib sizes start at 1.1mm and go up to 2.3mm or a fascinating Bock "Twin" Shadow nib. The Sport fills with international ink cartridges, Sport converter, or can be converted to eyedropper.
Buy Here
Advanced Pen Gifts Under $50
Advanced users add to their pen and ink collection throughout the year, purchasing new releases and limited editions they've had their eye on. It might appear they have it all. But, as we prove in our recommendations, there's always room for a delightful surprise.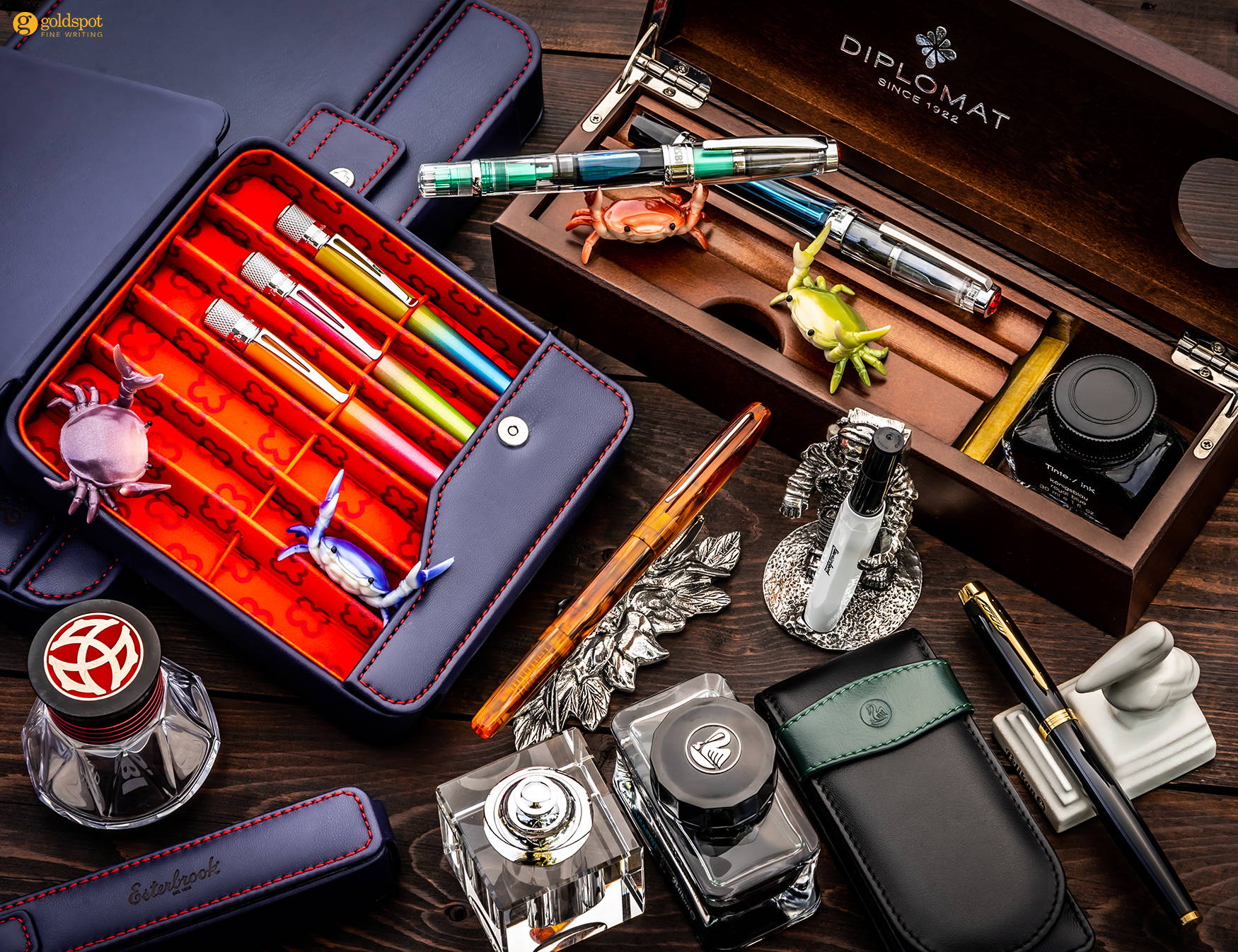 Pineider Pen Filler Inkwell ($19.95) - Fill pens on the go and avoid inky fingers using the nifty, portable Pineider Pen Filler. It holds 10ml of ink and securely attaches to most pens, preventing any leakage while filling.
Buy Here.
TWSBI Diamond 50 inkwell (starting at $25) - While this ink well does work best with TWSBI fountain pens, it makes filling all fountain pens easier. A Diamond 580 or international converter can attach to the adapter top. The inner reservoir cup makes it easy to access ink as the level gets lower. The faceted glass bottle makes the ink inside look beautiful.
Buy Here.
Laban Pen cases (starting at $14) - A quality writing instrument has the ability to last a lifetime, if not longer. That is, if you take good care of it. Put them in a sturdy Laban pen case. Made from a synthetic, leather-look material, these cases look luxurious without the luxury price. Available in single, double, and triple pen capacity sizes.
Buy Here.
Pen Stands (starting at $7.95) - Upgrade your desk or "WFH" setup with pen stands to proudly hold and display your favorite workhorse pens. Stands vary in material and price, ranging from $7.95 for the adorable, PVC crab pen holders to $50 for the pewter Buddha from Jac Zagoory.
Buy Here.
Summary
As you may have noticed in the above recommendations, a fine writing gift doesn't have to be expensive and you can gift the writer in your life with a full solution including pen, ink, and paper for less than dinner and a movie.
If you have a great fine writing gift idea under $50 that we missed, put it in the comments below. We'd love to read all your thoughtful suggestions.
Stay inky, my friends. Take care.