Lamy Safari vs. Pilot Metropolitan Fountain Pen
It's a skirmish of the starter fountain pens!
In this post, we are pitting the Lamy Safari versus the Pilot Metropolitan in an all-out war of the written word. Which pen will win this decade-old rivalry? Let's find out!
Many pen enthusiasts start their journey into fountain pens with either one of these pens. They're both affordably priced under $30 USD, have dependable stainless steel nibs, and easy-to-use cartridge/converter filling systems. For a first-time experience, you really can't go wrong with either pen.
However, most pen fans prefer one pen over the other for a variety of reasons we will discuss below.
Let's break down the comparison into several key categories: Pen Design, Size Specifications, Pen Materials, Nib, Filling Mechanism, Writing Performance, Styles Available, What's Included, and Price.
While you're here, you can enter for a chance to win your choice of a Lamy Safari or a Pilot Metropolitan fountain pen by entering in our giveaway. Earn additional entries by completing the simple tasks on the giveaway form on this page. We will randomly select winners on March 1st, which is about when we expect the new Safari Terra Red and Savannah Green to arrive.
Deadline for entries is February 28th, 2021.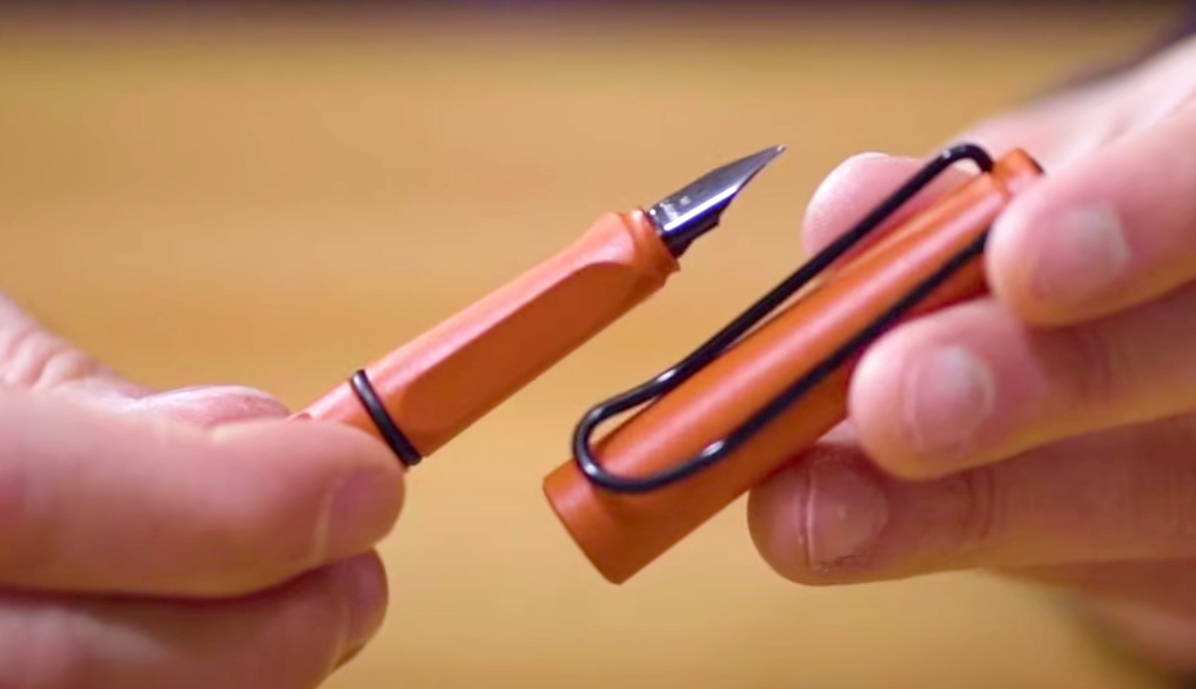 Pen Design

The Lamy Safari has a cylindrical, flat-top design with a big u-shaped wire clip, ink window, and a contoured grip section. The Pilot Metropolitan has a more classic, cigar-shape profile that has a streamlined look. Both pens have a snap cap that can be posted on the back of the pen while writing.
Lamy Safari Specifications:
Pen Length (Closed): 5.5 in. / 139.5mm
Pen Length (Open, cap off): 5.1 in. /128.5mm
Pen Length (Open, cap posted): 6.5 in. / 164mm
Total Weight: 0.6 oz / 17g

Pilot Metropolitan Specifications:
Pen Length (Closed): 5.4 in. / 137mm
Pen Length (Open, cap off): 5 in. / 137mm
Pen Length (Open, cap posted): 6 in. / 155mm
Total Weight: 0.93 oz / 26.4 g
Pen Materials
The sturdy Safari has a body and cap made from injected ABS plastic. The only metal parts on the pen are the wire clip and the stainless steel nib. The Pilot Metropolitan has a heavier feel with a lacquered metal body, metal tension-fixed clip, and stainless steel nib.
Nib
Both pens have a reliable and durable stainless steel nib with an iridium ball fused to the tip. The Safari and Metropolitan nibs are proprietary to their manufacturers and are made in Germany, and Japan, respectively. The Lamy LZ50SL nib can be purchased separately in a wide range of nib sizes (EF, F, M, B, LH, 1.1mm, 1.5mm, and 1.9mm) and can be swapped on any Lamy Safari, Nexx, AL-Star, Studio, Accent, and CP1 fountain pen.
The Pilot Metropolitan nib is available in F, M or a 1.0mm stub. It is also possible to exchange them between a smaller variety of Pilot fountain pens, namely the Kakuno, Plumix, and Prera models. The Metropolitan nib unit is not available for sale separately.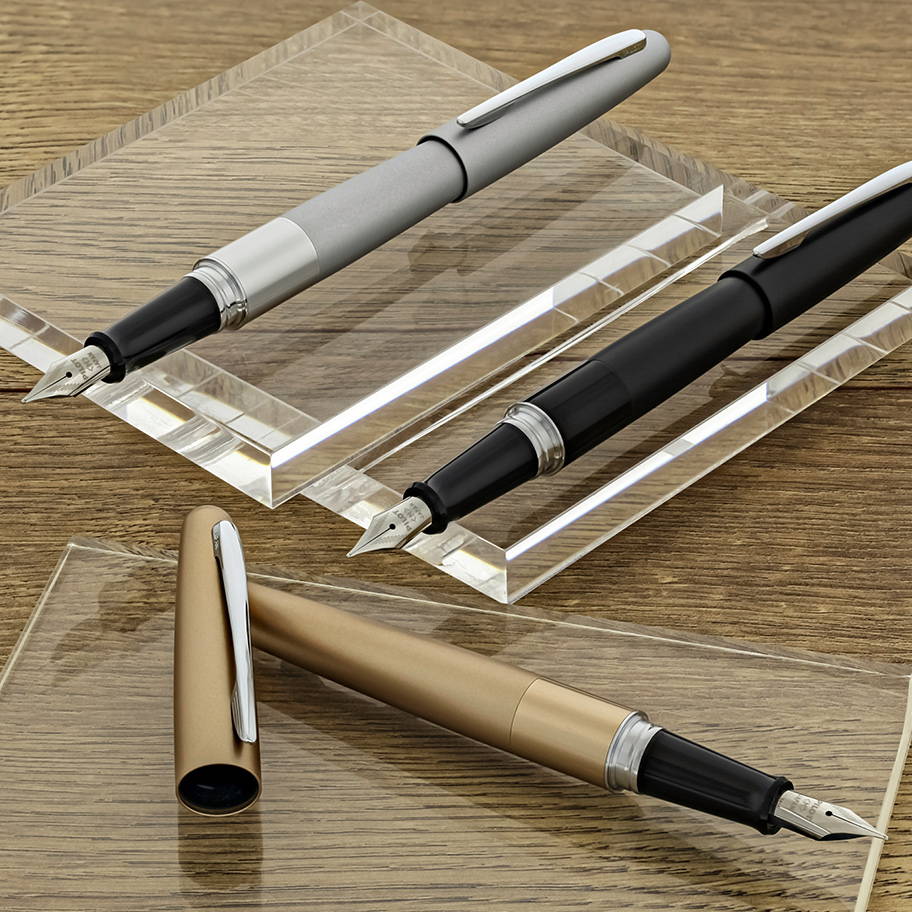 Filling Mechanism
Both pens use the accessible cartridge/converter filling system that offers the convenience of "plug and play" disposable ink cartridges or a refillable converter to use with bottled fountain pen ink.
Lamy includes an LT10 blue ink cartridge to start. An LZ28 converter is available for purchase separately and is not included with the purchase of Safari or AL-Star fountain pen.
Pilot includes both a Pilot ink cartridge as well as a CON-20 aerometric squeeze converter with the purchase of any Metropolitan fountain pen. If you prefer using a screw-type converter, the Metropolitan is also compatible with the CON-40 converter, sold separately.
Styles Available
Since its introduction in 1980, the Lamy Safari has a core lineup of everyday colors plus a rainbow of yearly special editions since 2008. In 2021, Lamy revamped the first two colors of the Safari collection in the Terra Red and Savannah Green. Discontinued and special edition styles become collector's items, appreciating in value over time.
The Pilot Metropolitan launched in 2012 in a set of three conservative colors - black, gold, and silver. Since then, the Metropolitan expanded to 14 colors, including the bold "Retro Pop" styles that debuted in 2015. No new styles were introduced in the last 5 years.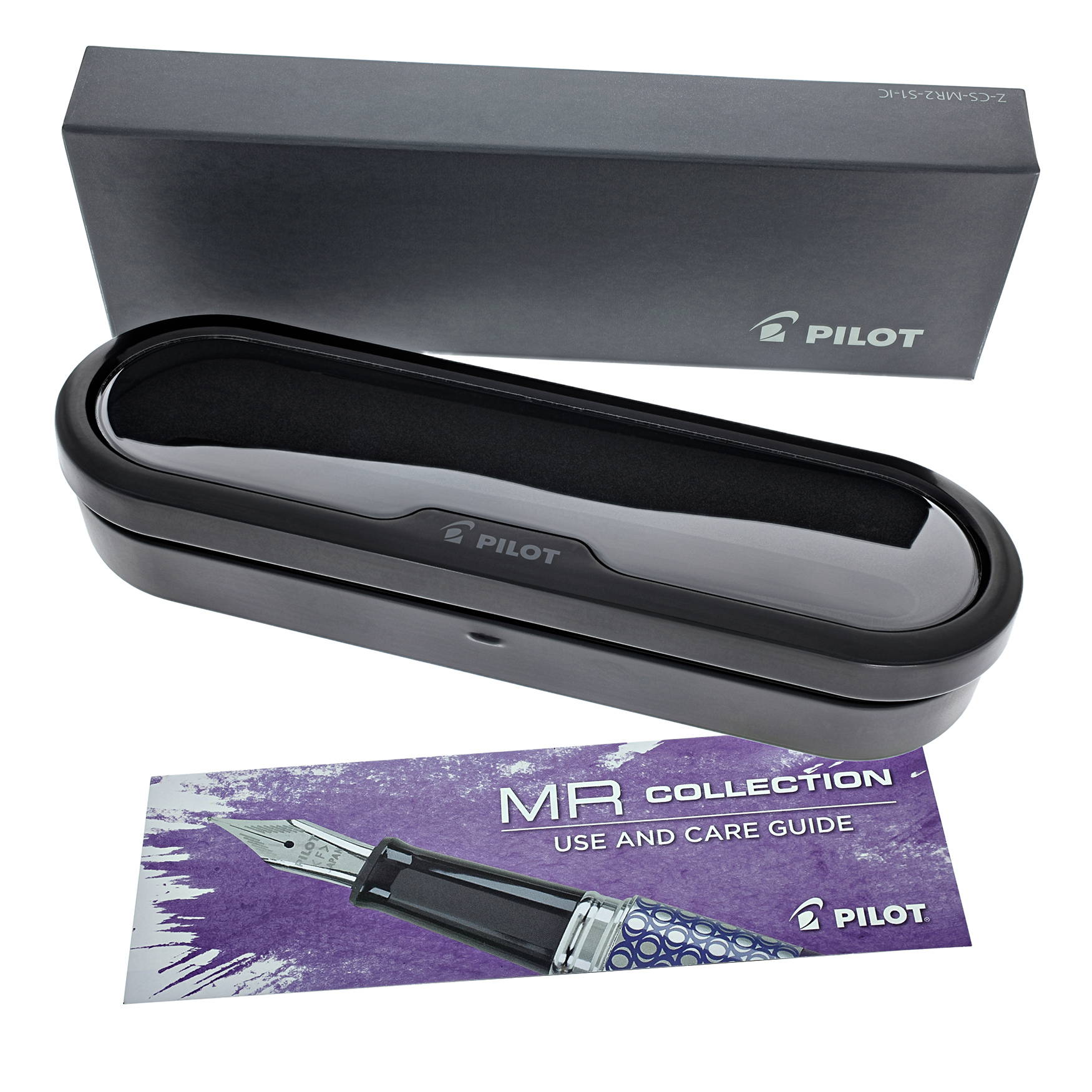 What's Included?
True to its Bauhaus, minimalist roots, the Lamy Safari arrives in an austere cardboard rectangular box tube with a cutout design. The pen is clipped onto a cardboard insert. A retainer ring on the section threads prevent the included blue ink cartridge from being pierced.
The Pilot Metropolitan arrives in a plastic clamshell gift box with a window top that allows you to see the pen and ink cartridge resting on a foam insert. A use and care guide gives you quick, easy-to-follow instructions on how to fill your new pen.
Price
Lamy Safari - $39 Retail, $29.60 "street" price.
Pilot Metropolitan - $29.99 Retail, $19.00 "street" price.
Both pens are affordably priced with quality packed into every dollar spent. However, the Pilot Metropolitan is clearly a winner here with a significant difference in price.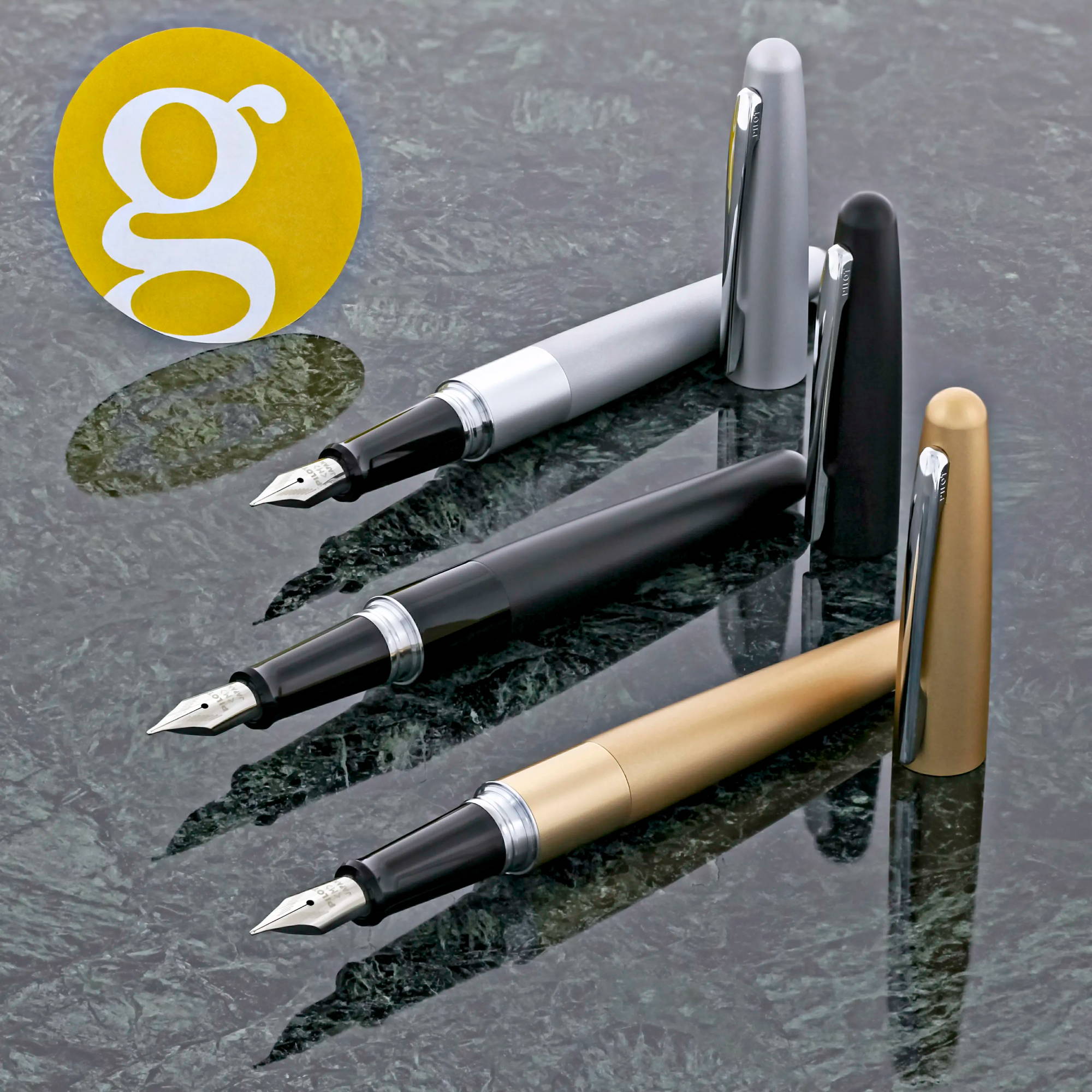 With a lower price point, inclusion of a converter, and the heft of a metal-bodied design, the Pilot Metropolitan wins in overall value, providing a fancy writing experience at an outstanding price.
Despite not having the elegant appearance and feel of a Pilot Metro, the Safari does have an edge in utility with its large nib selection, replacement nibs, virtually unbreakable wire clip, ink window, and contoured grip section.
The series collectibility is the x-factor in this matchup. The Metro seems to have stalled in the production of new colors and styles after the Retro Pop collection dropped in 2015. Lamy continues to renew interest in the Safari year after year with new special editions and region-specific exclusives.
Personally, when I started writing with fountain pens, a blue safari in extra-fine was my first refillable fountain pen. It's a pen I still use today when I want to write with something that I don't mind getting knocked around. So, when people ask me which pen would I choose to start in the world of fountain pens, I would usually recommend the Safari unless they were looking for a more traditionally-styled pen design.
Ultimately, it doesn't matter what I think. It matters what YOU think. Which pen won this contest? The Lamy Safari or Pilot Metropolitan. Let us know in the comments below!