Personalized Pens and Gifts for Writers
Personalized Pens and Gifts for Writers
"Can I borrow your pen?"
This innocent question can cause a jolt of anxiety or, at least, some hesitation for the person being asked. Will the borrower return your pen in the same condition? Will they be clumsy and drop it? Will they actually return it at all?
For people who carry disposable, freebie pens (like the ones you used to get at the bank) - you might not care if you get it back. On the other hand, you have a special connection with a particular writing instrument, lending that pen might feel like sending your child off with a stranger.
Having your name engraved on the pen shows everyone that THIS IS YOUR PEN. This pen means something to you. There is no debate that the pen is clearly yours. Who should the borrower return it to when finished? YOU! By engraving your pen, you are ensuring it is not forgotten in someone's desk drawer, or worse, ends up in a landfill.
For most people, a pen is a pen. We "pen people" know better than that. Writing with a luxury pen can make you feel special. Much like driving a Mercedes would make you feel versus driving a Hyundai. While a Mercedes is beyond the means of most people, we all like to add personal touches that can make even a Hyundai feel special. The same is true for pens.
Personalizing a pen for yourself, makes the pen unique, no matter how common the pen may be. It is your special pen - no one else's. Adding your name engraved on the pen makes it all the more special not only to you, and can leave an impression on anyone who may ask you to sign a document, or ask to borrow your pen.
Since fountain pens became commercially available in the early 20th Century, they've been given as gifts for special occasions. Christmas, Mother's Day, Father's Day, weddings, and graduations are a few of the occasions when pens are gifted. Corporations give pens with their company logos to key employees and valued clients. Whatever the occasion, pens make meaningful gifts. Adding a personal touch to a gift adds a sentimental value that goes beyond the actual cost of the pen.
When you gift a personzlied pen, you show the receipient that you respect their intellect, accomplishments, and status. Whether it marks a special occasion, or is simply a "just because" gift, the engraved pen becomes a keepsake treasured for years, if not a lifetime.
While most other items we possess will break or become obsolete in the matter of years (think about your mobile phone or car), a fine pen from our selection at Goldspot will endure for decades. Many of the pen brands we represent have a lifetime mechanical warranty and dedicated repair centers to ensure your writing instruments continue to function as productive, creative tools. Below, you'll find our top picks that make great personalized pen gifts, as well as some recommendations on engraving etiquette.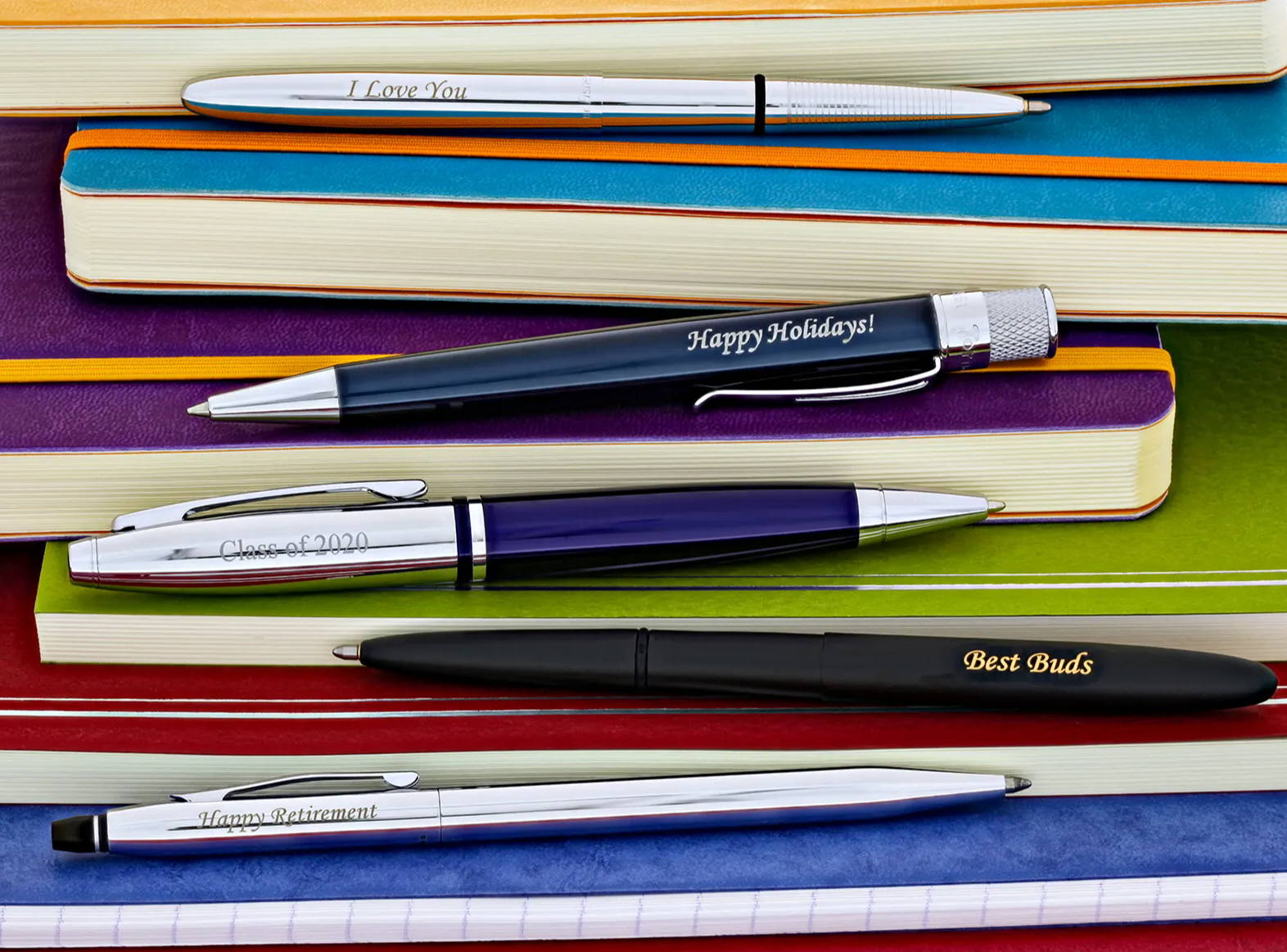 Top 10 Best-Selling Personalized Pens
There are over 1,000 pens that we can engrave in-house at the Goldspot Pens store. Here are our top 10 personalized pens.
The Parker Jotter Ballpoint Pen (starting at $9.95) is one of the most classic examples of pens that have stood the test of time. This click-action retractable pen has the iconic Parker "arrow" pocket clip, signifying quality and excellence for over 100 years.
The Retro 51 Tornado Classic Lacquer Rollerball Pen (starting at $24) is available in a wide range of lacquered colors over a tapered, stainless steel base. The knurled twist-top mechanism deploys a rich, capless rollerball ink cartridge that is also compatible with a Parker-style ballpoint refill.
The Fisher Space Pen Bullet Ballpoint Pen (starting at $25.50) can write upside-down, in extreme temperatures, and in zero-gravity - all thanks to to the patented pressurized Space Pen refill. The compact size of the Bullet pen makes it a convenient pen for carrying around everywhere you may travel - even space!
The Pilot Metropolitan Fountain Pen (starting at $18) is one of the best, most affordable, starter fountain pens we recommend for newbies. Thanks to its metal base and lacquer finish, it engraves beautifully.
Cross Calais Pens (starting at $17.60) have a wider, cigar-shaped barrel with a significant weight and feel in hand. Cross combines polished metal and rich lacquer to produce a pen with a professional look.
The Swiss-made Caran d'Ache 849 Ballpoint Pen (starting at $19.95) has a familiar, hexagonal shape that looks like a #2 woodcase pencil. The push-top mechanism deploys the smooth, long-lasting "Goliath" ballpoint refill.
The Cross Classic Century Ballpoint Pen (starting at $40) is a popular choice for professionals in finance, health care, and real estate. The Classic Century's slim profile has a elegant appeal that hasn't lost its shine in over a century.
The Lamy AL-Star Fountain Pen (starting at $37.60) is a modern, Bauhaus-inspired writing instrument available in a wide array of contemporary finishes. The AL-Star pairs perfectly with the Apple iPhone aesthetic.
The Cross Click Ballpoint Pen (starting at $18.90) is a 21st Century take on the classic, slim profile ballpont pen. These click-retractable ballpoint pens are available in an array of bold, colorful styles.
Edison Fountain Pens (starting at $169) are made in the USA from beautiful acrylic resin and are a perfect example of a high-end, quality fountain pen.
In the image above, you'll find the four most common engraving font styles we use. While we do have an expansive font library (yes, including Comic Sans), not all fonts are suitable for engraving. If you have a specific font request for your pen, you may write it in the order comments. We will try our best to accommodate your request. But, be sure to have one of these four choices as a backup option in case we cannot use the specified font.
Pen Personalization Etiquette 101
Goldspot customizes most pens with initials, full name, business logo or a short message. We encounter a number of creative requests on a daily basis, most of which we can oblige easily. If you're looking for a proper personalized pen, there are a few tips we can offer to help guide you in your selection.
Long name? Go for Initials : On most pens, we can engrave an average of 15-20 characters (including spaces) on the pen. A monogram (three initials for the first, middle and last name) would be more appropriate for longer names.
Pick a font style that suits the person / pen : If the item has a modern look like a Lamy, go with a sans-serif font like "Block." For a more classical pen like an Parker Jotter, a serif font like "Times New Roman" would be more appropriate. See font style samples above.
To Period or Not to Period : From our 15+ years of experience with personalizing gifts, we have seen both ways where our customers request a period after initials, but they are usually omitted by 70% of our customers.
The Phrase that Pays : We've done a large number of small phrases and messages on pens, and they are exceptionally effective at conveying a sincere, intimate message to the recipient. Try to keep the phrase under 20 characters. If it is over, and our website is not accepting the limit of characters, please do include the message in the "Special Instructions" section of our order form. Sometimes, we can accommodate a larger message in two lines or by including an engraved plate with the pen box.
Try Dating : If you're celebrating a significant milestone like a wedding, graduation or retirement, personalizing the item with the date of the event would be a great idea.
Please note that there are some items that we do not engrave due to the material, pattern or manufacturer's recommendations. If an item is deemed not engravable we will get in touch with you to discuss alternative options. We will also reach out to you if there is an issue with your request being able to fit on the item properly. To help with your search, we've made a hand-picked list of engraved pens and gifts that are recommended by our staff.
Unless otherwise specified, these personalized / engraved items are not returnable nor refundable after service has been completed. 
Customized Pens for Businesses and Special Events
Gifting a fine pen speaks volumes about your corporation and brand. It is a functional calling card that reminds your VIP clients and employees that you invest in building value and cultivating long-lasting relationships. Our pen selection is a step above the promotional pens given away at a trade show. We customize high-quality pens sure to make an impression on the people they are given to.
Communicate your brand's value by putting your logo on a pen. There is no minimum to place an order with a logo, so you can order in any quantity you desire. Whether you're a small business looking to reward your employees or a Fortune 500 company giving gifts to your best customers, we can scale a solution to meet your needs. Our in-house engraving department is perfectly capable of handling pre-production samples and quantities up to a certain size. Our network of trusted vendors can take care of the large-scale orders.
For inquiries over $500, we would recommend for you to contact us directly. Please indicate which item(s) you are interested in personalizing, the quantity, desired delivery date and your company contact information. A knowledgable and courteous member of our Goldspot Team will contact you promptly with a quote.
Getting it correct the first time is our top priority. We provide digital proofs upon request for larger quantities to ensure proper placement and treatment of your logo. For an additional cost, an engraved sample can also be arranged prior to the full production run.
Emblems and Other Pen Personalization
Pens can also be adorned with a clip emblem. Most Cross writing instruments can be customized on the clip, crown or cap with a die-struck emblem or custom imprint. This method may cost more than traditional laser or etch engraving. Depending on the manufacturer, there may be an order minimum for emblem personalization.
Color screen or pad printing can be a viable option to match the colors of your company logo. Order minimums would apply for any screen or pad printed products. To obtain a price quote for these options, please contact us to reach our corporate concierge team.
If I placed an order with engraving today, when can I expect it?
While most items on our website are in stock and ship within 1-2 business days, personalized pens do take additional time. Since Goldspot has an in-house engraving department, there is minimal delay. Most personalized pens are engraved and shipped within 72 hours of placing the order. For larger corporate orders of 20 pens or more, additional time might be needed to properly set up, provide digital proofs, and quality-check each item. If you have a time sensitive order, please make sure to indicate your need-by date in the order comments or contact us after placing the order.