by Priya Mehra
Feb 15, 2022
Best Luxury Ballpoint Pens of 2022
When it comes to ballpoint pens, most people are accustomed to hurriedly grabbing the nearest one from the bank or the grocery store, and just going about their day. Ballpoint pens are not typically something of style and sophistication, but they certainly can be. There are countless ballpoints that serve luxury and glamour, and they don't even have to sacrifice practicality to do it. If you're interested in some pens with pizzazz, check out our picks for the top luxury ballpoint pens of 2022.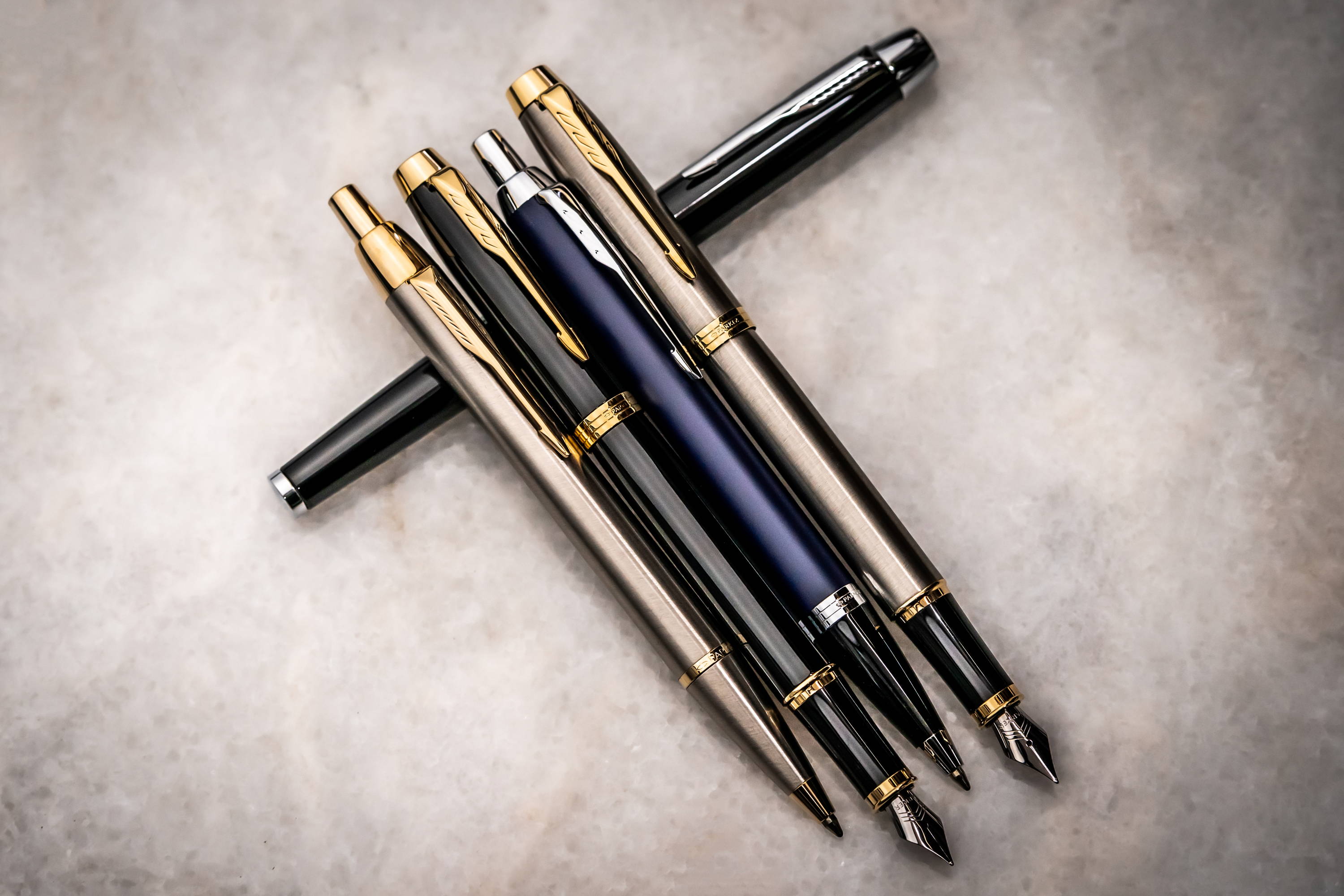 Best Affordable Ballpoint Pen - Parker IM
Parker has a long history of making quality ballpoint pens, so naturally, the Parker IM is a must-buy. It is incredibly affordable, but it has the feel and style of a much more expensive luxury pen. The IM notoriously features a classic solid-colored barrel with a glossy or matte sheen, making it appear gracefully simple. It also features a metallic gold or chrome trim which offers a beautiful contrast to the texture of the barrel. In addition, the Parker IM is available in a variety of different colors, as well as minor variations on the same classic style. The IM's selection of colors are chic and muted, making this a phenomenal choice for professional environments. This pen's wider barrel size makes for a comfortable grip and a pleasant writing experience. Parker IM is a great introductory ballpoint pen to the world of fine writing, a great pen to add to a collection, or just a great all-around practical and polished pen.
Best Fashionable Ballpoint Pen - Visconti Van Gogh
Visconti is notorious for their stunning designs and textures, so naturally, the Visconti Van Gogh ballpoint pen is a beautiful pen to behold. It features a swirling acrylic resin barrel inspired by Van Gogh paintings, complemented by polished metallic chrome accents throughout the pen. The colors this pen is available in are all bright and eye catching, but at the same time appropriate for formal and professional environments. The barrel of the pen is subtly faceted, making it appear sharp and stylish in a strikingly Visconti way. The swirl colors and patterns are distinct on each pen, so your particular Visconti Van Gogh is unique to its owner. The way these details work together and build off of each other is what makes this pen in particular so magnificent, and it certainly deserves a place in any writer's hand.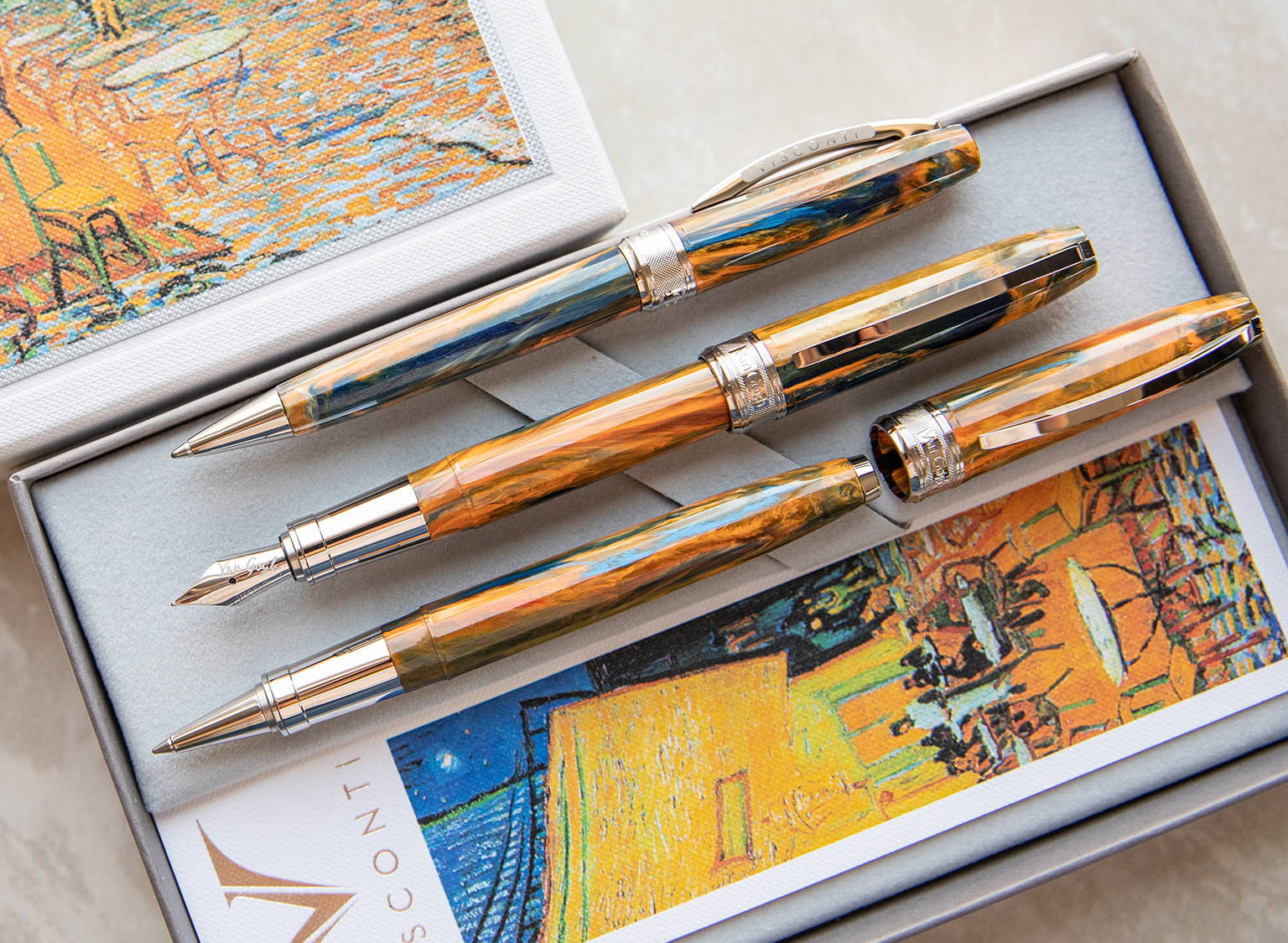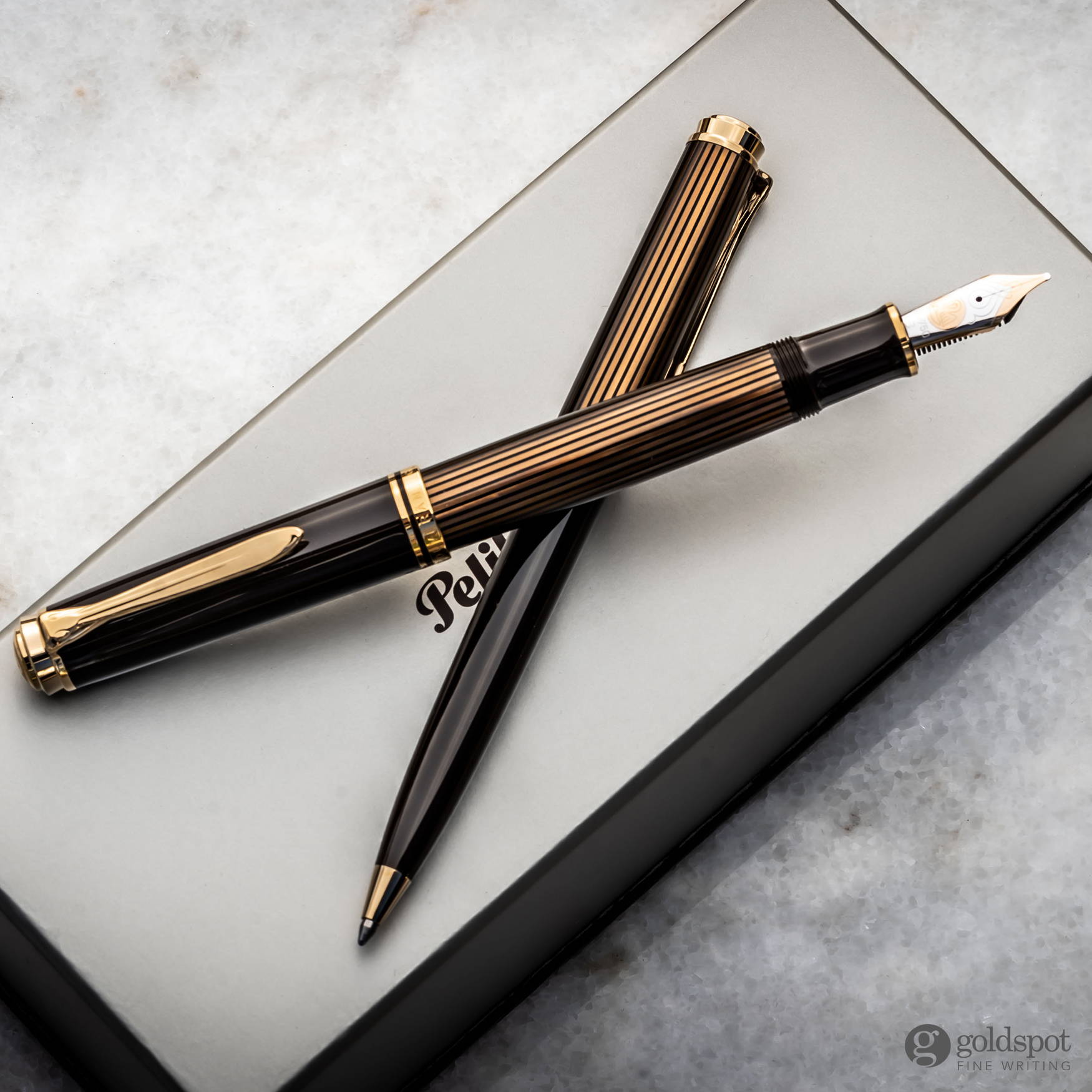 Best Customizable Ballpoint Pen - Pelikan Souveran
Anyone struggling to find the perfect pen for their own personal taste and style should set their sights on the Pelikan Souveran. With their wide array of luxurious color combinations and their elegant, glossy finish, the Souveran truly has something for everyone. Further, the Souveran ballpoint is available in a variety of models, including the 400/405 collection, the 600/605 collection, and the 800/805 collection. Each of these collections offers different sizes and styles of the Souveran, the smallest being the 400/405 and the largest being the 800/805. This is especially unique because the writer not only has a choice of the pen's color, but also its overall structure! If you prefer a narrower, more petite pen, you'll likely gravitate towards the 400/405 collection, but if you enjoy more broad, overstated pens with a good grip, the 800/805 collection is perfect for you. Beyond just the pen's available styles, you can also rest assured that all versions of the Souveran are expertly crafted and write beautifully and consistently. With this broad, but not too overwhelming array of options, the Pelikan Souveran is indeed a pen as unique as its writer.
Best Ballpoint Pen for Drawing: Caran d'Ache 849
If you're looking for a stylish, sleek, and well made pen to draw and doodle with, look no further than the Caran d'Ache 849. This pen has long been a Goldspot favorite, and for good reason. Its reliably consistent ink flow, as well as its quick-drying ink, makes it ideal for sketching. The slim barrel and elegant chrome clip make it ideal for drawing in detail and also make it easy to travel around with. The 849 also features a clickable retraction mechanism, which makes it incredibly convenient, since there is no need to keep track of any stray caps! The sharp hexagonal lines of the barrel also make this pen a chameleon for any occasion - not too overdressed for signing receipts at the grocery store, but also just formal enough to bring along to a professional meeting. And to make it more personal, the 849 is available in a wide variety of colors, to suit any preference or occasion. Caran d'Ache is one of the best brands for ballpoint pens, so artist or not, getting your hands on the 849 is an absolute no-brainer.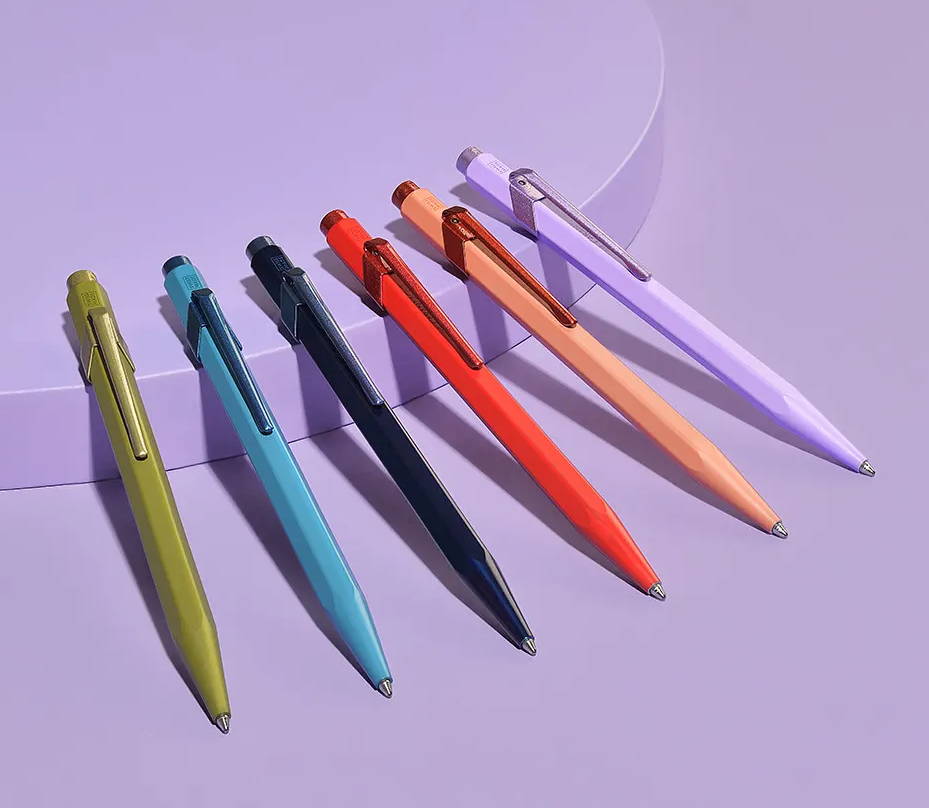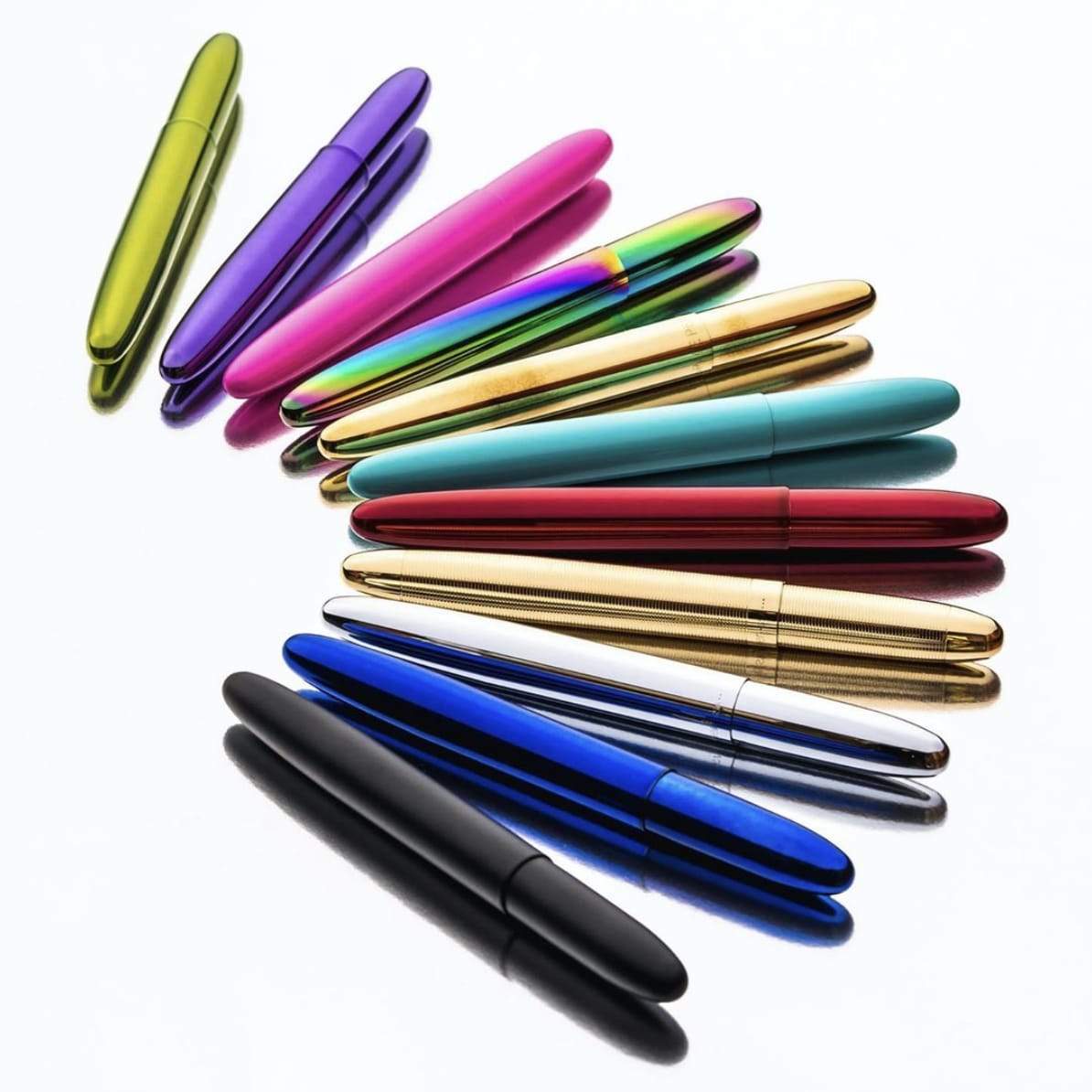 Best EDC Ballpoint Pen - Fisher Space Pen Bullet
This compact, everyday carry ballpoint pen is well-traveled. In the 90's, the Bullet Pen saw the bright lights of Hollywood when it was featured on the hit sitcom television show Seinfeld in an episode called, "The Pen." Fisher Space Pens have also accompanied astronauts on numerous space missions. These pens have gone where few humans dare to go. More importantly, they are built for anywhere you go.
Fisher's patented, pressurized ballpoint refill allows for consistent ink flow in zero-g environments. In most cases, it means you can write upside down, underwater, or in extreme temperatures. Bullet pens will perform when most others fail. Take them with you on a hike, camping trip, excursion to the ends of the Earth, or up in Jeff Bezos' rocket ship. Wherever you roam, a Fisher Bullet Pen can tag along to record the journey.
While the pressurized refill gets most of the fame and accolades, the minimalist design of the Bullet pen should also receive kudos. The pen has a hearty brass base lacquered in a wide array of colors and finishes. If you looking for a pen that patinas with age, you can get one in raw brass. If you can't decide on one color, go with the vibrant rainbow titanium nitride.
The Bullet pen's long cap fits deep over the tapered body, compacting to a mere 3.7 inches (93.98mm) in length when closed. Pulling off the cap to write with the pen, you can post it on the back to extend the pen length to a comfortable 5.3 inches (134.6mm). Although this is a pocket pen that can easily accompany your other EDC gear, the pen provides a full-sized writing experience.
Best Ballpoint Pen for Comfort - Sensa
Take one look at a Sensa pen and your fingers will immediately want to grab the pen's unique, squishy grip. The patented Plasmium gel grip is preferred by pen enthusiasts who struggle with arthritis, carpal tunnel, and other types of hand pain. The gel grip is firm, yet yielding to gentle finger pressure. If you tend to grip your pen hard enough to develop calluses, the Sensa's soft grip will be a godsend.
In 2019, Sensa introduced their lineup of lacquered ballpoint pens in a variety of colors with matching chrome appointments and knurled twist-top. These classic ballpoints are refillable with the ubiquitous Parker-style type ballpoint refill cartridge.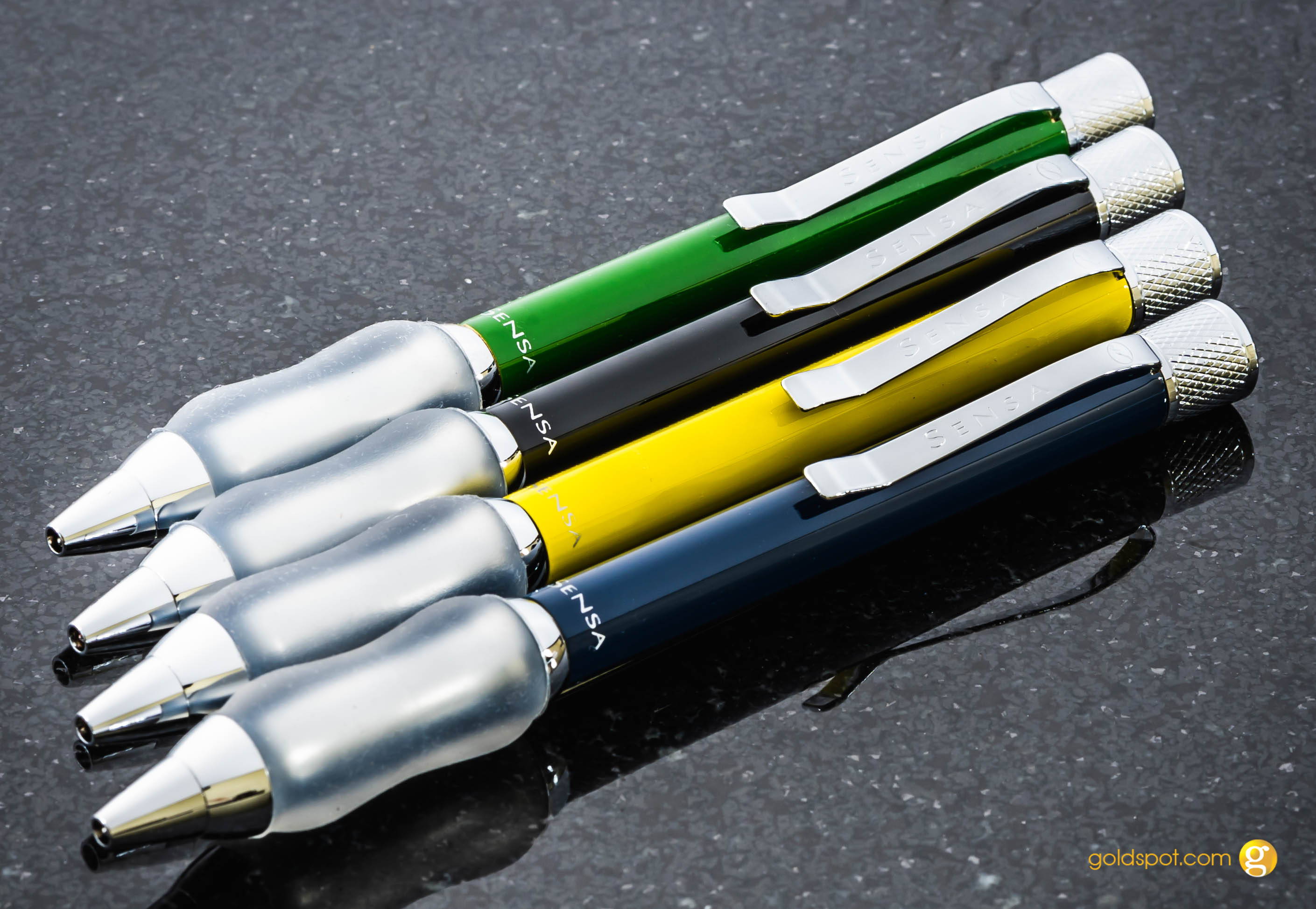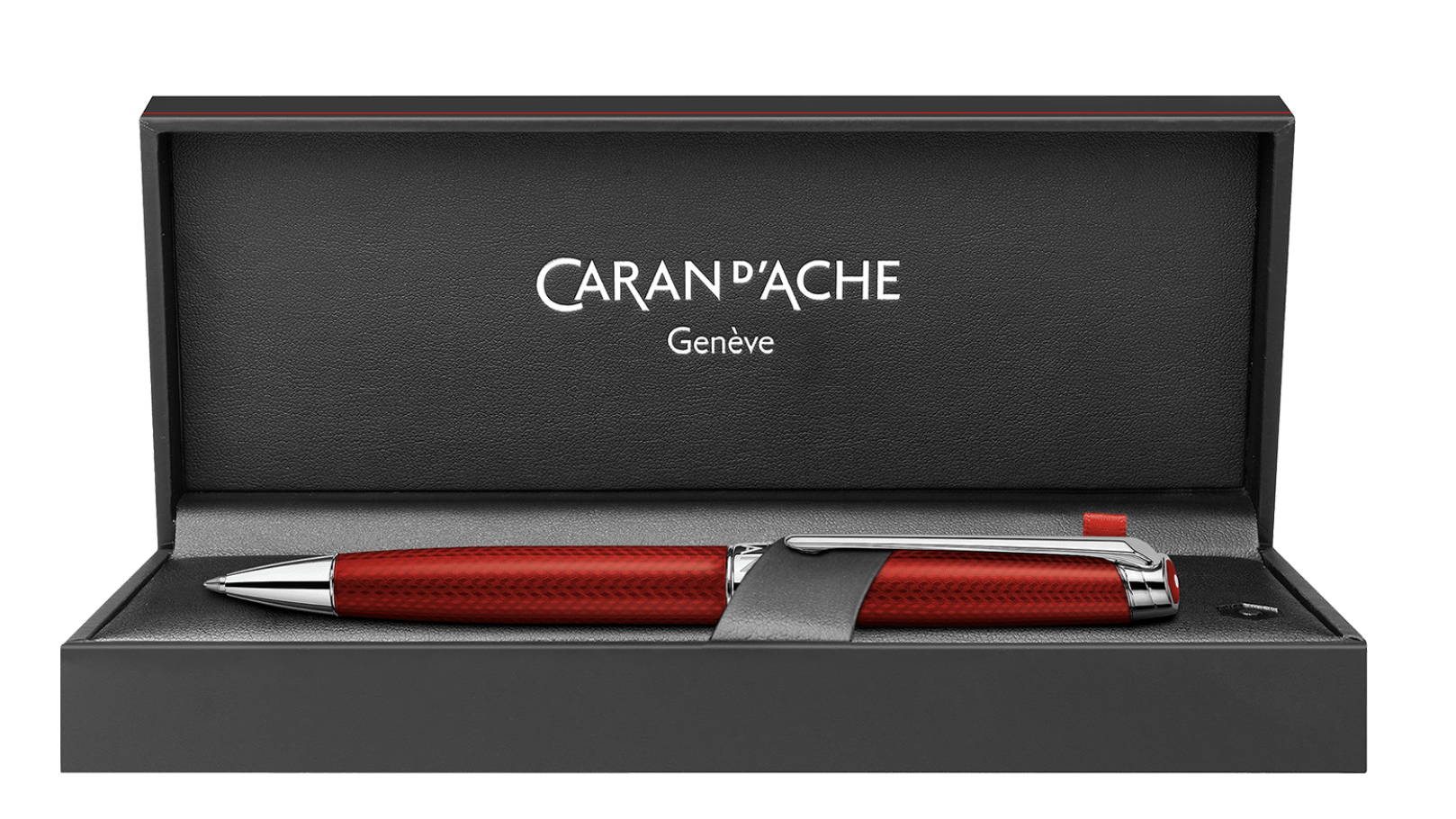 Best for Ballpoint Pen for Gifts - Caran d'Ache Léman
For a classic, polished design in a well-crafted pen, the Caran d'Ache Léman is the perfect choice. This pen is truly the pinnacle of fine writing elegance, with its glossy lacquered finish throughout the barrel and cap. It features tasteful chrome or gold colored accents which perfectly complement all of the rich and vibrant colors that this pen is offered in. The solid colors featured on the pen and its relatively slim shape make it elegantly understated, ideal for any writer who wants a luxury pen without it being too showy. It is also incredibly practical, as it includes a stylish chrome clip and a twist-action retraction mechanism, making it ideal for on-the-go use. And as can be expected of Caran d'Ache, it writes comfortably and fluidly across paper, making for an enjoyable writing experience. This is a wonderful gift item for special occasions, as its classic design ensures that it will undoubtedly be loved by anyone and everyone.
Best Overall Ballpoint Pen - Parker Jotter
No list of "the best ballpoint pens" would be complete without the Parker Jotter. This pen is a pioneer in ballpoint pen history, blazing the trail for the retractable ballpoint that we all know and love today. It was an instant hit when it was first released in 1954, and continues to be a popular favorite amongst both pen lovers and casual pen-users across the globe today. Its sleek, slim barrel and fashionable chrome or gold trim accents makes it immediately clear why this pen is so beloved. And while it is incredibly affordable, its elegant craftsmanship and beautiful design puts it in league with much more expensive luxury ballpoint pens. But regardless of its elevated status, writing with a Jotter feels homely and familiar; its smooth and consistent inkflow feels like a classic ballpoint pen. It is for this reason that the Jotter is among the best pens for casual writing and even artwork, and a great starter pen to introduce yourself to the fine writing world. Truly, because of its history and renown, as well as its beauty and quality, every pen collection should include a Parker Jotter.