Alternatives to buying a Mont Blanc
"Montblanc." Even saying the name feels like someone will ask for a royalty fee to speak it. The German writing instrument manufacturer grew to a worldwide lifestyle luxury brand status synonymous with prestigious names like Rolex, Cartier, and Tiffany. Ask a non-pen person what's a fancy pen they've heard of and they will invariably say "Montblanc," or the "one with the snowflake on top." As one would expect of a household luxury brand name, Montblanc pens can be prohibitively expensive. In this post, we'll take a look at which pens you can buy instead of a Montblanc. The idea is to obtain a world-class writing experience without the over-inflated brand value.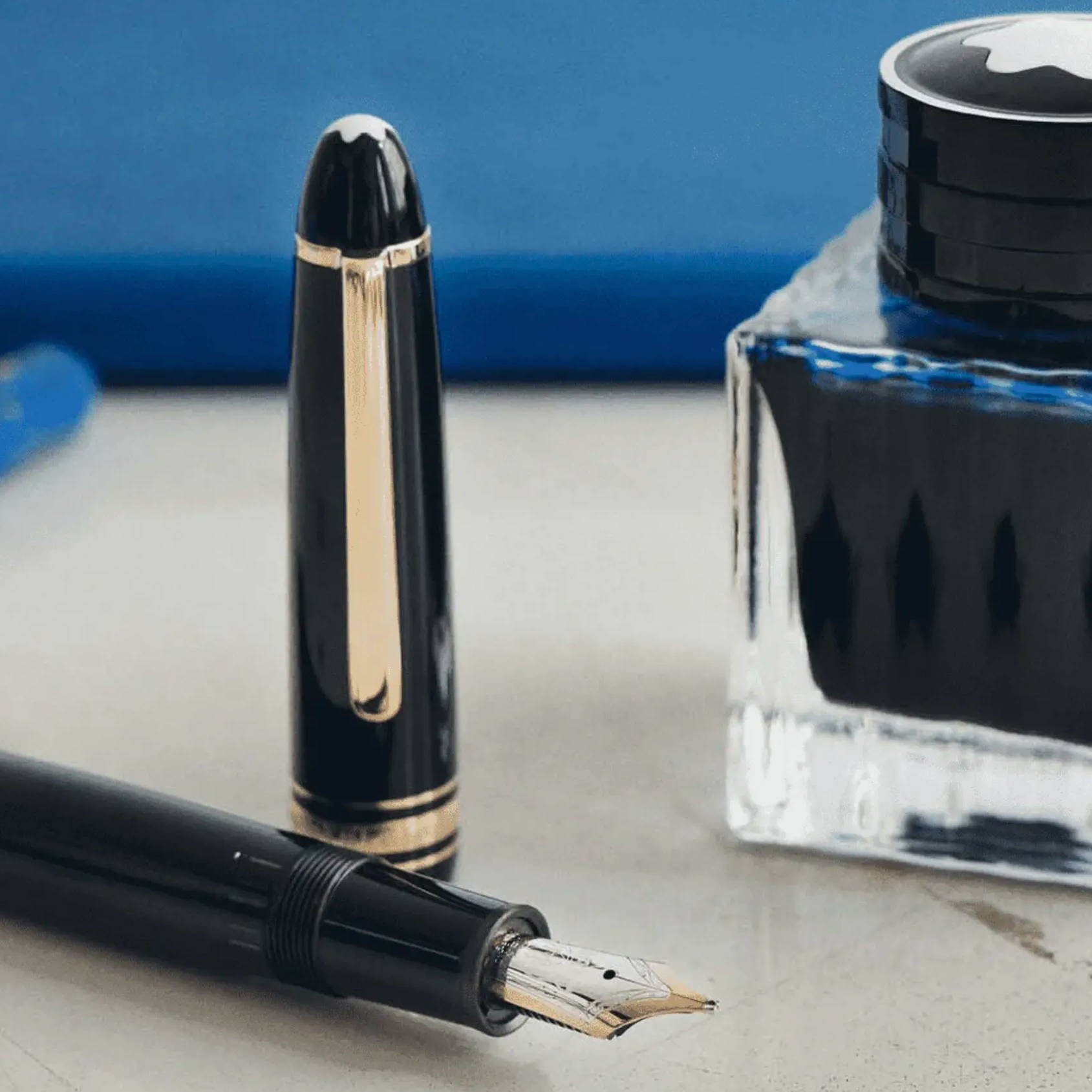 To recommend an alternative to a Montblanc pen is to understand why one buys a Montblanc pen. For some, there is no alternative to the white snowflake; only a Montblanc will do. These recommendations are not for those people. In this list, we will recommend pens that provide the following qualities:
Brand heritage
Founded in 1906, Montblanc has a long history and reputation that spans generations. They aren't the oldest in the business - that distinction goes to another German brand, Faber-Castell. What most pen enthusiasts look for is a decades-long history of excellence in manufacturing. A brand's story is as important as the products they produce.
A formal, professional look
A "classic" Montblanc Meisterstück 146 or 149 is the quintessential boardroom pen crafted out of resin in a cigar-shaped profile with polished metal trims. This style is often imitated by various brands, and we'll highlight pens that are most similar in visual appeal.
Exquisite writing ability
A premium writing experience is at the heart of any luxury pen. Montblanc's nibs have a reputation for being smooth, supple, and overall fantastic writers. We'll explore pens with excellent writing ability that is either on par or better than Montblanc.
Montblanc alternatives under $100
Pilot Metropolitan
The Pilot Pen company started in 1918 and developed a reputation for producing pens of exceptional reliability at all price points. Pilot/Namiki handpainted Maki-e limited editions are worth thousands of dollars. Yet, the company also produces excellent, entry-level writing instruments like the Pilot Metropolitan.
The Metropolitan (also known as the Cocoon or MR outside of the USA) is one of the best-value fountain pens you can find under $30. Yet, it can still appeal to those with refined tastes thanks to its elegant style and metal base construction. The tapered, streamlined profile has an anodized finish in several colors, including classic black, gold, or silver.
The Metropolitan is at the top of many lists as one of the best-writing fountain pens under $50. The Japanese-made, stainless steel nib provides an excellent writing experience for beginners and seasoned pen enthusiasts. Would you notice the difference in writing with a Pilot Metropolitan and a Montblanc? Sure, you could tell. It's also easy to see the drastic price difference. If you are looking for a Montblanc under $100, a Metropolitan fountain pen will give you the brand pedigree, the refined elegance, and the reliable writing ability at a fraction of the cost.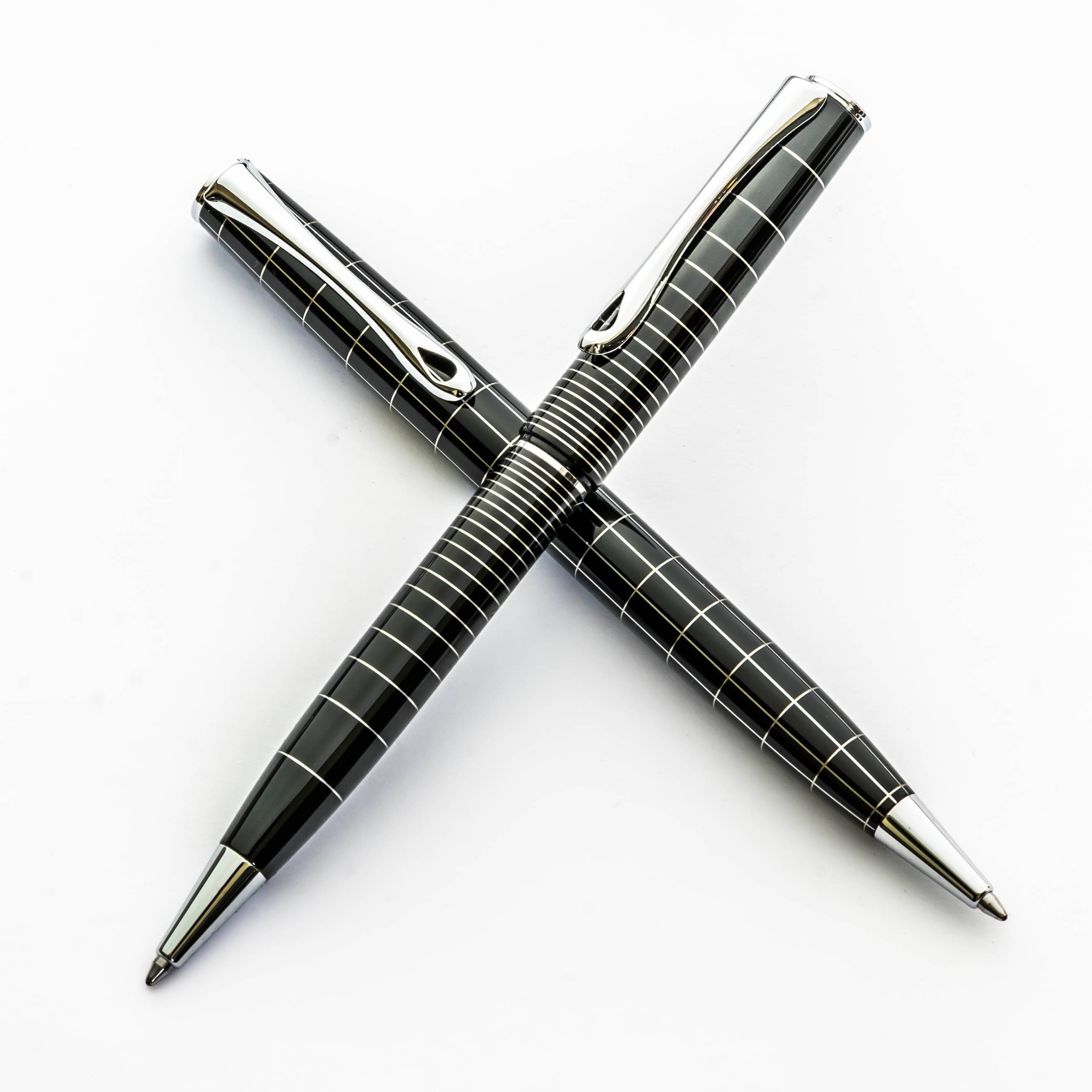 Diplomat Optimist
Established in 1922, the Diplomat Pen Company shares the same country of origin as Montblanc with almost a century of manufacturing experience. Diplomat pens have a sterling reputation for quality resulting from their time-tested, traditional methods.
The Diplomat Optimist pen has the classic appeal of a formal writing instrument with strong, architectural lines and a striking contrast of black lacquer and chrome finishing. It has the "look" of a Montblanc at a fraction of the price. But, does it write like one?
The cartridge/converter filling Diplomat Optimist performs admirably with a number 5 sized stainless steel nib made by Jowo (Germany) fine-tuned and tested by Diplomat's artisans. Its performance is wet, smooth, and has a bit of springiness for a steel nib.


Montblanc alternative under $200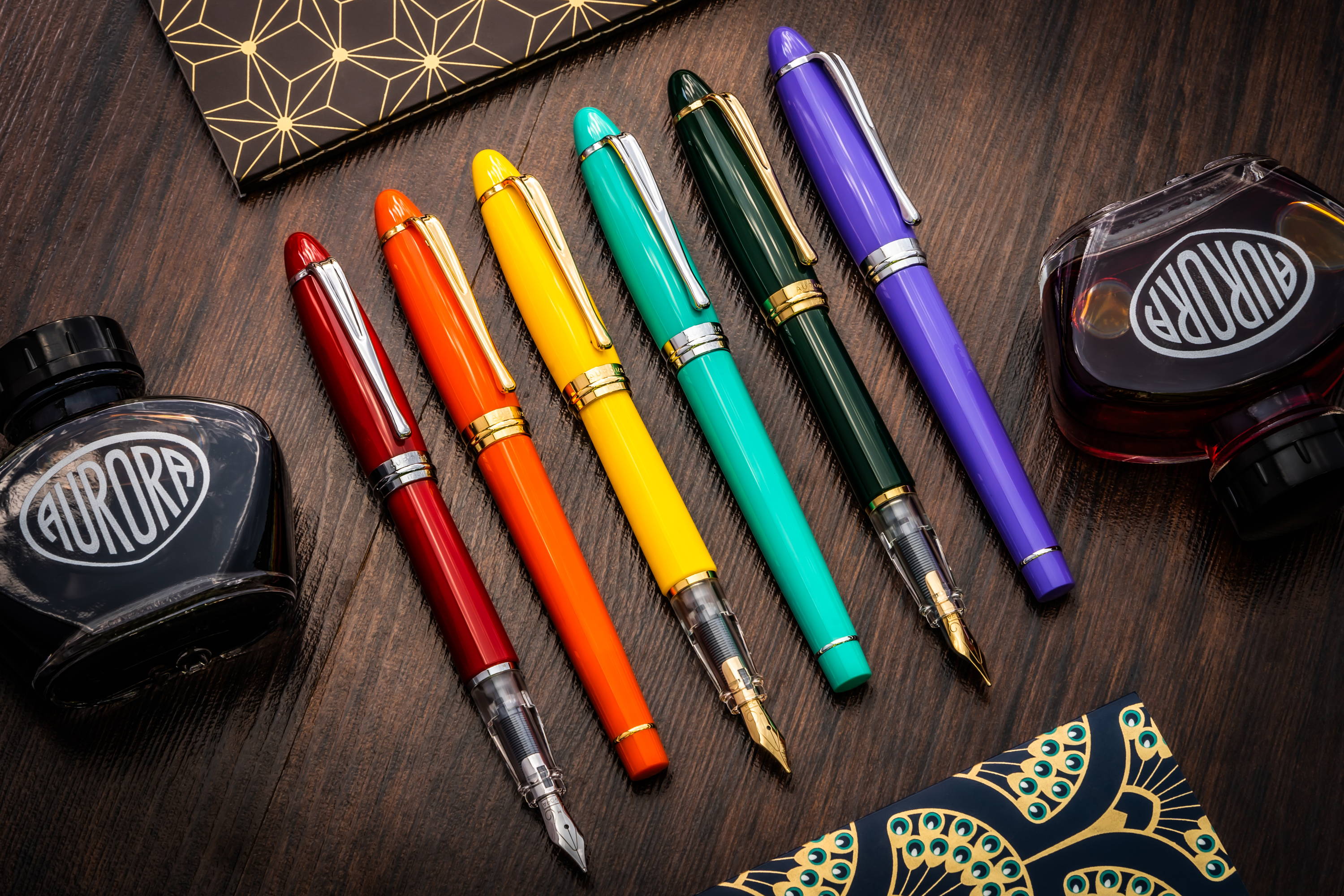 Aurora Ipsilon
The internationally renowned Aurora Pen Company began in Turin, Italy back in 1919. To this day, it is still a family-owned business that operates its own factory. Even their nib production, which many other pen companies will outsource (often to Jowo or Bock), is manufactured entirely in-house.
The Aurora Ipsilon has the luxury touches that raise the status of this everyday writing fountain pen. Besides the formal black and gold trim, the Ipsilon fashions a colorful array of lacquers, resins, satin finishes, and metals to this design. This pen makes a statement that fits your unique tastes.
The Aurora Ipsilon's writing experience is tailored to satisfy the persnickety pen enthusiast. Aurora manufactures their nibs with strict adherence to quality control standards. The Ipsilon's steel nib performs admirably, bringing plenty of value for the pen's sale price.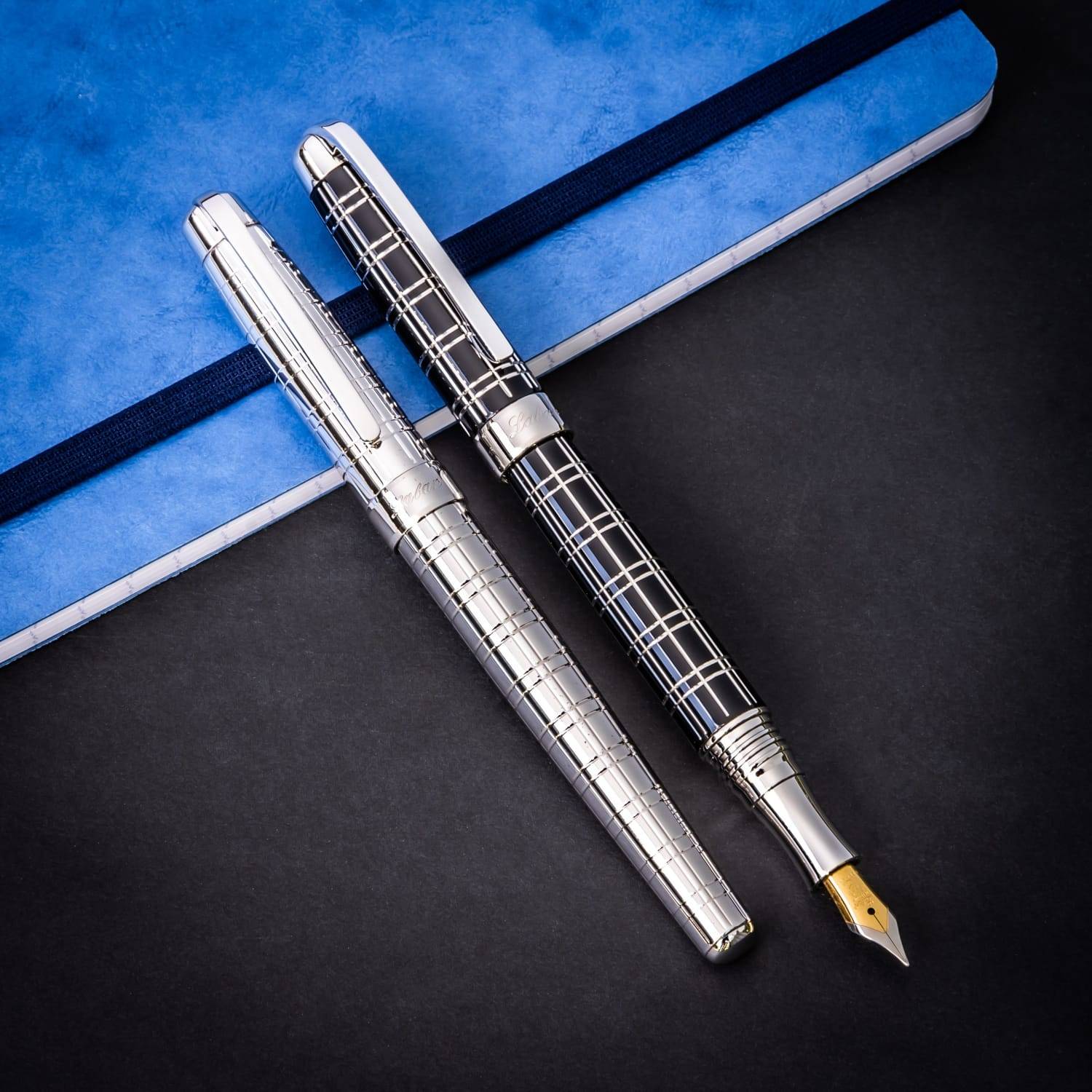 Laban 925 Sterling Silver Collection
Started in 1981 by two brothers, Laban continues to build on its reputation for low-cost, luxury writing instruments. Laban specializes in metalwork pens that feature filigrees, overlays, and guilloche patterns, etc. In the 925 Sterling Silver collection, there are a number of elegant, traditional designs that fit the conservative Montblanc aesthetic.
While a Montblanc sterling silver fountain pen might cost $1,000 or more and include a gold nib, a Laban pen with a smooth-writing, stainless steel nib can be found for less than $200. So, while they aren't "cheap," Laban pens are more affordable for budget-conscious pen enthusiasts.
You'll also find Laban pens in rollerball and ballpoint pen modes to best suit your writing preferences.
Other Montblanc alternatives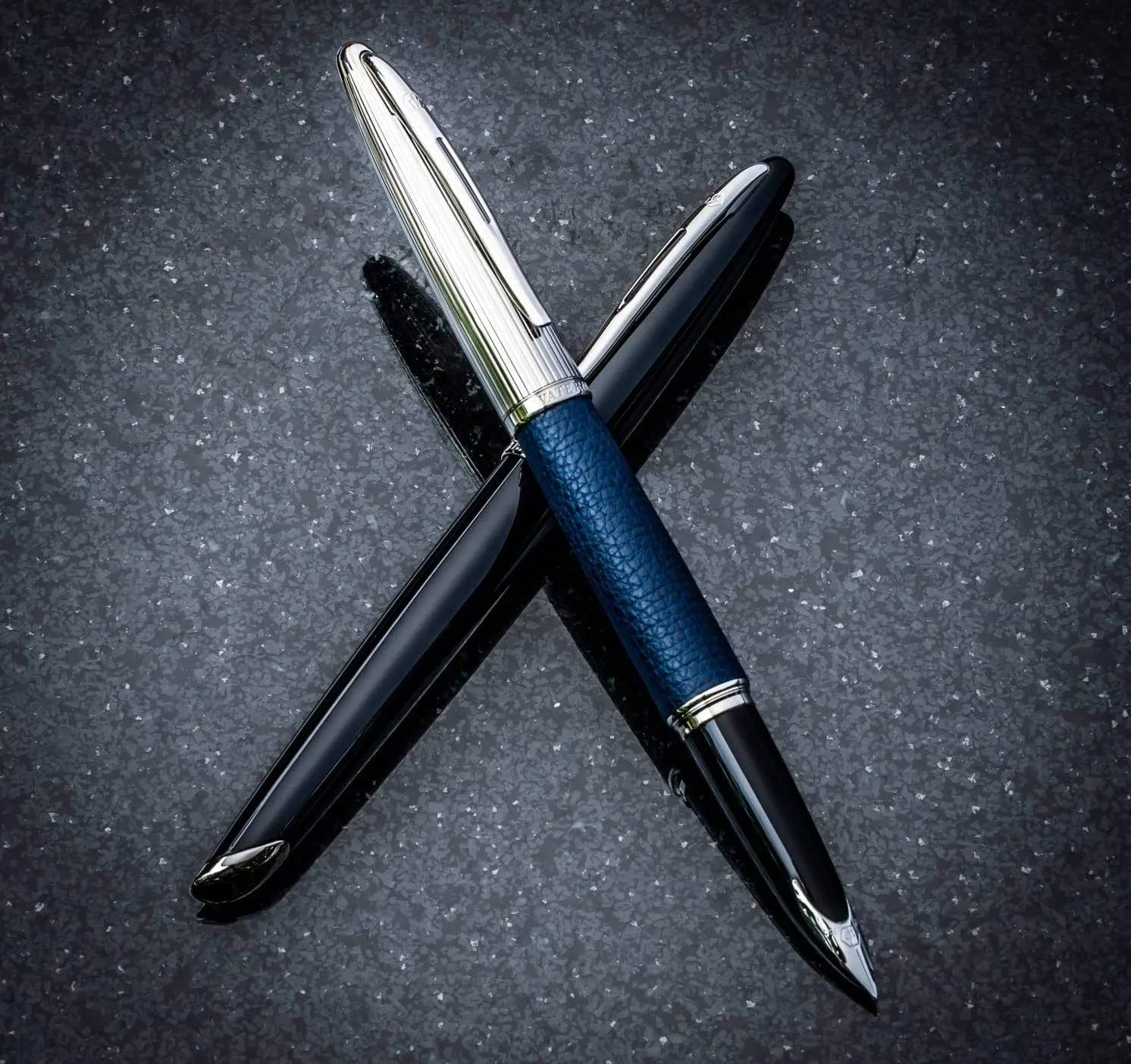 Waterman Carene
The legacy of Waterman pens begins with its founder, Lewis Edson Waterman. As the legend goes, Waterman lost the sale of an insurance contract due to a leaking fountain pen. In 1883, Waterman patented improvements to the fountain pen design and quickly became one of the biggest writing instrument brands in the world.
The Waterman Carene design has a tapered, cigar-shaped profile with a streamlined shape and luxurious accents. An integrated, 18kt gold nib flows seamlessly with the tapered grip section. Carene's inner brass body provides a solid base for the glossy lacquer finish.
The smooth-writing, 18kt gold nib is one of the most premium experiences in the modern Waterman line. It fills by an international cartridge or converter. For the retail price of $310, the black and gold Carene fountain pen is a bargain compared to a Montblanc 146 at nearly double the price.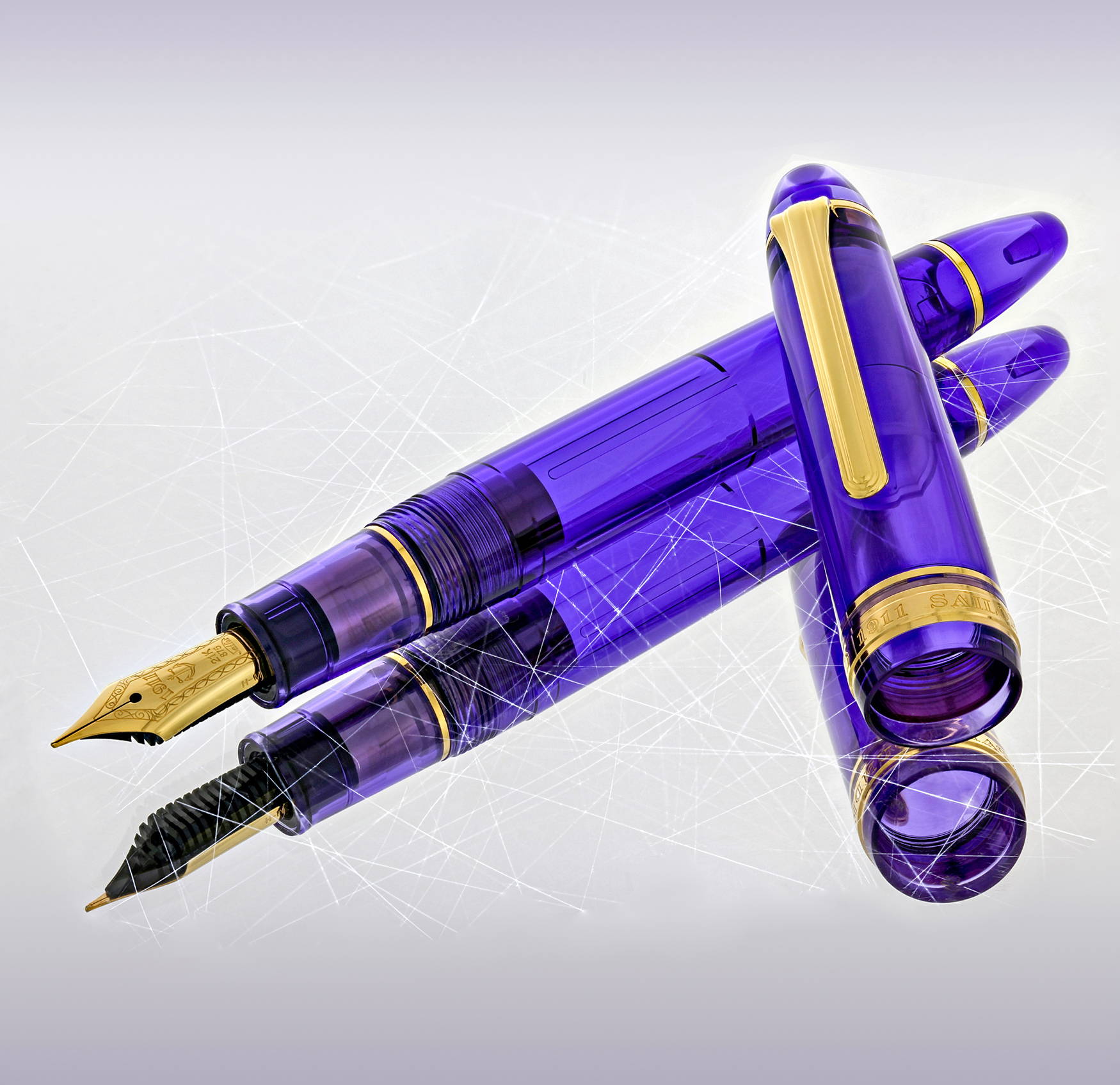 Sailor 1911 Fountain Pen
Founded in 1911, the venerable Sailor Pen Company has a long history of producing premium, world-class fountain pens. The 1911 collection is exemplary of its manufacturing expertise. Trained in traditional techniques, Sailor's Japanese artisans produce some of the world's most precise fountain pen nibs.
The 1911's tapered profile, decorated cap band, and rounded ends echo the classic design elements present on the classic Montblanc 146 or 149 fountain pen. Much like the Meisterstück collection, the 1911 is also offered in different sizes to match the writer's preference in pen size and budget.
The Sailor 1911 collection starts with the 1911S, or "Standard," fitted with a 14kt gold nib. For a full-sized, luxury writing experience, the 1911L, or "Large," has a wider diameter, slightly longer length, and a 21kt gold nib. For the top-of-the-line, oversized pen model, the Sailor 1911 KOP, or "King of Pen," has one of the largest gold nibs on the market.
If you want a piston-filling fountain pen like the Meisterstück 146, the 1911 Realo is sized like the 1911L with a piston-fill mechanism instead of the Sailor proprietary cartridge/converter mechanism. A piston-filling Montblanc 146 with a 14kt gold nib will run $700 retail while the black and gold equivalent Sailor 1911 Realo is available for $440 retail (on sale for less at most shops).
While the Montblanc fountain pen nib writes with a smooth, bold line, Sailor's nibs have more feedback and are able to achieve much finer lines than their European competitors. Many writers prefer the Sailor nib for their pencil-like feedback. If you want a smoother Sailor, be sure to opt for the M, B, Z, or MS nib sizes. However, it still will not be as buttery smooth as a Montblanc in the corresponding nib size.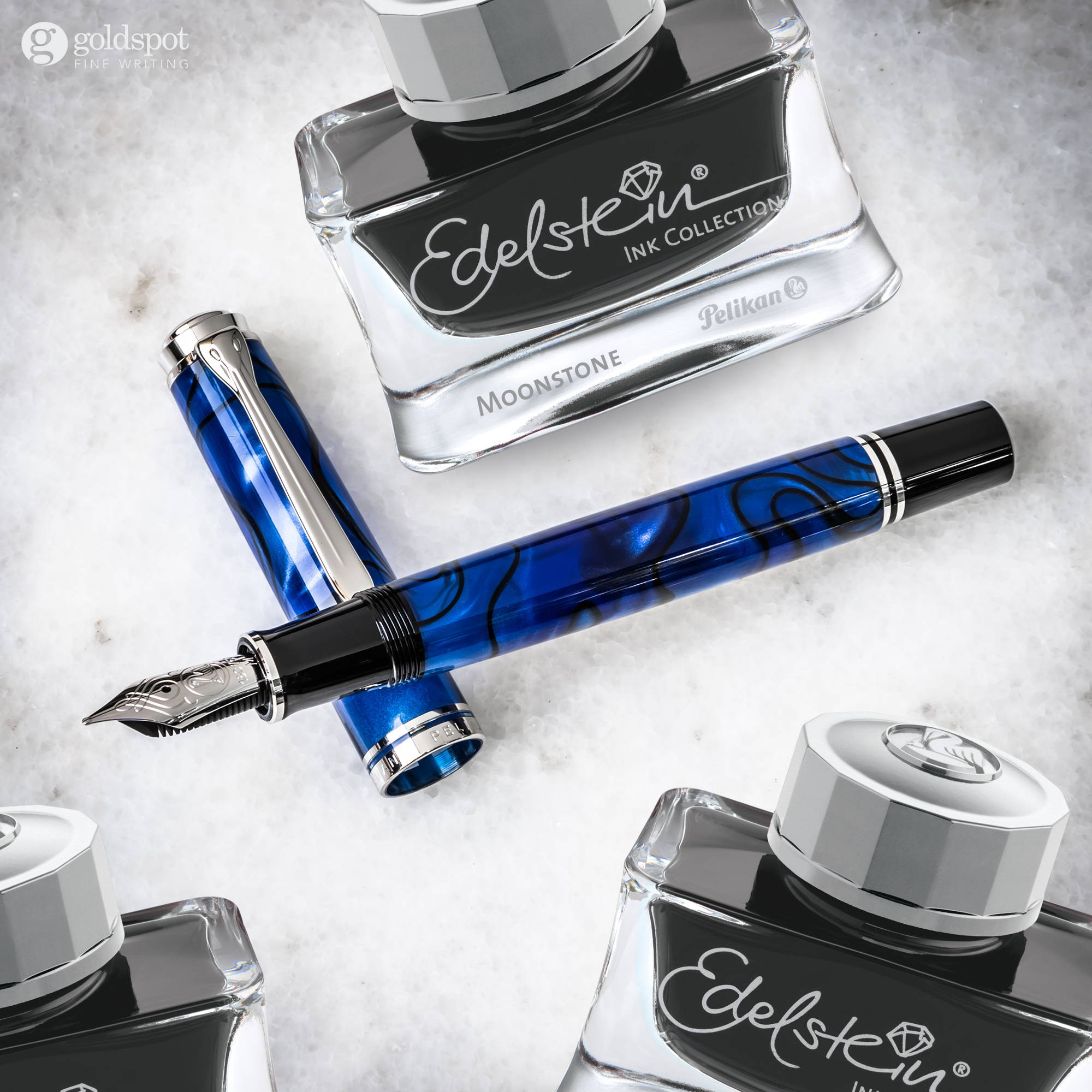 Pelikan Souveran 800
Montblanc's closest competitor in quality and proximity is Pelikan. Based in Hannover, Germany since 1838, Pelikan has deep roots in European early education. Its starter pens and art supplies are used by children who eventually graduate to using their finer pens.
Similar to the Montblanc Meisterstück, the Pelikan Souverän collection is considered the standard-bearer of the brand. Like the 146 and 149, the Souverän has variations that are numbered. The Pelikan Souverän M600 fountain pen is overshadowed by a larger and heavier M800 fountain pen. Pelikan's design combines precious resin with a barrel sleeve of imported Italian cellulose acetate. Some special editions, like the Blue Dunes pictured in this article, are made of acrylic and resin.
The Souverän M800 has a brass, piston-fill mechanism that adds to the substantial feel of its grand profile. The 18kt gold nib and feed are made using time-tested methods in their Hannover factory. The M800 nib has a soft, glassy-smooth feel with a wet line that runs broader than most other nibs. In terms of providing a premium writing experience, Pelikan is comparable with Montblanc. When it comes to price, the US retail value ($700-$900 for limited editions) is also similar to the Montblanc 146.
Although the Pelikan Souverän M800 isn't a cheaper alternative to a Montblanc, it does provide a suitable choice for a top-tier grail pen.
Ultimately, a pen collector's journey will take them on a path that is unique to their taste and preferences. One of the destinations could be the snowy peak of Montblanc. Or, it could be Japan or Italy. As your guide, Goldspot Pens can show you all that the world of fine writing has to offer. We hope that you will sign up for our e-mail newsletter and follow us on social media to be part of the global pen community.