by Kris Khunachak
Jun 10, 2020
5 Great Ballpoint Pens for National Ballpoint Pen Day 2020
On the 10th of June 1943, brothers Laszlo and Gyorgy Biro obtained the patent for the ballpoint pen. The invention changed the world of writing forever.
June 10th, 2020 marks the 77th anniversary of the patent filing for the ballpoint pen. Invented by brothers Laszlo and Gyorgy Biro, the ballpoint pen became the ubiquitous writing tool that we can still appreciate in the digital age. In this post, we celebrate National Ballpoint Pen Day with a special Top 5 list and a massive giveaway!
Ballpoint pens aren't always the sexiest thing to talk about in the world of fine writing, but they are nonetheless ubiquitous, and often times they're the first and most frequent type of pen that the average person will encounter in their lifetimes. Sometimes, the right ballpoint pen can act as a gateway to the entire rest of the fine writing ecosystem. And other times, ballpoint pens will remain an enthusiast's favorite kind of pen. Ballpoint variations of some of the most popular product lines out there exist for good reason.
What makes these pens "great?" These are pens that I would recommend to anyone looking to make their first leap into serious ballpoint pens, as well as anyone just looking to expand their quality ballpoint pen collection with a little extra color and a lot of extra performance.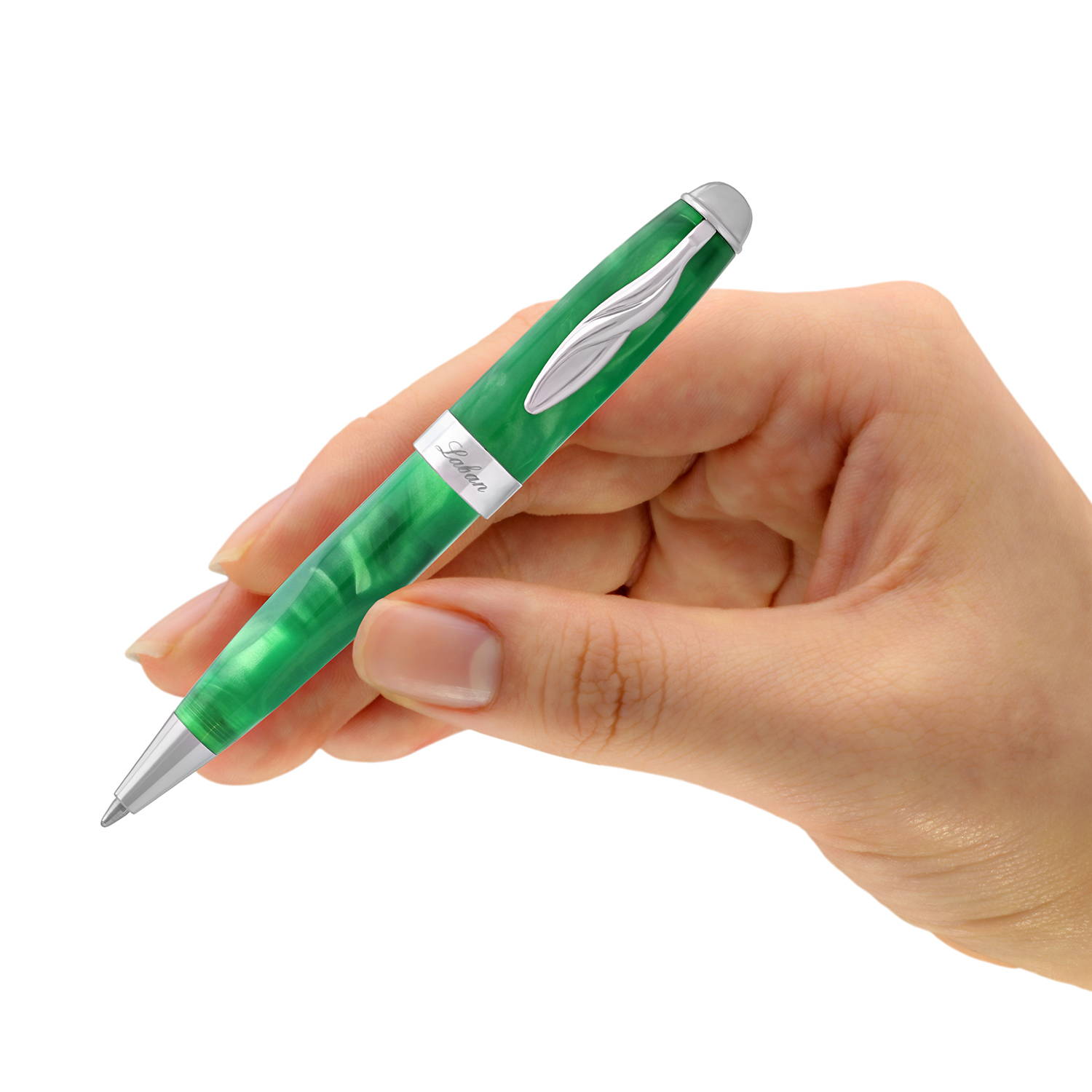 First, we have the Laban Expression. As you may very well know, Laban is a pen company near and dear to us at Goldspot. We appreciate their willingness to think outside the box and offer a massive variety of pens that people from all walks of life will find accessible. In the case of the Expression, this is a pen that will be very accessible to those with smaller hands or just a preference to smaller pens! It has a diminutive profile while maintaining the very same level of build quality and elegance you've come to expect from other Laban pens. It's made of a distinctly marbled resin with platinum plated appointments. It takes a D-1 size mini ballpoint refill and comes in a lovely gift box. I really love this pen for the diverse color selection, all of which are deeply vibrant and sometimes even mesmerizing, depending on the one you choose! And personally, I enjoy a greater level of control with pens of this size.
Second, we have a blazing hot new collection that you probably already saw plastered across the full size banner of our website. It's the Retro 51 Goldspot Exclusive Tornado Ombre Collection for 2020! I think you'd be hard pressed to find a set of pens on our website that are more ready to party the summer away than these. Offered in such delightfully named variants like Bahama Mama, Blue Hawaii, and Strawberry Mojito, these writing instruments are practically built for your next poolside writing session. A unique pearlized finish adds tons of visual depth to an already visually compelling gradient pattern. And colors aside, you're getting the very same high performance and enjoyable writing experience that you've come to expect from any Retro 51 Tornado. These pens feature polished chrome appointments including a knurled twist top mechanism. They're compatible with REF5P, REF57P, and REF71 refills, and available for an incredibly accessible price point.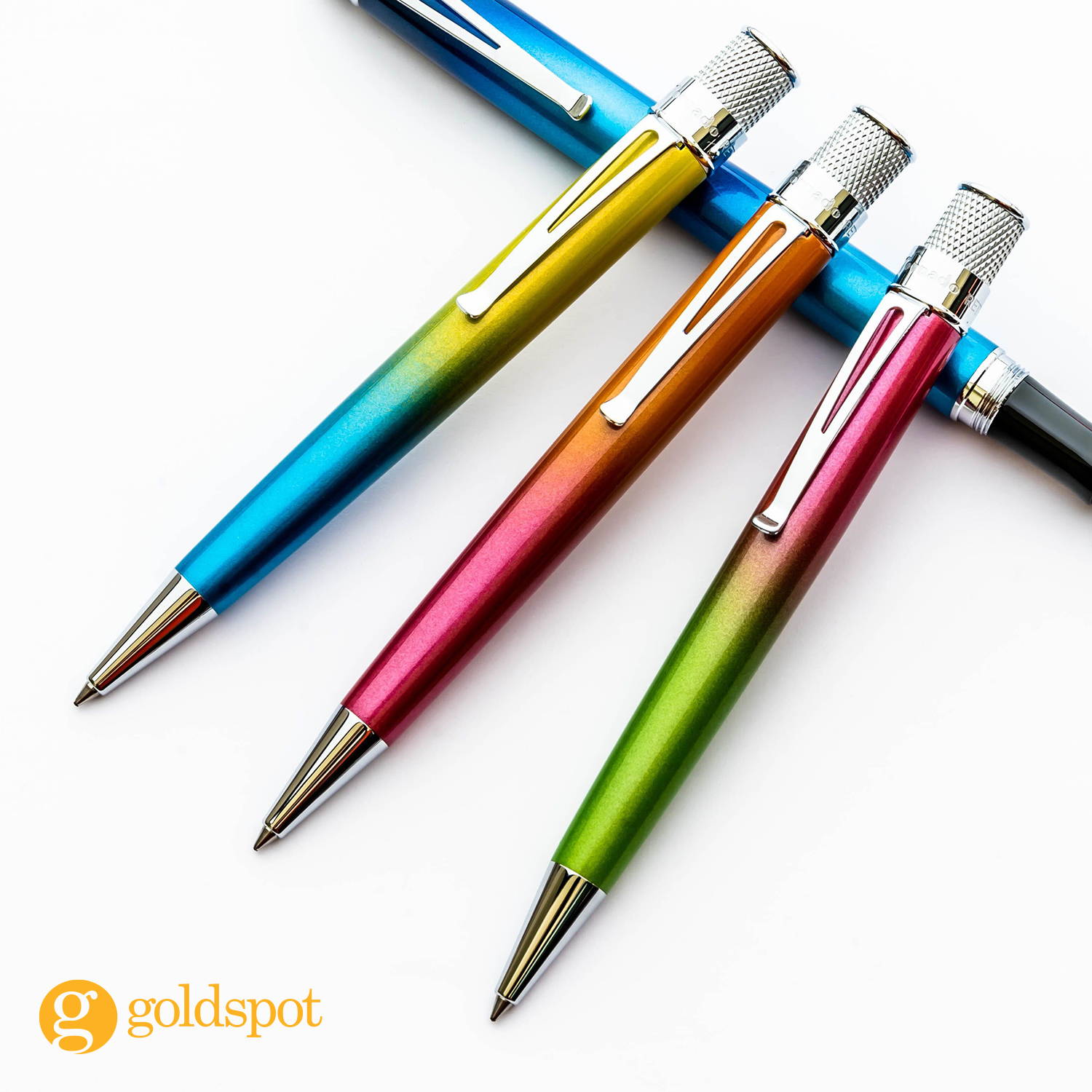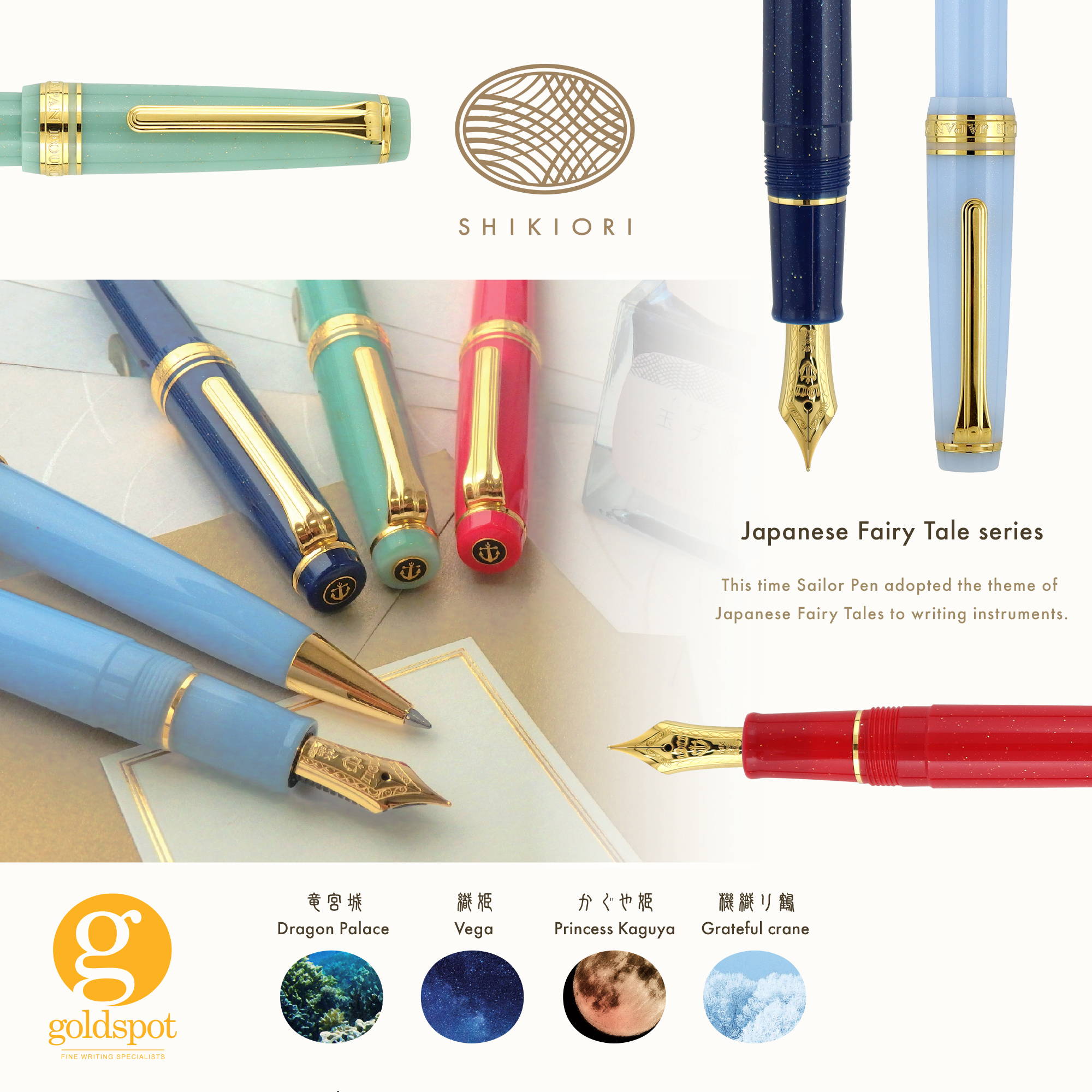 Next up, we have a truly "legendary" set of ballpoint pens, coming at you from one of our most trusted brands, Sailor! This is the Sailor Pro Gear Slim Shikiori Ballpoint pen collection. These absolutely stunning pens are each representative of a classic tale from Japanese folklore. From the Dragon Palace Mint Green to Princess Kaguya Red, no matter which of these pens you decide to get, you'll be writing with an instrument whose design is rich in thoughtfully applied history. And to really sell the fairy tale aspect of these pens, Sailor embedded reflective flecks in the PMMA resin to create a whimsical fairy dust look that captures the eye and the imagination. It's a twist mechanism that reveals Sailor's proprietary ballpoint pen refill which will give you a comfortable and reliable writing experience. Included is a classy gift box and warranty. It's the perfect ballpoint pen for the dreamer in you or someone special in your life.
Moving along, we have an incredibly popular and relatively new set of incredibly priced writing instruments that I've actually made a video about before! It's the Lamy Candy 2020 Special Edition Collection! Of course this collection is offered in Ballpoint, Rollerball, and Fountain Pen varieties, but the Ballpoint serves as a very accessible jumping off point for writers of all levels and disciplines. Lamy is known for their high quality German design and relentless pursuit of utilitarian perfection. This collection is no different. But just because they're laser focused on those aspects, does not mean they can't have a little fun. THIS collection is a shining, uniquely monochromatic example of that. Between the available Aquamarine, Mango, and Violet color ways, these are pens that evoke bright fun summery vibes while still including Lamy hallmarks like their durable injection molded ABS plastic construction, enjoyable LM16 ballpoint cartridge refill, and accordion-like click-top mechanism.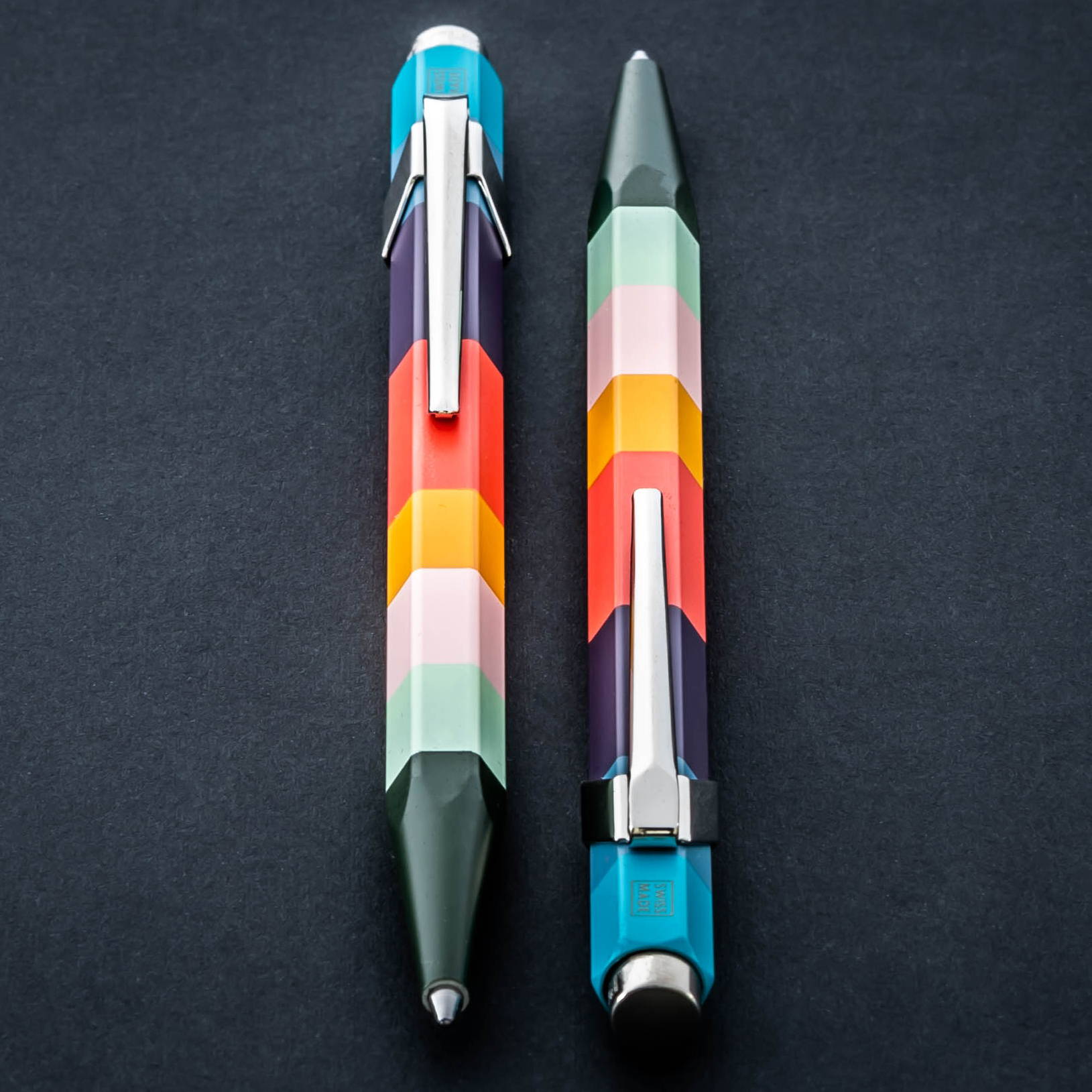 And last but certainly not least, we have yet another alumni of the Kris-from-Goldspot-Pens video collection, the absolutely iconic Caran d'Ache 849 Paul Smith 3. This beautiful limited edition writing instrument is the result of the third major collaboration between Caran d'Ache and internationally-recognized designer Sir Paul Smith. From end to end, this pen is draped in 8 carefully selected colors from Paul's wheelhouse in a pleasantly subtle and aesthetic fashion. Additionally, this one design is available in 8 different included metallic ultra-thin protective cases that each correspond with one of these colors. A polished metallic click top engages Caran d'Ache's voluminous Goliath refill that will keep you writing for page after page. Made of a durable lightweight aluminum the pen itself should outlast all the writing you demand of it as well. What Caran d'Ache and Paul Smith have accomplished here is a pen that is able to exist at the crossroads of high-fashion design and pure Swiss engineering utility in a way that few other pens can compare to. I can't recommend it enough.
Oh and speaking of the 849, we have one more honorable mention in the line that also make for delightful brand-new acquisitions: the 849 Line Friends collection! Inspired by popular characters used in one of the world's most popular messaging services, LINE, these pens will appeal as much to the digitally chatty as anyone who can appreciate some aesthetically pleasing design objects.
Check out the Brown Bear or the red BT21, each with their own matching commemorative packaging - while supplies last!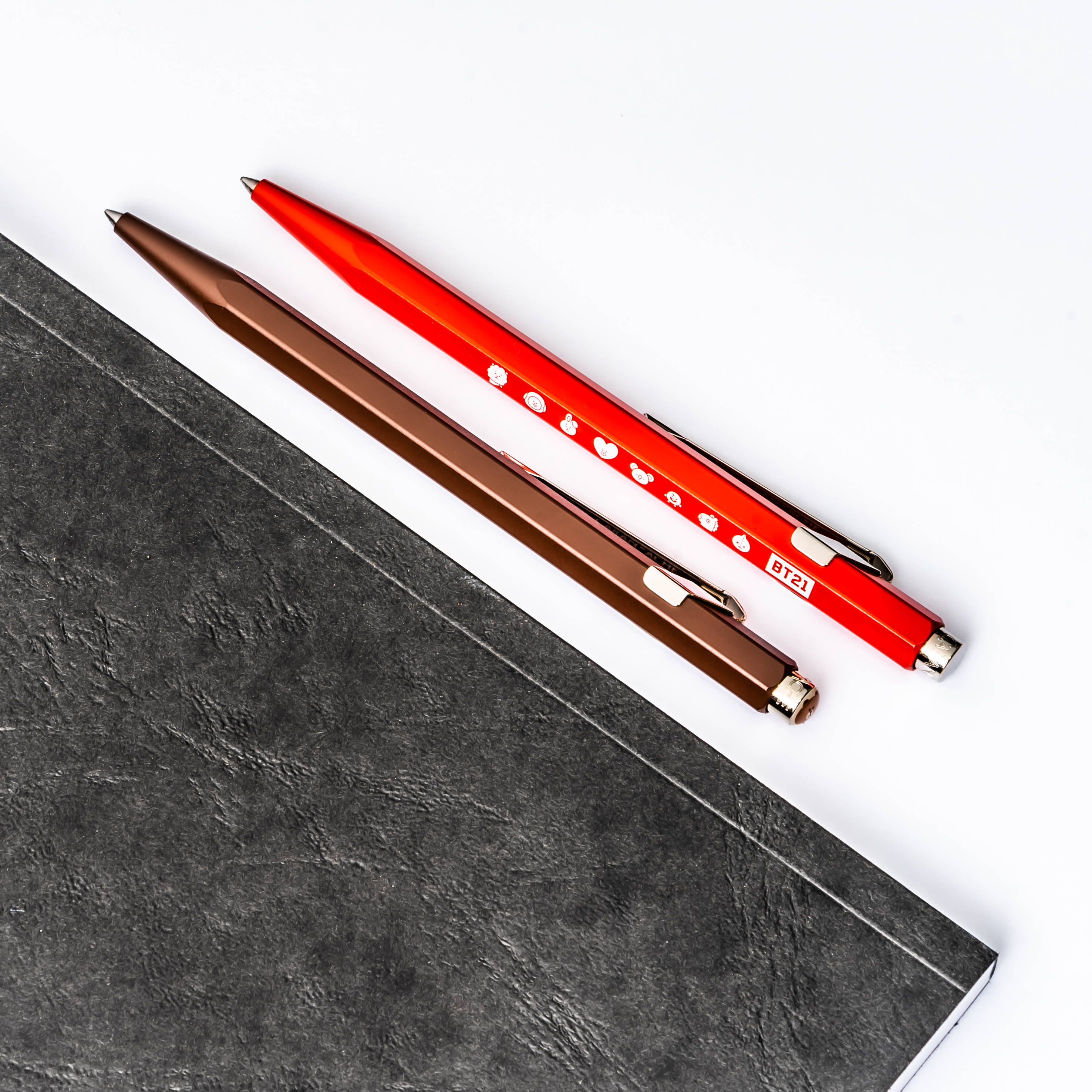 So there you have it! Five incredible ballpoint pens that can all serve as points of entry or fun additions to enthusiasts of fine writing at all levels. Whether it's a the diminutive size of the Laban Expression, the island-themed bliss of the Retro 51 Ombres, the mythical beauty of the Sailor Pro Gear Shikiori, the deeply vibrant Lamy Candy collection, or the high-fashion utility of the Caran d'Ache 849 Paul Smith 3, there is a ballpoint pen for quite literally EVERYONE.
Click away, dear readers - enjoy your ballpoint pens on National Ballpoint Pen Day!