Introducing the Edison Newark Fountain Pen
It took us many years of begging Brian Gray of the Edison Pen Company for a Goldspot Pens exclusive design fountain pen. Finally, we proudly introduce the Newark, the result of a collaboration between Goldspot Pens of New Jersey and the Edison Pen Co. of Ohio. Find out how this limited edition got its name and how it differs from other Edison Pens below.
It's been over 10 years since I (Tom) purchased my first Edison Fountain Pen. Since that day, I knew there was something special going on in Milan, Ohio - the birthplace of Thomas A. Edison. In 2009, Brian Gray was still using a manual lathe, producing custom line pens that you could have altered and tweaked to your heart's delight. Years later, Edison introduced the concept of a production line - a limited menu of acrylic pens sold by retailers. It was the next step that required a higher manufacturing capacity. This put a strain on the growing company.
Responding to the demand, Brian increased the number of employees, moved out of his garage and into a larger facility, and brought on more advanced machines to handle the increased output of pens. With all of the change happening in the last few years, he couldn't take on requests for retailer exclusive designs, despite my relentless e-mails and phone calls. In November 2019, the Goldspot Exclusive "Newark" design finally became a reality.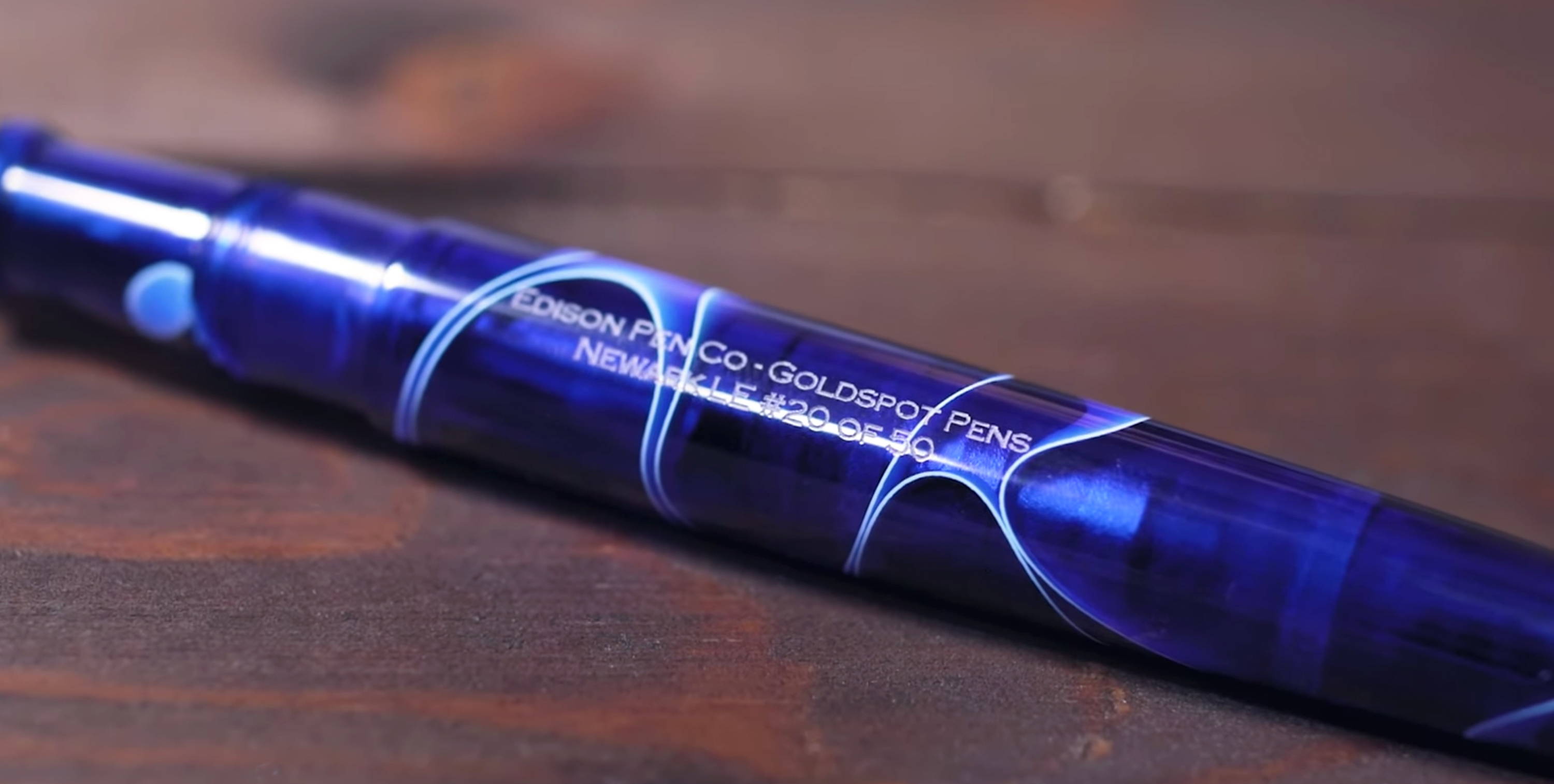 Why the "Newark?"
Anyone that lives in New Jersey knows the City of Newark doesn't have the best of reputations. However, the city was home to Thomas Edison's first laboratory where he started his career as an inventor. Edison Pens are usually named after places, people, and things in the life of Thomas Edison, so we thought it would be appropriate to pay tribute to the city that is about 40 minutes from the Goldspot Pens office.
Having experienced other Edison models, the idea for the Newark was to combine the elements we liked best: a deep-posting cap, translucent acrylic, and a comfortable grip section. The Newark uses an international standard cartridge or converter (included) system to fill. You could also convert the pen to an eyedropper-fill pen and see the amount of ink through the translucent body material.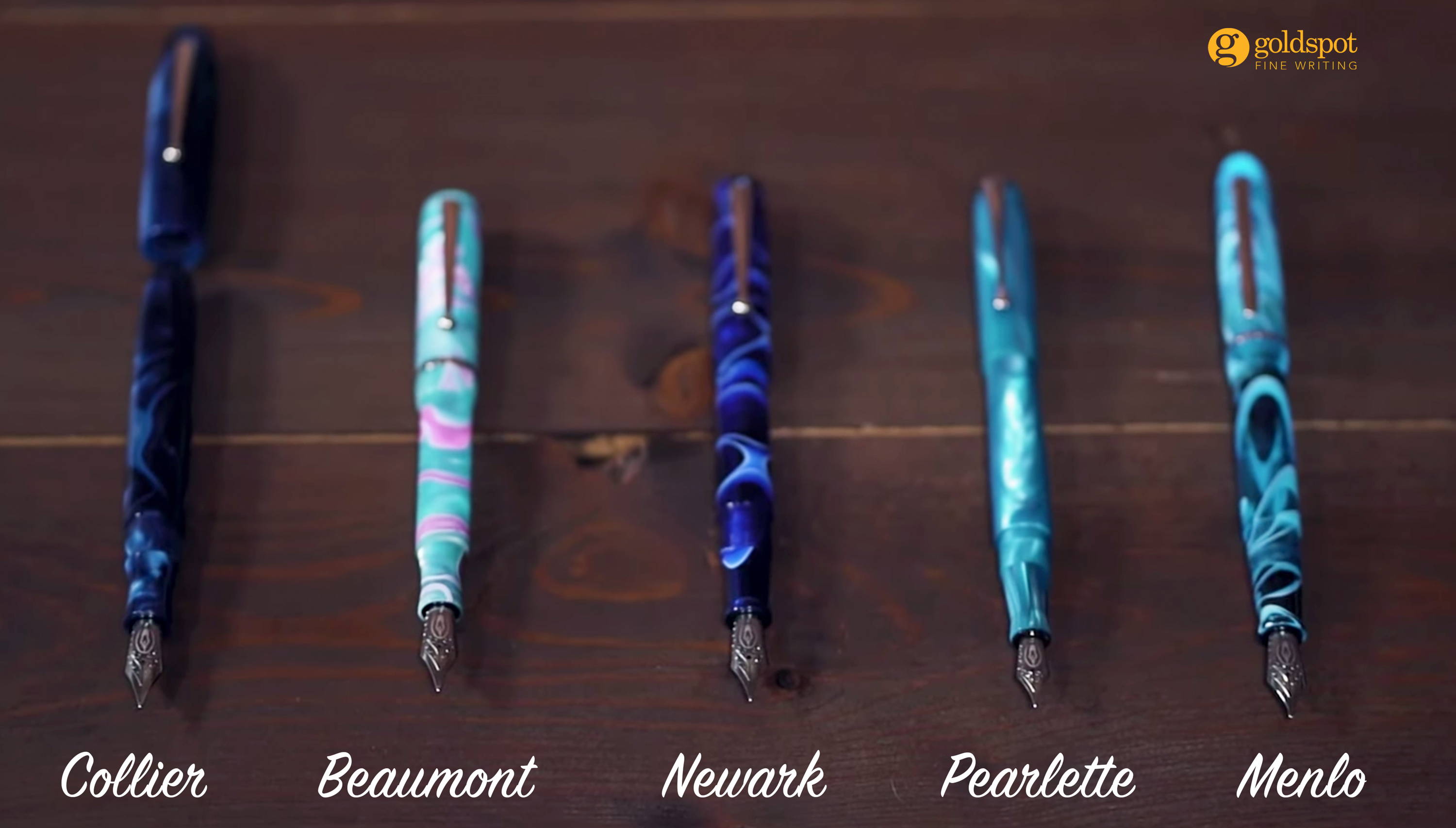 | | | | | | |
| --- | --- | --- | --- | --- | --- |
| *Measurement* | Collier | Beaumont | Newark | Pearlette | Menlo |
| | | | | | |
| | | | | | |
| | | | | | |
| | | | | | |
| | | | | | |
As with other Edison Pens, Brian installed the ever-reliable, German-made Jowo #6 size nib and feed with the Edison Bulb logo engraved on the stainless steel. The nib and feed screw out of the section and can be swapped with other compatible #6 size nibs. As an Edison retailer, Goldspot has a selection of stainless steel and 18kt gold nib replacement nibs in a variety of sizes to suit your handwriting style.
The Edison Newark is limited to only 50 numbered pieces made (51 if you count the #0 that PenBoyRoy owns) and will not be made again in this style of acrylic once they sell out. In the future, we hope to have the Newark in other acrylic colors. Leave us a comment below with your suggestions on which colors you would want to see on an Edison Newark fountain pen.