Inktober 2019 Writing Prompts and Pen Giveaway
Created in 2009 by illustrator Jake Parker, Inktober is an ink drawing challenge that runs during October. In the creative spirit of this challenge, we are broadening the scope of Inktober to include writers as well as artists. To inspire you, we have a list of daily prompts and a special giveaway raffle prize for those that complete the challenge.
Thanks to our friends at Itoya, distributors of Sailor pens, the 2019 Inktober grand prize is this Sailor Pro Gear Slim Special Edition 4 Seasons fountain pen. It has a 14kt gold nib in medium-fine point with cartridge or converter-fill options.
How to enter:
Get out your pens and inks.
Write, draw, doodle, practice calligraphy, in ink.
Post a pic each day in October with your inky work.
On November 1st, 2019, Goldspot Pens will randomly choose one winner from all the people who completed the Inktober challenge.
To help get those creative juices flowing, you can follow these thirty-one prompts for each day of the challenge.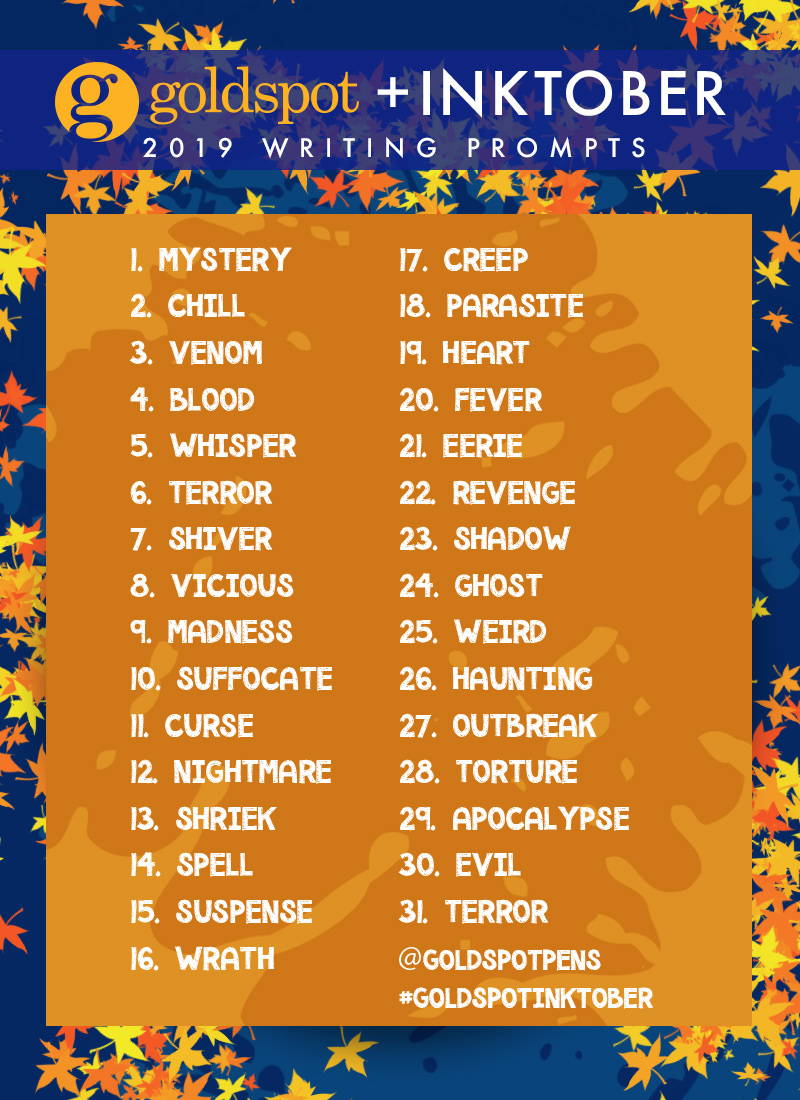 How do you use these prompts?
Let's take one example - "ghost."
You could draw a ghost. You could write a poem about ghosts. You could write a 1-page journal entry about the time you saw a ghost. Or, you could write the word ghost in a calligraphy style. (Bonus points if you're using Noodler's Blue Ghost ink!)
Use your imagination. If you prefer to use your own prompts, that's OK, too. Just make sure you tag us and use the #goldspotinktober to be considered for the giveaway.
The goal is to express your creativity on a daily basis. Make a little time each day, like 15 minutes, to create and share your art. Silence the voice in your head that says your handwriting isn't good enough or your lines aren't perfectly straight, or that people aren't going to "like" your posts. This challenge is about showing up on the page and having fun each day.
We hope that you'll join Goldspot's Inktober challenge. Thanks again to Itoya for providing the special edition Sailor fountain pen for the giveaway. Can't wait to see your posts!