Fountain Pen Accessories You Never Knew You Needed
A pen, ink, and some paper are all you need to get started with a fountain pen, right? Sure! But, you can gain a whole new level of enjoyment with a few essential items. In this post, we take a look at 8 fountain pen accessories you never knew you needed.

My name is Tom Oddo and I'm a fountain pen addict. I've been "in the hobby" for over a decade and have tried many pen-related accessories, tools, widgets, and what-have-you's. Some simple items become indispensable parts of a pen collection, while others are like kitchen uni-taskers that get stashed away in a drawer, never to be seen again.
Besides the regular assortment of extra cartridges, converters, and replacement nibs, this list focuses on items you might not have given a thought to before. The last one might surprise you. Watch the video below or read on to see all the accessories enhance your fountain pen experience.
Fountain Pen Filling Accessory
First up on our list is the Ink Miser Ink Shot Inkwell. As you might guess by the name, this little doo-dad helps you hold ink. It's shaped like an upside down parking cone with a base on the bottom. The idea is to pour ink into it using the included pipette and fill your pen from the cone. This is particularly useful if you are down to a small amount of ink in your bottle or ink sample.
The Ink Shot is also great for large-nibbed fountain pens that have a hard time filling from small-mouth ink bottles or sample vials. Also, you can play with mixable fountain pen inks and create your own unique brew.
The Ink Shot is $6 and is available in black or clear plastic with an included pipette.
How to Keep your Pens Looking Like New
Constantly handling and filling fountain pens with ink can be a messy affair. Smudges, fingerprints, dust, dirt, and inky residue can mar a new pen's finish. To keep your pen looking in prime condition, be sure to wipe it down with a polishing cloth.
This is particularly useful for metal pens that develop a patina, like sterling silver, brass, and copper. Unless the tarnish is desired, you'll want to periodically wipe the pen with a jewelry polishing cloth to remove the discoloration.
Made with 100% renewable cotton fiber, this Connoisseur's polishing cloth will remove metal tarnish and clean the finish.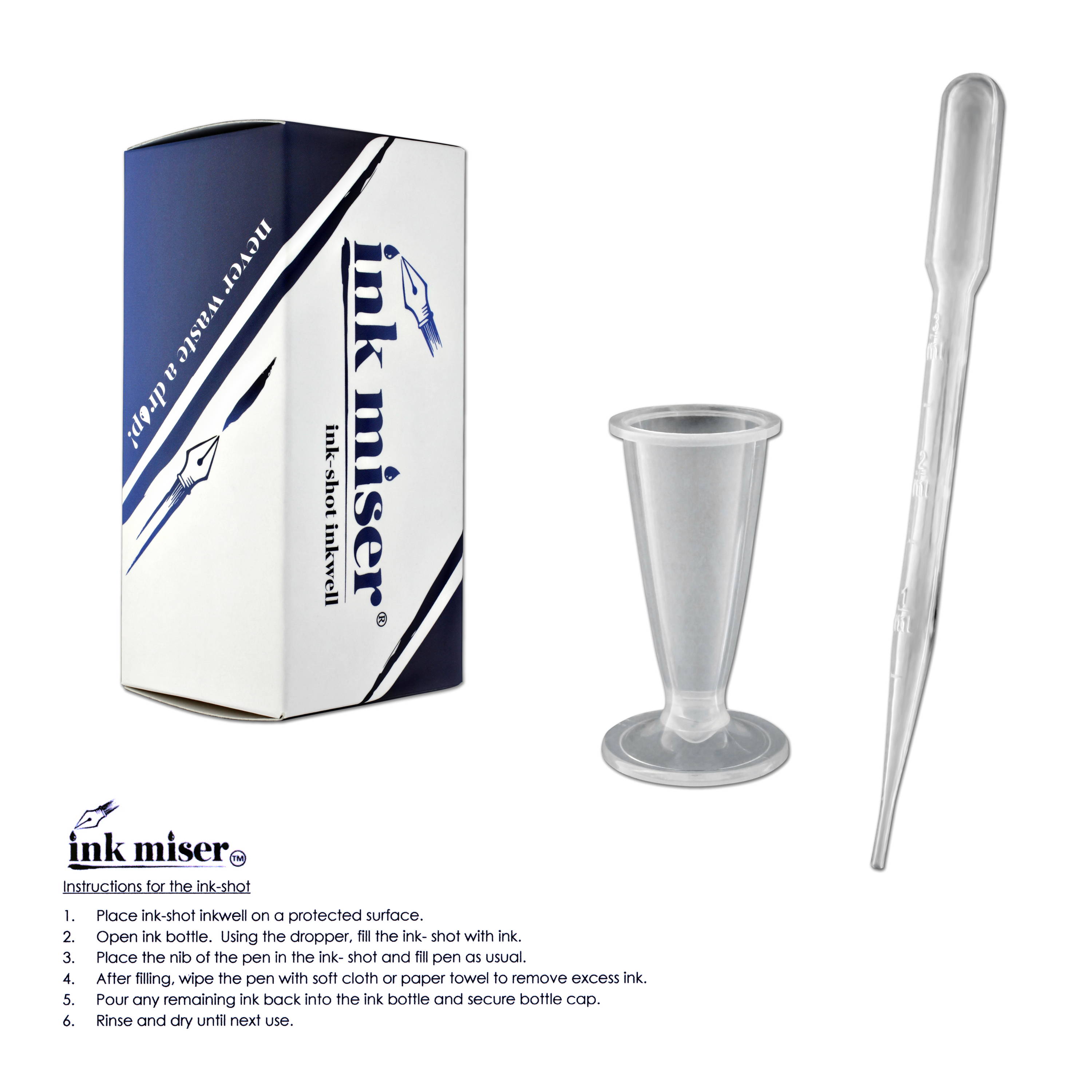 How to Stop Ink Smearing with Wet Nibs
If you've ever written extensively with a wet nib, you know that dry time can be a problem. Prevent accidental smearing by having a pack of blotting paper handy. The plasticized blotter cards from Visconti have an absorbent side backed by plastic. Pat the absorbent side on your freshly written words to absorb the excess ink. The plastic backing prevents the ink from soaking through the blotter and getting your fingers inky - not that it's a bad thing.
Get that Ink Flowing Again
Fountain pens aren't fussy when it comes to maintenance. An occasional flush with tap water will keep the nib flowing. However, there are times when a more aggressive approach is needed to clean your pen. Supersaturated, sheening, and shimmer inks may be harder to completely remove from a pen, causing ink flow issues.
A pen flush like this formula from Monteverde can help unclog your pen and get the ink flowing smoothly. Find out how to properly flush your pen by clicking the card above.
Fill your Fountain Pen on-the-go
When it comes to refilling your pen on the go, carrying glass bottles of fountain pen ink isn't the most travel-friendly solution. Sure, you could fill a zip lock baggie of ink cartridges, but what about your piston and vacuum fill fountain pens? For that, we suggest the Pineider Portable Inkwell or the TWSBI Vac 20A Ink Bottle.
These bottles are carry-on sized and made of plastic. The design accommodates pens of various sizes and can hold a larger amount of ink than a fistful of cartridges.
An Unconventional Tool for Pen Addicts
A true pen addict will need this instrument to get their fix. A blunt needle syringe, like the one included in this Sailor Fountain Pen Maintenance Kit, allows a precise transfer of ink to refill cartridges, drop ink into a barrel, or fill a converter without dipping into a bottle of ink. Also, you can force water or pen flush through the syringe to clean inside your pen.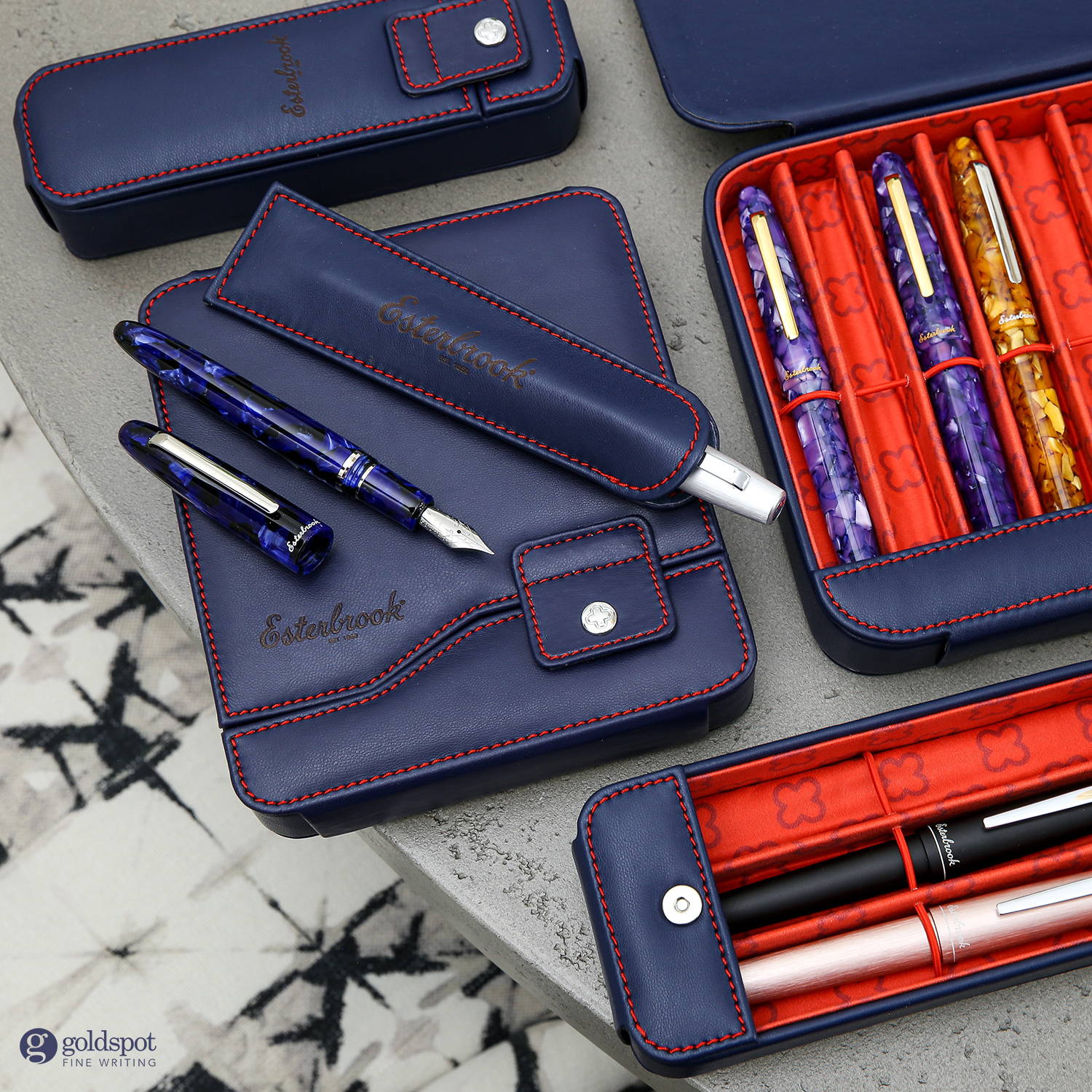 Quick Draw Pen Storage
Owning a pen case for all your precious writing instruments is a great way to protect them against the hazards of travel. In addition to having a case for your collection of pens, we suggest having a few pen sleeves as well. These individual slips protect the finish of your fountain pen while allowing quick access to draw the pen. Most of us do not have every pen we own inked at one time. Some might only have one or two. Yet, you wouldn't want to carry your entire collection around with you if the pens are not to be used. So, the individual pen sleeve is a perfect accessory to accommodate your writing habits.
May I Borrow your Pen?
What happens when a coworker, classmate, or attractive person asks, "May I borrow your pen?" Do you take a chance and give them your precious fountain pen? Are you 100% positive they'll use it correctly, not destroying the nib, lose it, or walk away with it? To avoid such a risky problem, you should always keep a decoy ballpoint pen on hand.
Even the most hardcore fountain pen aficionados should have a ballpoint for signing carbon copy forms and for lending. See, people already may know you as a "pen enthusiast" and will expect that you have a pen on you at all times. So, when the situation comes and a pen is required, people will look to you for a pen. Instead of lending your fountain pen with its delicate nib, you'll want to give them an easy-to-use ballpoint pen.
What fountain pen accessories do you consider "must have's?" Let us know in the comments below.