Pelikan Classic 205 Fountain Pen Nib Comparison
If you're considering a next-level, piston-filling fountain pen that will last a lifetime, the Pelikan Classic M200/205 is an excellent pen to add to your flock. In this post we compare all the available nib sizes of the M205 fountain pen to help you decide which nib size is best for you.
For this demonstration, Tom uses the Pelikan Classic 205 Petrol-Marbled fountain pen. It's a 2021 special edition with a deep teal chatoyant barrel matched with black resin and polished chromium appointments. The handwriting samples were performed using Pelikan Edelstein Moonstone ink on Rhodia 80gsm dot grid paper.
Extra Fine (EF) - (0.32mm line weight)
The thinnest of Pelikan's nib sizes starts out at a 0.32mm line width, which is comparable to most other brand's fine point lines. Platinum, for example, has a fine point that makes a 0.28mm width downstroke.
The Pelikan's wet flow provides a small degree of shading in the ink color. Despite being made of stainless steel, the Pelikan 205 nib does have a small amount of bounce consistent with all 205 nib sizes. As this nib does have a smaller tipping surface, the feedback is significant, bordering on scratchy.
I would recommend this nib if you write on papers that are less-than-ideal for fountain pen inks. The thinner line has a better chance of preventing feathering or bleedthrough on recycled papers. If you prioritize smoothness over the line width, I would suggest looking at the larger point sizes, starting with...
Fine (F) - (0.4mm line weight)
The next size up provides a slightly thicker line with much smoother feedback than the extra fine. Thanks to the wet flow, you can see more depth of the ink color than with most other brands' fine nibs.
This nib is great for everyday writing, provided you have adequately sufficient fountain pen-friendly paper like Rhodia or Clairefontaine. The fine's line weight might be too much for run-of-the-mill copy paper and recycled papers.
Medium (M) - (0.5mm line weight)
The slightly thicker line weight of the Pelikan medium point shows more shading and depth of color than the fine nib. It's also a touch smoother. Taking advantage of the nib's pliability, you can squeeze out a small degree of line variation that allows ink to show deeper shading.
While this nib is also suitable for journaling, note-taking, and general-purpose use, the bounciness makes it a fun choice for cursive writers. The wetter ink flow coupled with the additional line variation shows the ink color in higher saturation with more potential for sheen and shading.
Broad (B) - (0.57mm line weight)
The "B" is where to be if you like a smooth, wet-writing nib with a bold line. This nib glides on paper, laying a rich stroke of ink in its wake. The 0.57mm line width is similar to a Kaweco double broad.
To use this type of nib, you definitely need to consider your paper. Otherwise, the flow of this nib will cause feathering and bleedthrough on lesser papers. Only fountain pen-friendly papers will be able to handle the Pelikan broad nib.
The boldness of the broad nib is great for quick writers with a large, gestural handwriting style. If you love seeing your ink shade and sheen, this nib will deliver.
Italic Nib (I)
Pelikan used to offer the Classic M200/M205 fountain pen in an "italic" nib. The nib provided calligraphic flair like a stub nib (thick downstroke, thinner horizontal line). Due to the nib's lack of popularity, Pelikan dropped it from their current lineup of fountain pens. The replacement nib was also discontinued a few years ago and is no longer available to purchase separately.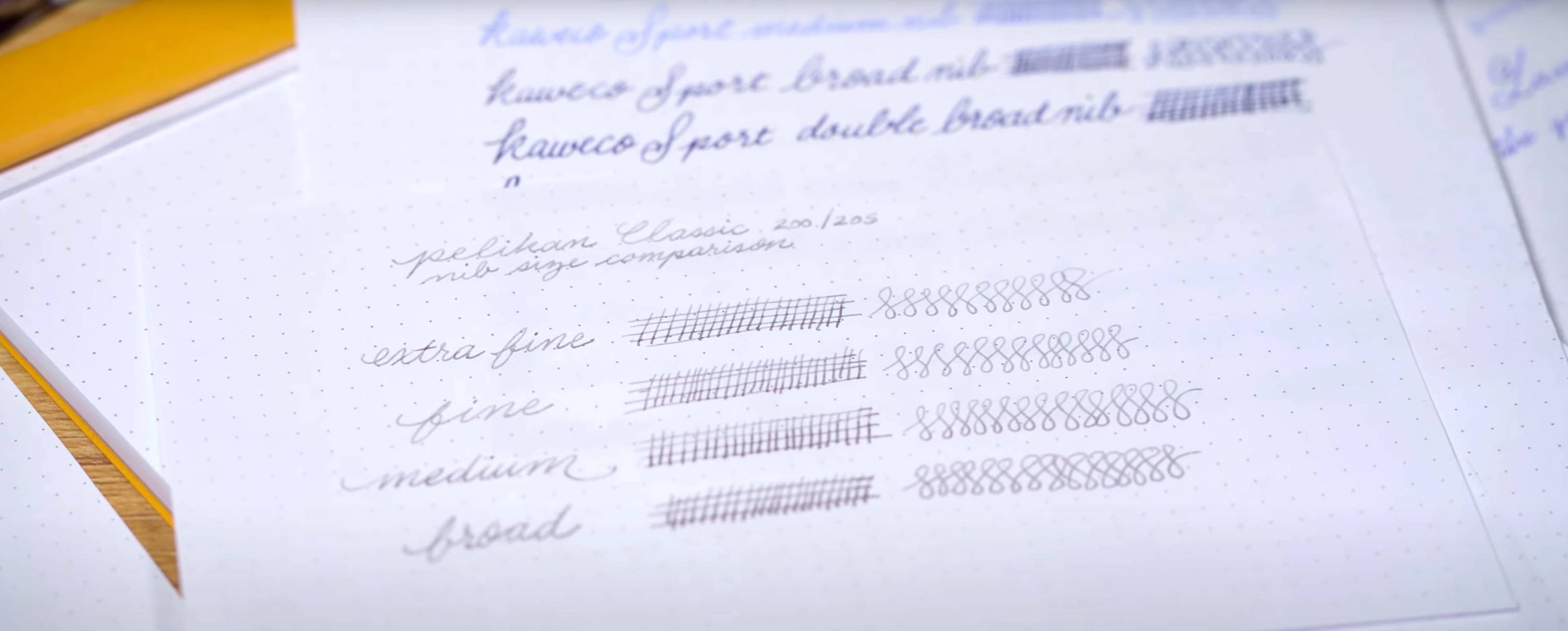 A neat feature of Pelikan's piston-fill fountain pen nibs is that they are interchangeable. To swap them, all you have to do is unscrew the unit from the section. For purposes of this demonstration, I swapped out the nibs on these pens to write with the full range of sizes.
The Classic M200/205 steel nib is also compatible with the 14kt gold nib of an M101n, M400, M600, or M700. It is possible to purchase one of these M205 Petrol Marbled pens and order the M400 14kt gold nib separately so you can upgrade the writing experience.
Pelikan continues a tradition of producing yearly special edition fountain pens made from beautiful materials, made available for a limited time only. The Classic M200 or M205 collection grows with 1-2 new special editions each year. For several years, Pelikan coordinates a pen to match their Edelstein Ink of the Year. Later in 2021, we expect that Pelikan will introduce a Golden Beryl M200 to match the ink of the same name.
You can find more information about Pelikan pens here or sign up for our weekly e-mail newsletter to keep "in-the-loop" about all things fine writing.