Leonardo 2021 Momento Zero hands-on. What's new?
Leonardo Officina Italiana reintroduces the Momento Zero in 9 beautiful acrylic resins including two new "spaghetti" resins called "Prugna" Plum and "Alga" Seaweed Green.

We just received a huge shipment of 2021 Momento Zero fountain pens and would like to share the subtle differences between the new version and the previous design.

The original Momento Zero is the Leonardo brand's first official pen collection. It quickly became a bestseller, beloved by fountain pen enthusiasts for its stunning visual appeal and impressive writing experience.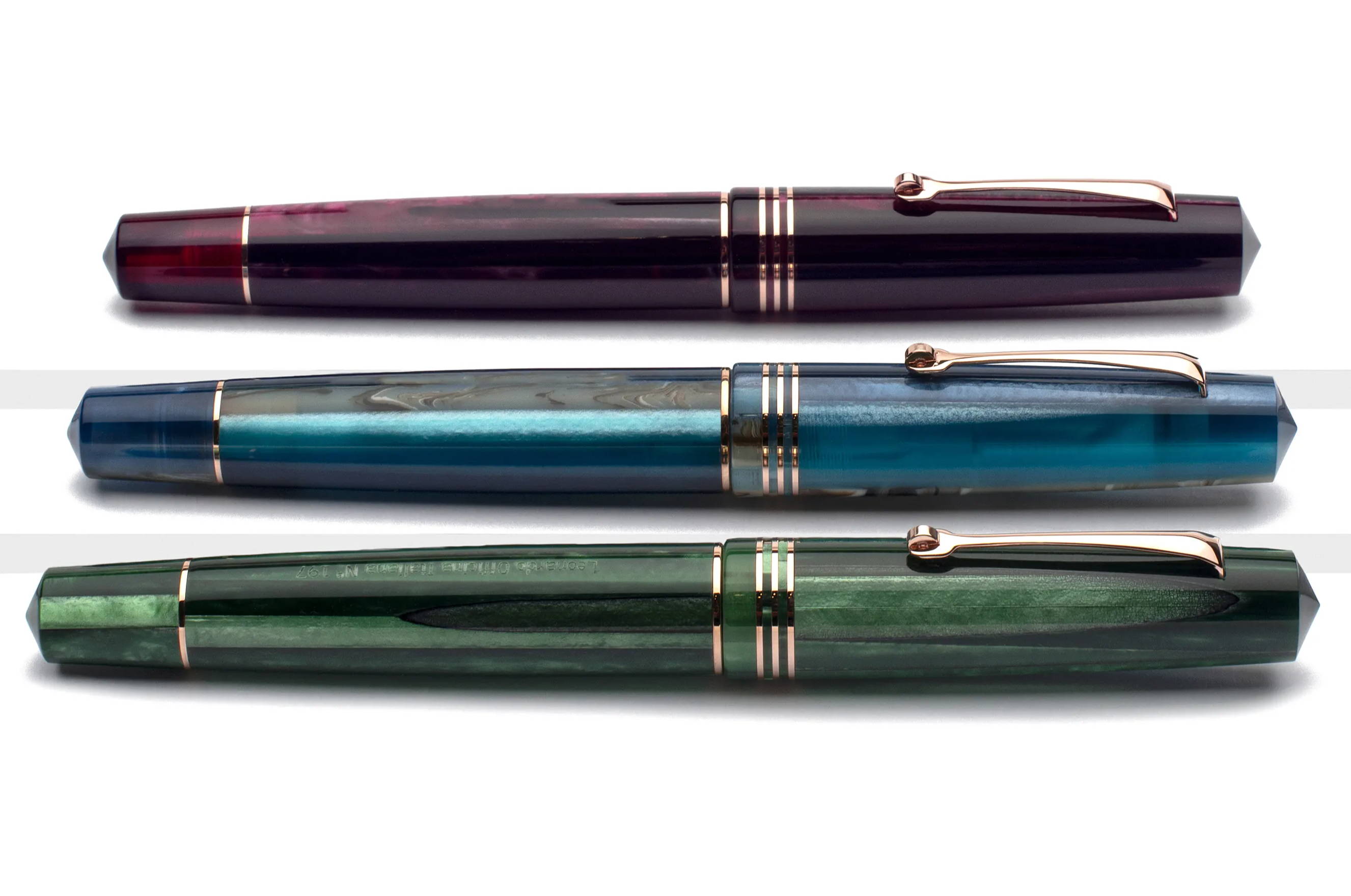 Cosmetic Changes

Salvatore and the team at Leonardo decided to go with the thinner wheel clip on the 2021 Momento Zero. You may have seen this style of clip on the Momento Zero Grande and Furore Grande designs already. The cap also has the second distinguishing change - 3 thin metal cap bands instead of two. If you recall, the original Momento Zero line had some finishes with only two bands while others had three. Now all new Momento Zero pens have 3 cap bands. Minor, I know, but we love the fine details of this pen.
The Leonardo Momento Zero box sleeve also has some slight changes to the graphic design. Each new 2021 pen includes a tassel attached to the clip with the Leonardo "wings" emblem.
Changes Under the Hood
Always striving to improve, Leonardo's co-founder Salvatore Matrone redesigned the Momento Zero's writing experience with a new nib in collaboration with Jowo of Germany. Originally, the Leonardo brand used Bock nibs, which are beautiful writers but can be finicky in quality control. Jowo is far more consistent. Salvatore customized the nib to match the elegant Leonardo branding. He also widened the internal hole of the feed to allow for greater ink flow.
Also to produce the Gold, Rose Gold or Black nibs, Leonardo is using the PVD (Physical Vapor Deposition) to provide a more durable coating to endure even the most aggressive inks.
Jowo is known for a consistent experience right out of the box, no tuning necessary. Bock nibs are beautiful writers in their own right but they can be finicky with issues like baby's bottom and misaligned tines that need an adjustment. The move to Jowo means Leonardo wants to provide a more consistent, quality experience for the end user.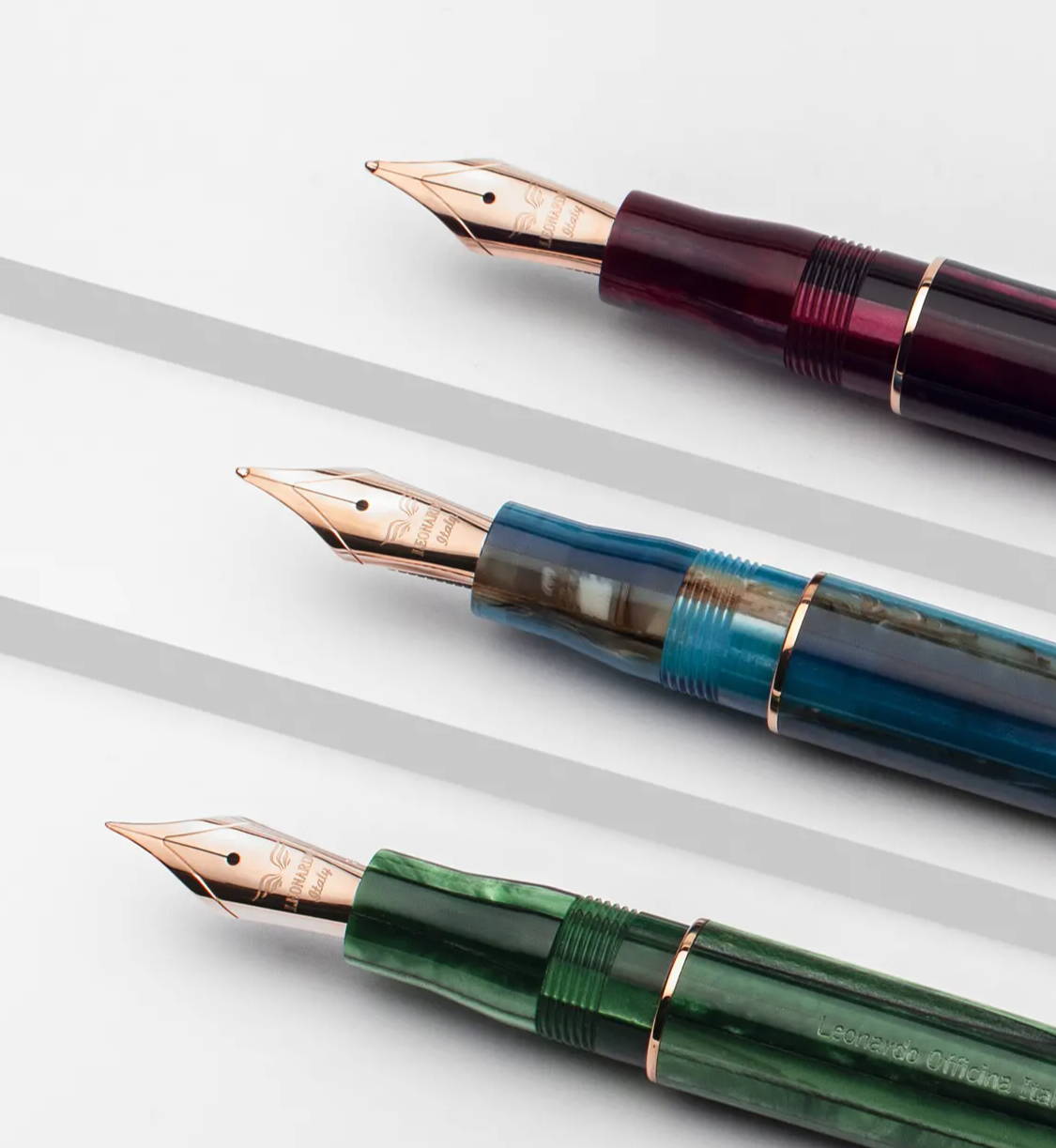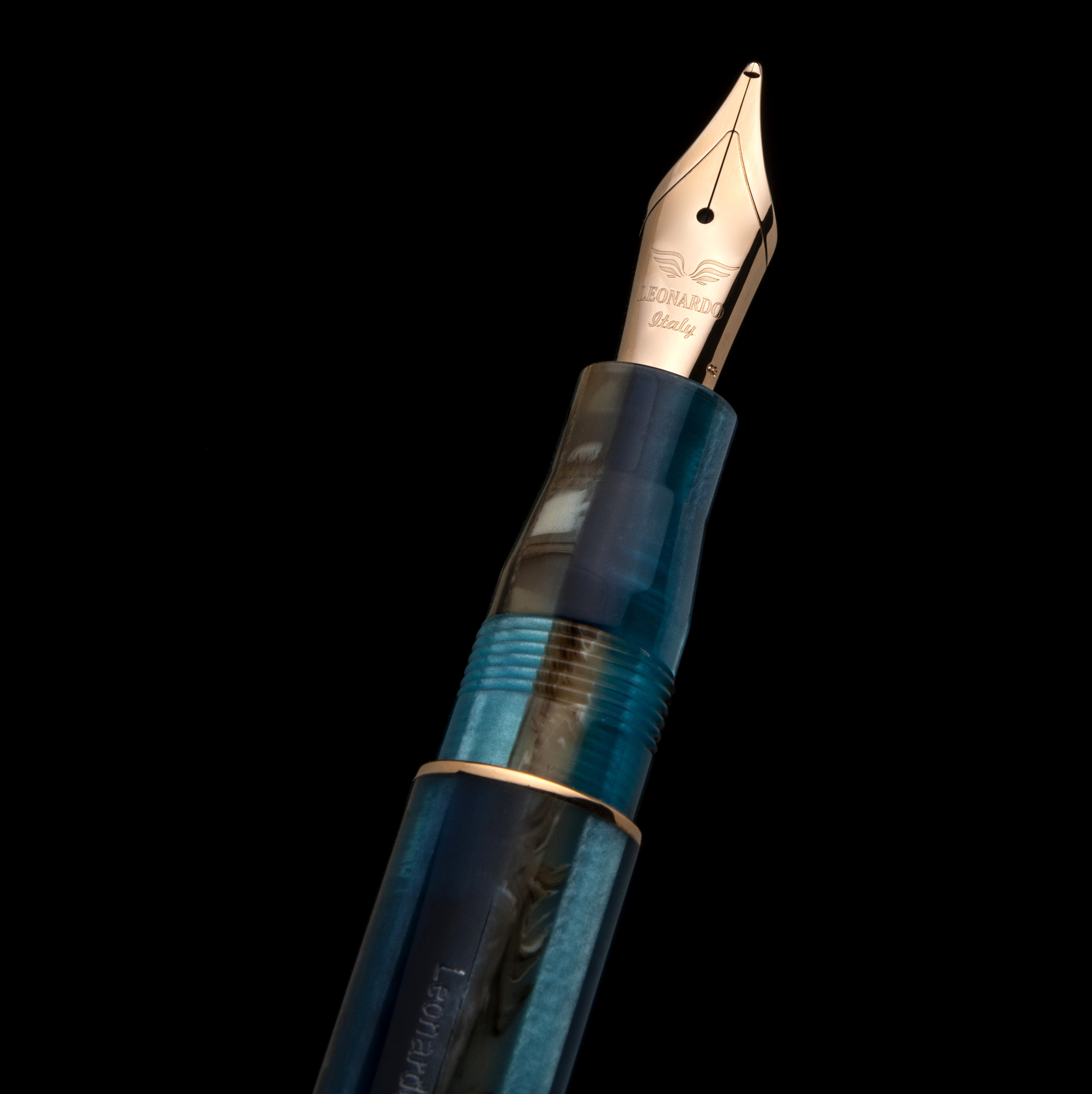 Compatibility and the Changeover
The Leonardo Jowo nib is part of a screw-in housing that is compatible with other #6 Jowo nibs like Edison, Esterbrook, Franklin-Christoph, Montegrappa, etc.
However, pre-2021 Leonardo pens are not compatible with these new Jowo nib units. So, you can't use a Bock Leonardo nib on a Jowo pen and vice versa. This is true even with the Grandes that have friction fit ebonite feeds.
In our latest shipment, we received select Grande and Furore pens with the new Jowo nib units. This will be a rolling change and we expect to run out of the original Bock nibs within 6 months. We clearly marked the new "2021" Momento Zero pens on the website. However, the other models may have a mix of both Bock and Jowo nibs. If you need to order a specific nib, please contact our customer service team and we will check before placing your order.
Nib Performance
To compare and contrast, I inked up a Leonardo Momento Zero Positano with a Bock medium, and the Alga Seaweed Green in a Jowo medium point. Both pens are inked with Leonardo Green.
From looking at the writing samples, it appears like the Jowo medium actually has a slightly wetter flow, allowing for a richer saturation of color on the page, showing off the shading of this ink nicely.
The Bock nib still has a little more bounce than the Jowo, but the smoothness and consistency of the line are essentially the same.
If I can pretend like I'm a first-time buyer of a Leonardo fountain pen, I'd be happy writing with either of these nibs, as the difference is minimal and both perform exceptionally well for a steel nib.
From a retailer's perspective, I'm happy that Leonardo was able to raise the bar in quality control while maintaining an excellent writing experience. Not only are Leonardo pens stunning to look at, but they also perform beautifully on the page. At the end of the day, if more people are happier with their pens, team Goldspot is happier as well.
What do you think about the Momento Zero's updated design? Should they have kept it the same? Do you prefer Bock or Jowo nibs? Let us know in the comments below.