2021 Fountain Pen Day Sale and Giveaway
Dearest Pen Pals,
On the 10th anniversary of Fountain Pen Day, Goldspot is celebrating in grand fashion with a massive giveaway, sales, and new product drops during the first week of November. Be sure to bookmark this page and visit each day during the first week of November to find a new daily deal and gain additional entries for the giveaway. Below, you'll find all the new pen releases and special offers as they are revealed.
But first, a little introduction to our community's special holiday.
What is fountain pen day?
Created by pen enthusiast Cary Yeager, "Fountain Pen Day" is celebrated on the first Friday in November as a worldwide community appreciation for the hobby of using and collecting fountain pens. The idea is to embrace, promote, and share the use of fountain pens.
How do you celebrate fountain pen day?
As a pen enthusiast, this is your special day to make a lot of noise about your love of fountain pens. We ink-courage all of you to fly your "fountain pen flags" high and proud. On Fountain Pen Day, take your pens with you wherever you go. Show them off in a public display of pen-thusiasm. Indulge an onlooker's curiosity by letting them hold your pen and write with it (if you feel comfortable with that, of course). Here are some more ideas on how you can celebrate FPD:
Share your pen collection on social media and tag #fountainpenday & #fountainpenday2021
Instead of texting someone back, handwrite them a note and send a pic of the note as a reply.
Take some time to journal for 10 to 30 minutes.
Write all of your to-do's and appointments in a rainbow of fountain pen ink colors.
Watch a few Goldspot Pens Quick Tip videos to brush up on your pen knowledge.
Join a meetup, either virtual or in person, with other fountain pen enthusiasts.
Do a live broadcast of you writing with your fountain pens on social media.
Doodle with a fountain pen during a meeting or class.
Write a letter to a friend, loved one, family member, or yourself!
Listen to a pen-related podcast on your commute.
And, of course, you can buy yourself a new pen, ink or notebook while taking advantage of special offers and discounts that pen retailers (like Goldspot Pens) will promote for the holiday.
Below, you'll find all the new releases, exclusives, and discounts as they are announced during the week leading up to Fountain Pen Day.
A Fountain Pen Day Exclusive Pen Drop
On Friday, November 5th, we have several new pen releases to announce, including new Goldspot-exclusive fountain pens you won't find anywhere else!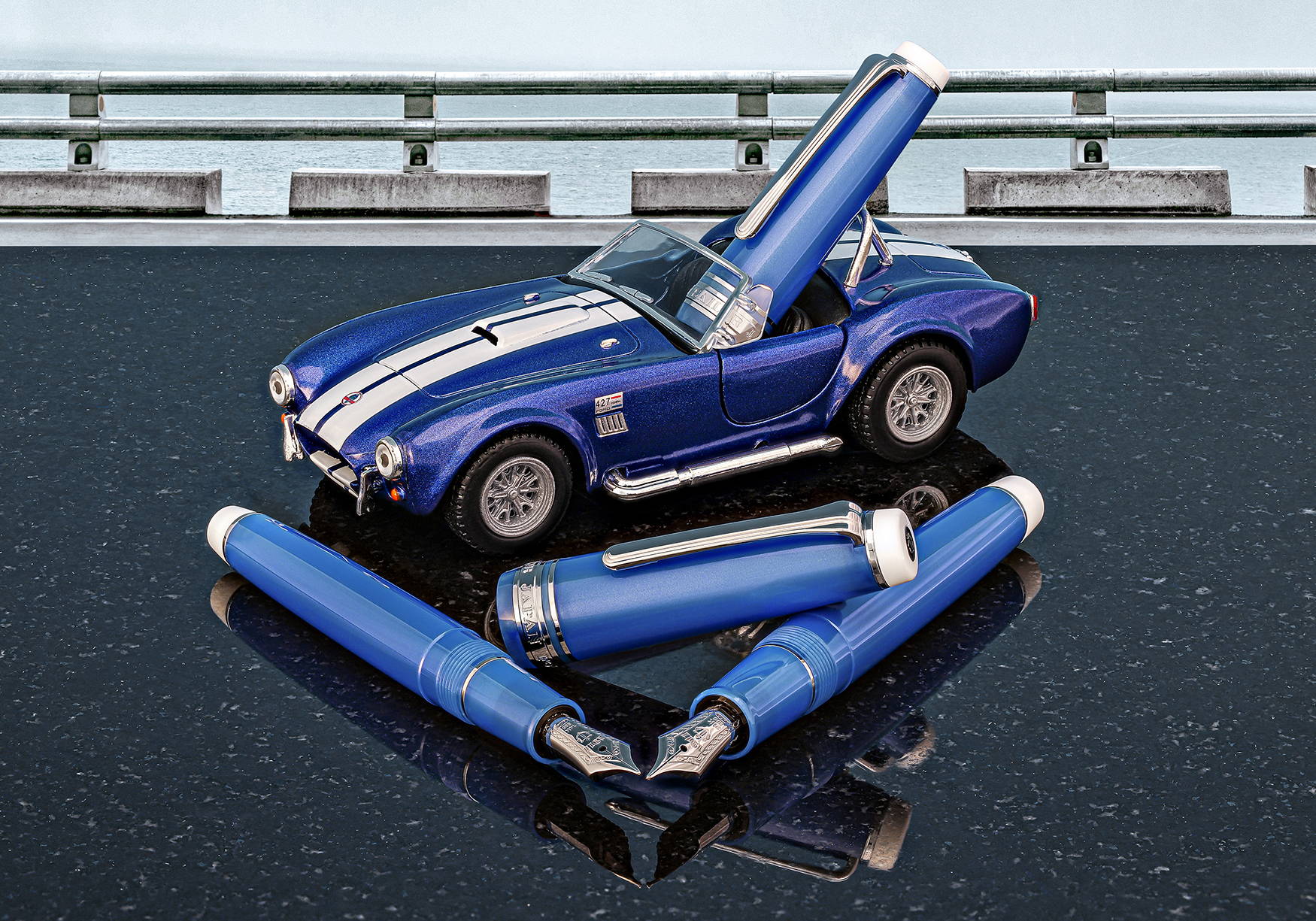 Sailor Professional Gear Blue Cobra
This Fountain Pen Day, you can "sign and drive" the Goldspot Pens exclusive Sailor Professional Gear Blue Cobra fountain pen. Inspired by the vintage styling of high-performance cars, the pearlescent bright blue of the pen's body and cap are "striped" with pure white resin finials and trimmed in rhodium silver appointments.
The Sailor Pro Gear is available in two sizes. The "Slim" is a great fit for both men and women and those that prefer a thinner, more pocket-friendly pen. The "Regular" size will be more comfortable for larger hands and is fitted with a larger, 21kt gold nib. All Sailor Pro Gear pens include a Sailor proprietary ink cartridge and converter as well as a limited 1-year warranty.
Catch a ride with Blue Cobra before it speeds off and leaves you in the dust.
Shop Sailor Pro Gear Slim Blue Cobra (14kt Gold Nib) >>
Shop Sailor Pro Gear Regular Blue Cobra (21kt Gold Nib) >>
Need help picking a nib size? Check out our Sailor nib comparison video.
Esterbrook Estie Sunflower
Experience pure joy with the warmth and vibrance of the Esterbrook Estie in Sunflower marbled acrylic. This pen is like a ray of sunshine that glows with chatoyance in the light. This seasonal Estie is here for the harvest and won't be around for long.
Select your choice of writing mode with two options of fountain pen sizes, a rollerball, and twist-action ballpoint pen mode. Both the standard and "oversized' Estie fountain pens are fitted with a no. 6 stainless steel nib produced by Jowo (Germany) and fill by international ink cartridges or converter (both included with the pen). The capped rollerball writes with a G2 standard rollerball cartridge. The ballpoint has a retractable Parker-style ballpoint ink cartridge installed.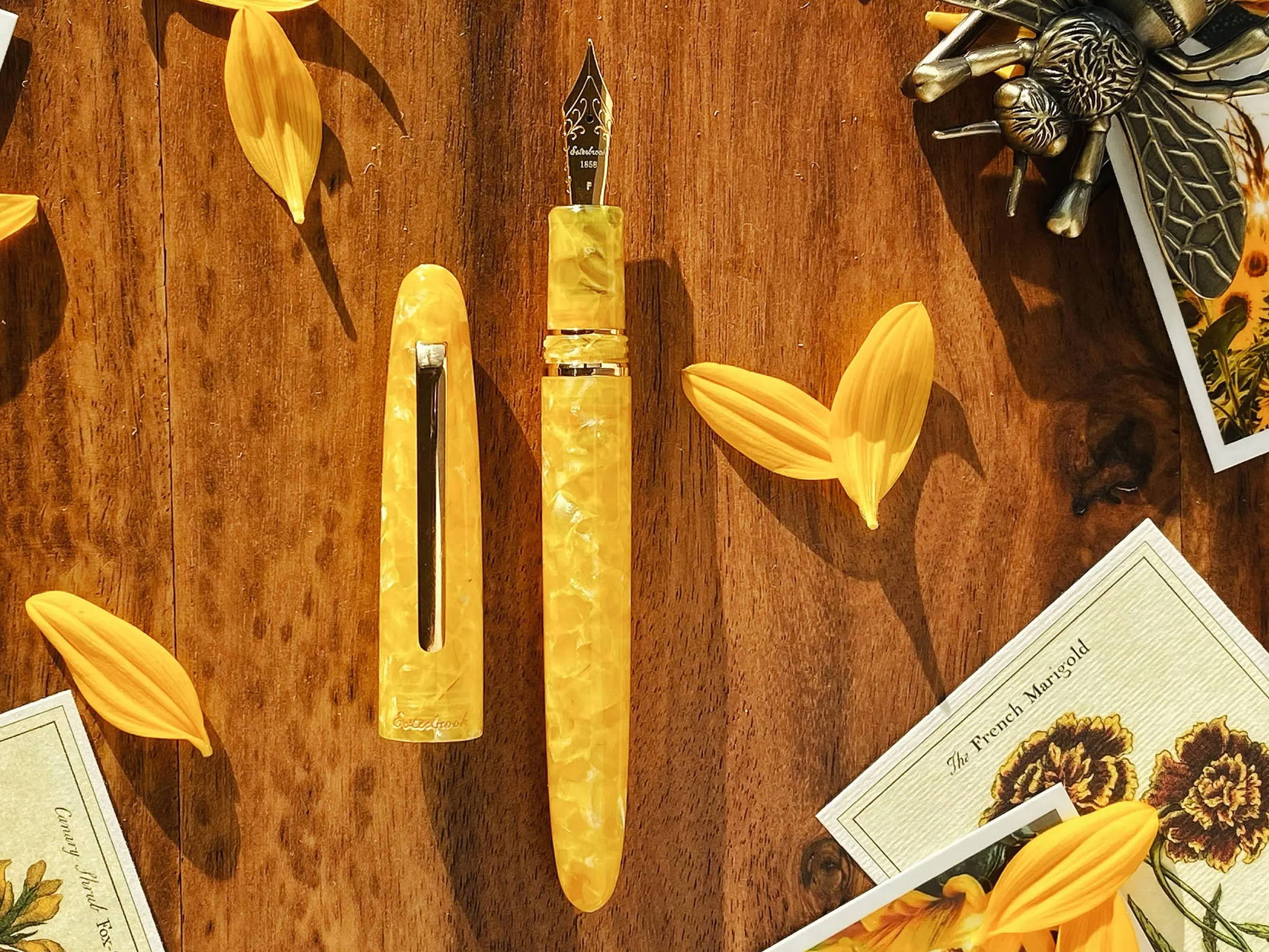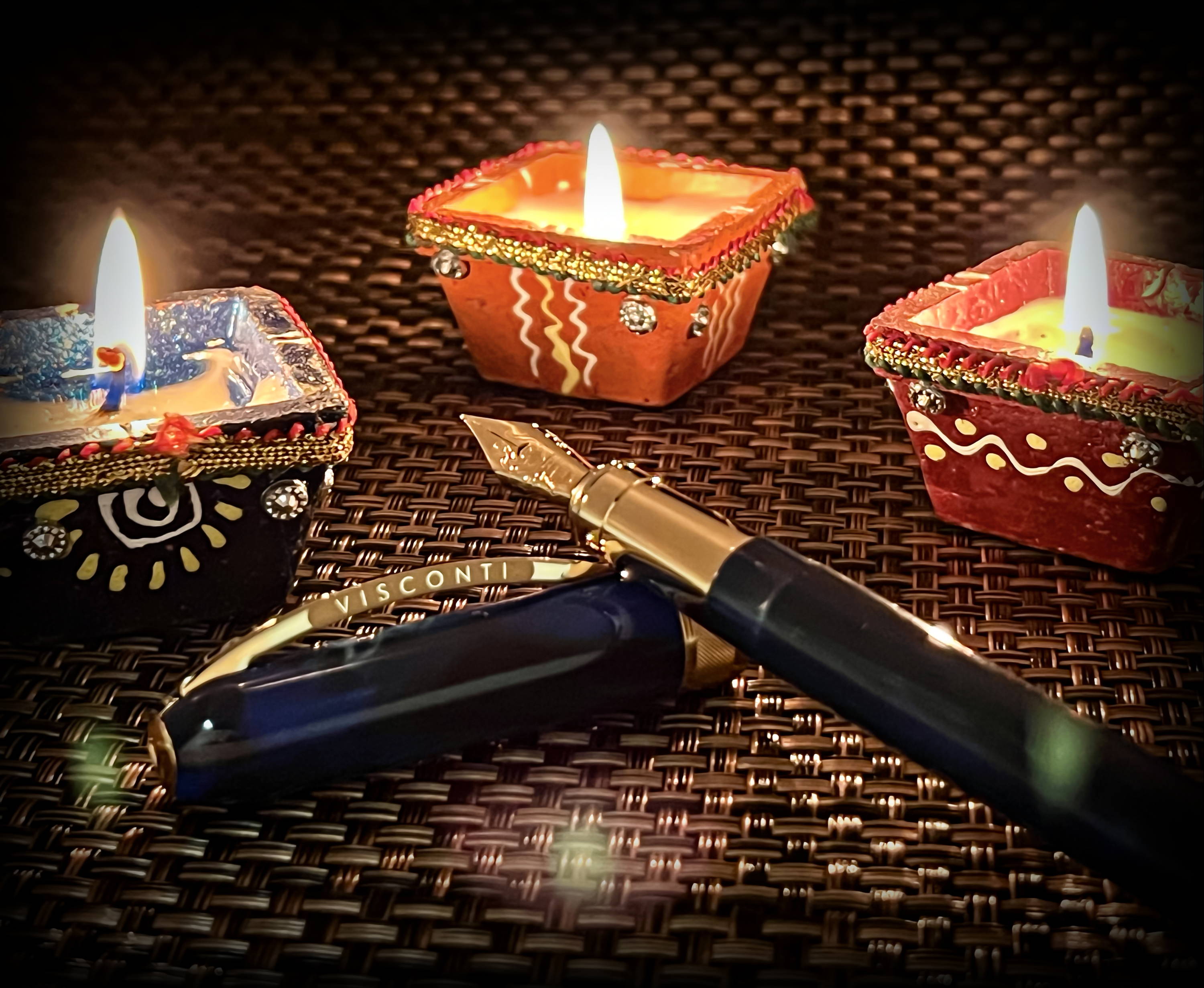 Visconti Rembrandt Blue Red Night
Create your masterpiece with the inspired design of the Visconti Rembrandt fountain pen. Drawing upon the Dutch master painter's chiaroscuro technique, the swirling body and cap of the pen look like they were painted. The "Blue Red Night" is a Goldspot-exclusive palette of colors, including red, blue, green, and wisps of white.
This is an extremely limited run of 20 pens total in this exclusive material. The pens are finished with gold vermeil trims, grip section, and Visconti bridge clip. Choose between fine or medium nib sizes in stainless steel. A converter is included to fill up with your choice of bottled ink.
A Week of Fountain Pen Day Specials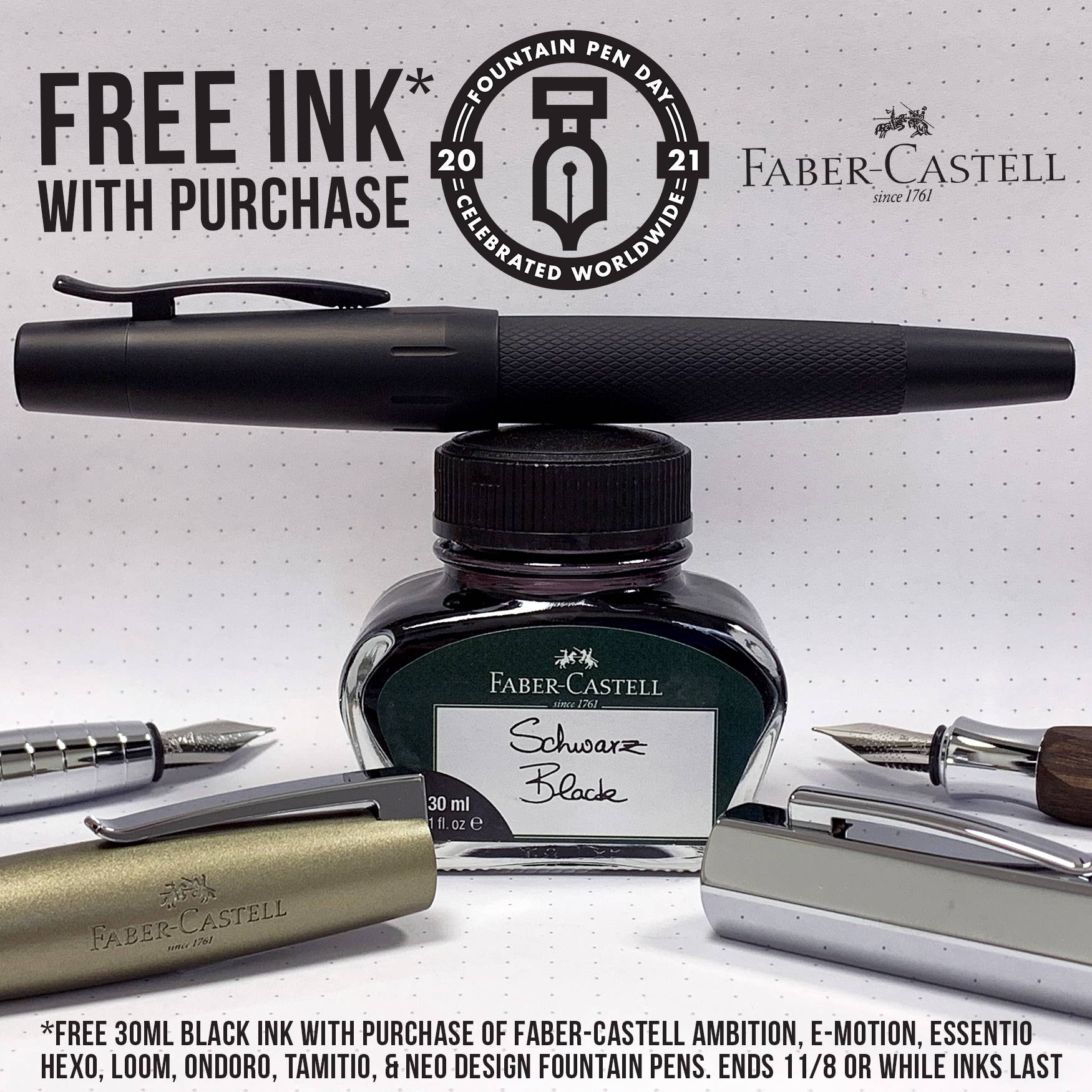 Deal #1 : Free Bottle of Faber-Castell Black ink with the purchase of select Faber-Castell fountain pens
Add a complimentary 30ml bottle of Faber-Castell Black ink when you purchase a fountain pen from the following collections: Ambition, e-Motion, Essentio, Loom, Hexo, Neo Design, Graf von Ondoro, & Tamitio.
Cannot be combined with other discounts or offers.
Expires Sunday, November 7th at 11:59PM Eastern US Time. Valid while ink supplies last.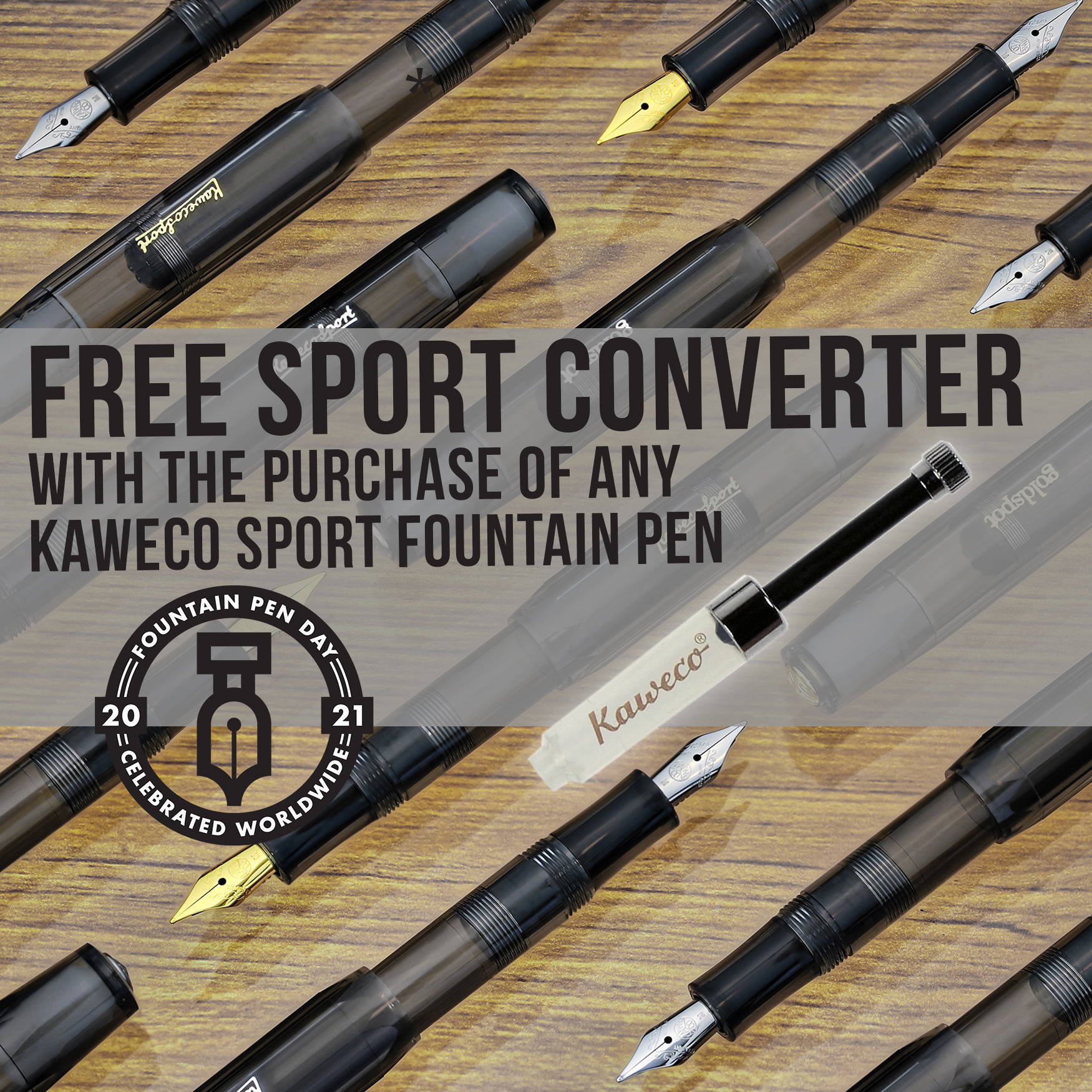 Deal #3 : Get a Free Converter with the purchase of any Kaweco Sport Fountain Pen
The Kaweco Sport is one of the best pocket fountain pens and the Sport converter only makes it easier to fill up using bottled ink. Usually, the converter is not included with the purchase of the Sport fountain pen. To claim this deal, add a Sport fountain pen to your cart and you will be prompted to add the converter as a free gift on your order.
Shop Kaweco Sport Fountain Pens >>
Cannot be combined with other discounts or offers.
Expires Sunday, November 7th at 11:59PM Eastern US Time.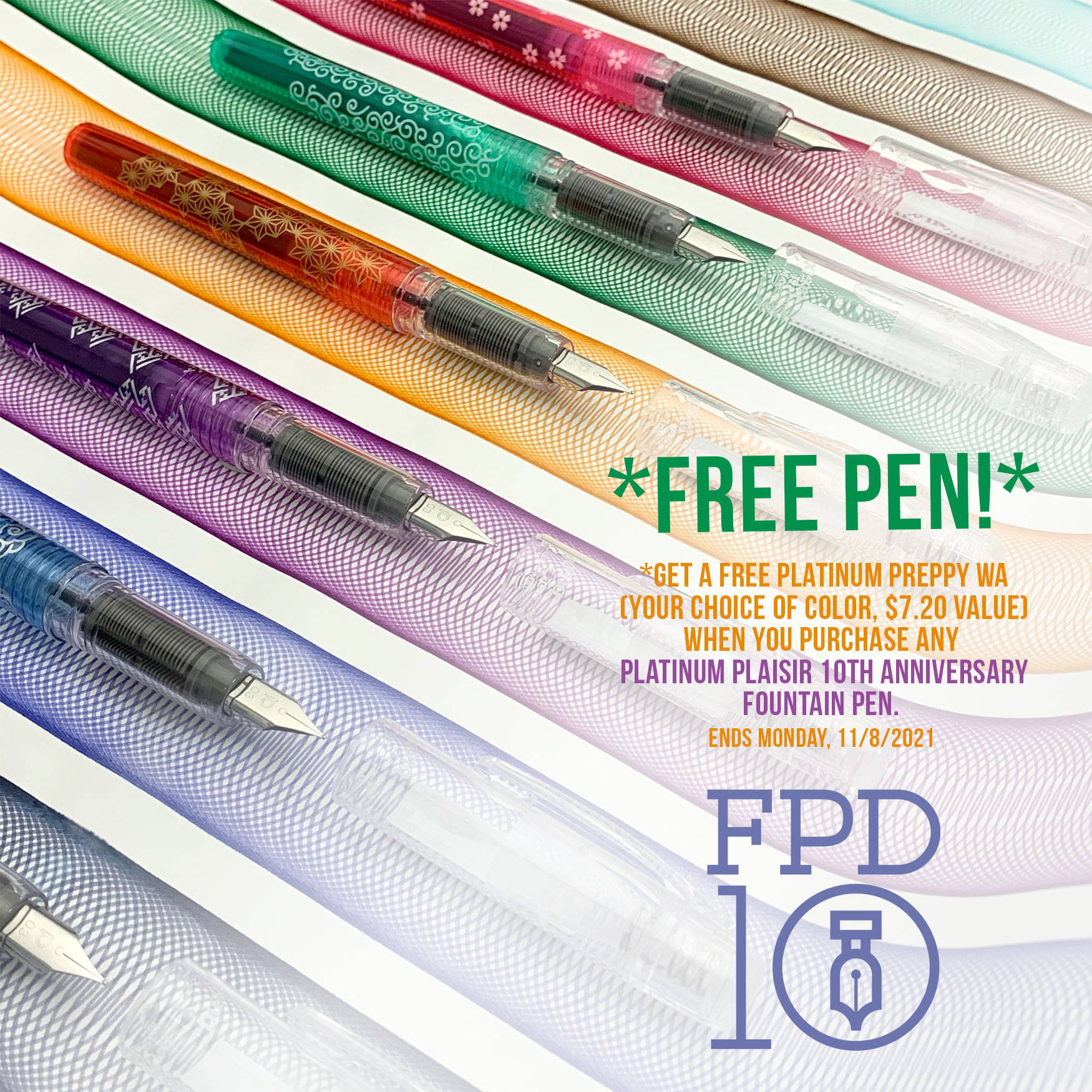 Deal #2 : Free Platinum Preppy Wa fountain pen when you purchase any Platinum Plaisir 10th Anniversary Fountain Pen.
Claim this BOGO deal to get a 2-for-1 fountain pen from Platinum, Japan. Add any of the 10th Anniversary Plaisir ombre designs to your shopping cart and view cart to select your choice of Preppy Wa fountain pen to accompany it.
Shop Platinum Plaisir Ltd. Ed. Fountain Pens >>
Cannot be combined with other discounts or offers.
Expires Sunday, November 7th at 11:59PM Eastern US Time.
Deal #4 : 20% off Opus 88 Fountain Pens
No fiddling around with piston mechanisms, cartridges, or converters - you can drop ink directly into the big barrel of an Opus 88 fountain pen and write for weeks, if not months, before needing another fill up. This Fountain Pen Day weekend, you can get an even better deal on these affordable, quality fountain pens. All Opus 88 fountain pens are marked down with their sale prices as listed on the website.
Shop OPUS 88 Eyedropper Fountain Pens
Expires Sunday, November 7th at 11:59PM Eastern US Time.
You can find more information, history, and resources in celebrating Fountain Pen Day on the official FPD website.
How will you be celebrating the 10th anniversary of Fountain Pen Day? Let us know in the comments below.