Fountain Pen Day 2019 Giveaway and Sale
Started in 2012 to celebrate the use of fountain pens in modern culture, Fountain Pen Day grew into an unofficial holiday for the international pen community. Our friend, Cary Yeager of Kenro Industries, carries the torch for this yearly event, spreading the passion for fountain pens like wildfire.
How does a pen enthusiast celebrate Fountain Pen Day? Besides the obligatory social media post that says, "look at me writing with a fancy-pants fountain pen," go above and beyond this year by attending a pen meetup, exploring a new pen & ink combination, and sharing your love of writing with others. Join our giveaway (more on that below) to quench your thirst for fine pens and inks.
attend a Pen Show or Meetup
Being a pen & stationery enthusiast in a culture that favors rapid digital communication can feel lonely. There's plenty to be learned, appreciated, and shared when a group of fountain pen addicts gets together to geek out over pens and ink. Grab a case full of your inked pens and head out to a meetup (or host one) to celebrate FPD with pen pals.
Attending a pen show is not only a fun way to meet up with like-minded appreciators of fine writing instruments, but it's also the best way to expand your horizons by browsing massive pen collections that include modern and vintage pens from manufacturers all over the world. If you're in the area, the Ohio Pen Show is being held during Fountain Pen Day weekend with over 150 exhibitor tables.
Regardless if you're meeting up or not, you can always post your pens and write on social media with the hashtag #Fountainpenday2019 to join the global conversation.
ENJOY a new pen and ink!
Pen addicts rarely need an excuse to buy a new fountain pen or ink. Whether you're celebrating a promotion, passing a significant personal milestone, achieving an ambitious goal, need retail therapy after a rough week, or celebrating a birthday early, there's always a good reason to treat yourself to great stationery.
You can celebrate Fountain Pen Day by exploring a new pen and ink pairing. A big part of the enjoyment in writing with fountain pens is the variety of nib sizes, pen styles, and ink colors to explore. Put your own unique flair on your signature handwriting style with the "write" instruments available at Goldspot.com.
If you're looking for the latest and greatest in the world of fine writing, check out new releases from over 50 of the best writing brands. Searching for your new favorite ink color? Check out our massive selection of bottled ink for fountain pens. Want a great deal? Our Fall Pen Clearance Sale has pens up to 75% OFF.
Starting Friday, November 1st, and running throughout the Fountain Pen Day Weekend, there will be a variety of special free pen gifts with your next order. It's a progressive gift promotion, so the more you buy, the more you get free.
Fountain Pen Day Weekend Deals
The more you spend, the more free pen gifts you get. Free gifts with purchase end Monday, November 4th at 1:00AM Eastern Time.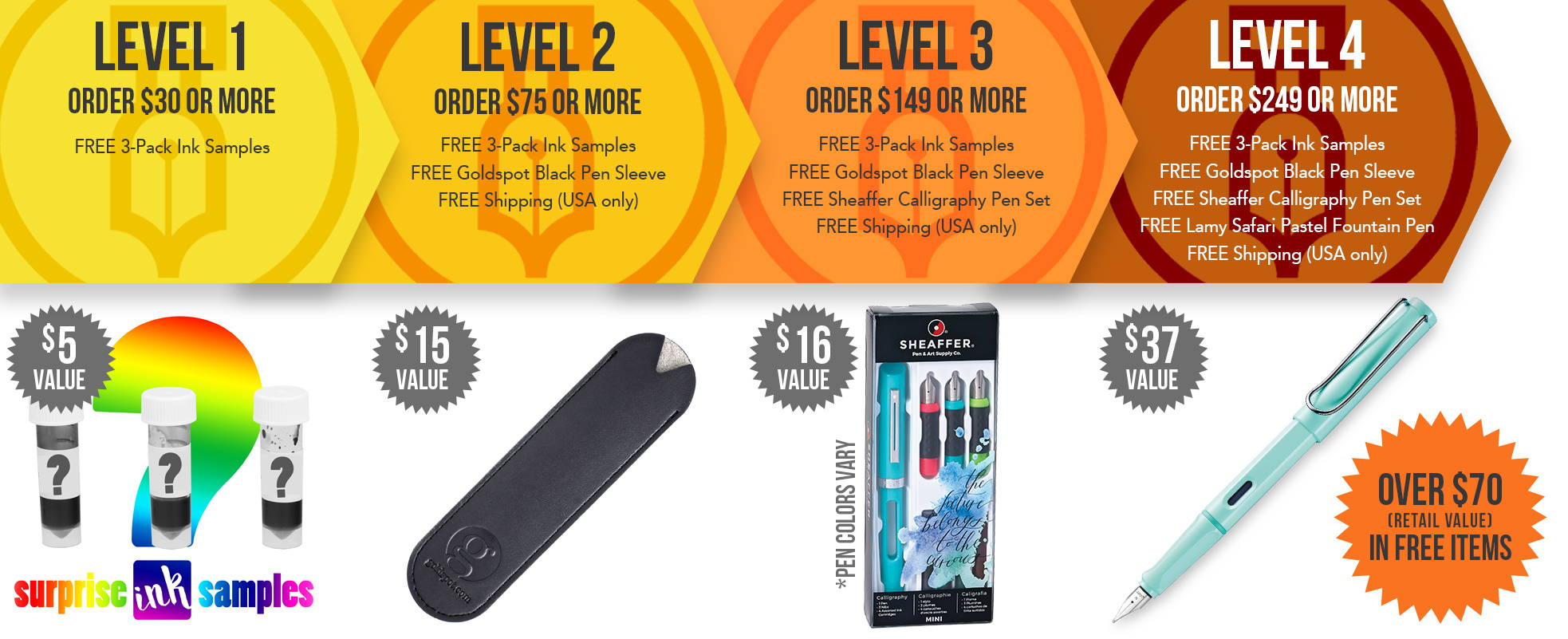 Score complimentary pen gifts with your Fountain Pen Day weekend purchase. Surprise yourself with new ink colors you might not have ever thought to try. Protect your favorite pen with an elegant, yet durable pen sleeve. Learn calligraphy with three different size nibs of the Sheaffer Calligraphy Pen Set. Lastly, you can get a special edition 2019 Lamy Safari Pastel fountain pen in Macaron Blue to add to your collection. Simply meet the order minimum requirements and the free gifts will be automatically added to your cart.
Order $30 or more, get a FREE 3-Pack of Ink Samples
Order $75 or more, get a FREE 3-Pack of Ink Samples, a Goldspot Black Single Pen Sleeve and FREE Shipping (within the USA only).
Order $149 or more, get a FREE 3-Pack of Ink Samples, a Goldspot Black Single Pen Sleeve, a FREE Sheaffer Calligraphy Pen Set and FREE Shipping (within the USA only).
Order $249 or more, get a FREE 3-Pack of Ink Samples, a Goldspot Black Single Pen Sleeve, a FREE Sheaffer Calligraphy Pen Set, a Lamy Safari Pastel Fountain Pen and FREE Shipping (within the USA only).
spreading the addiction
One of the most important, yet overlooked functions of Fountain Pen Day is to share your "penthusiasm" with people who are foreign to fountain pens (of which there are many). Most people may look at you sideways when you express the depth of your love for the writing experience. For them to truly understand, you need to put a pen in their hands.
Most pen collectors are rather reluctant to share their fountain pens with newbies, and I don't blame you. Fixing a sprung nib is quite expensive. What we suggest is to send at least one person who shows a general interest in good stationery and office supplies a Starter Fountain Pen Care Package.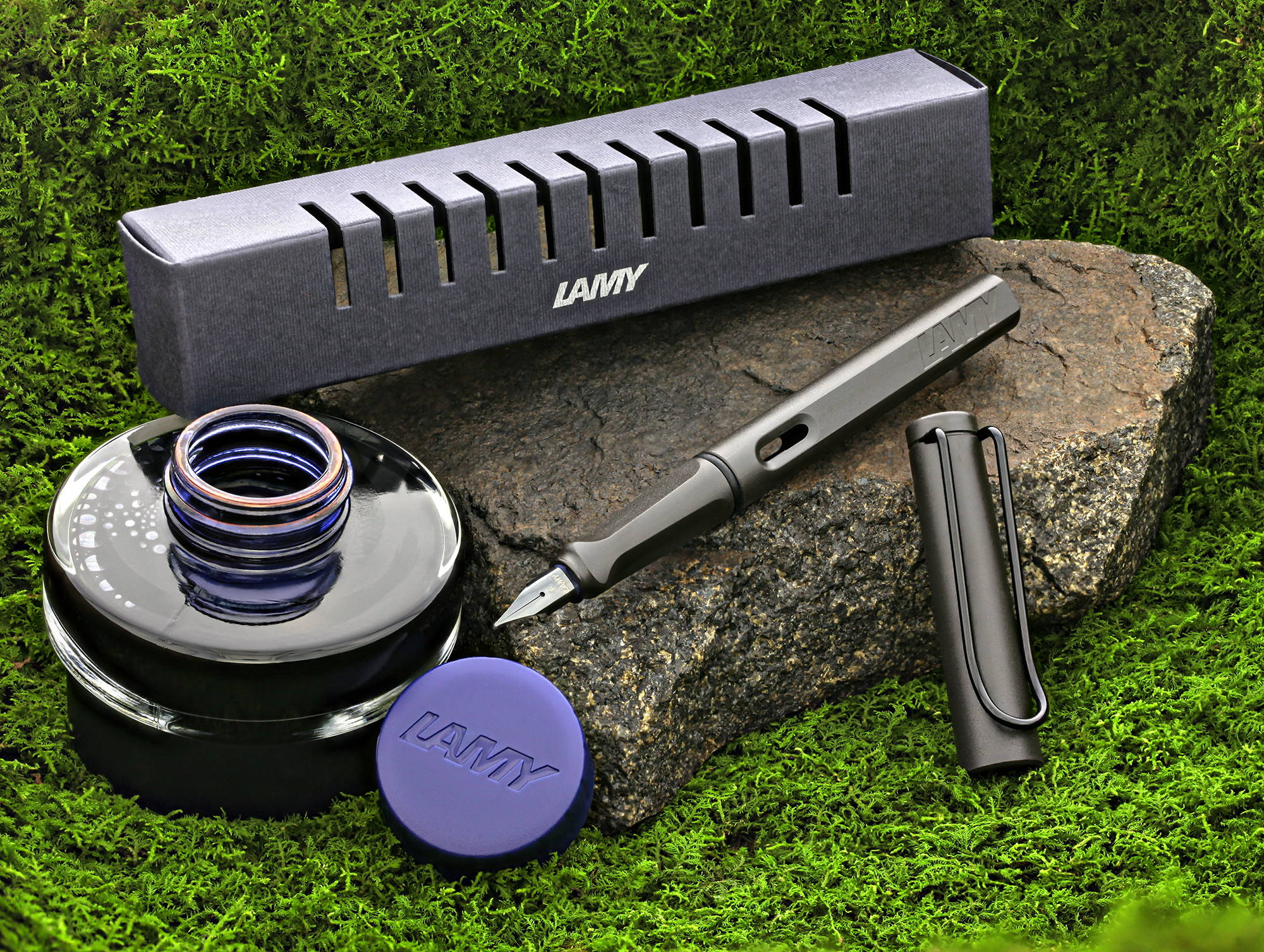 We've put a lot of thought and feedback into putting together a selection of packages that include a quality pen, paper, and ink, perfect for beginners. Although there are plenty of instructional how-to videos on filling a fountain pen and writing with one, we would suggest showing your friend (in person or through video chat) just how to properly enjoy their new writing instrument and help them through any questions they may have.
FOUNTAIN PEN DAY 2019 GIVEAWAY
Lastly, we're celebrating Fountain Pen Day with a HUGE WORLDWIDE GIVEAWAY! Enter below for a chance to be one of 5 winners of these great prizes:
Grand Prize: Leonardo Officina Italiana Momento Zero Dark Blue Acrylic Fountain Pen - $199 Retail Value (Shop)
1st Runner Up: Esterbrook Estie Honeycomb Fountain Pen with an H2GO Vacuum Bottle - $195 Retail Value (Shop)
2nd Runner Up: Sailor Jentle Inks, 6 North American Exclusive Colors - 50ml each - $150 Retail Value (Shop)
3rd Runner Up: Laban 325 Sun Fountain Pen - $140 Retail Value (Shop)
4th Runner Up: Kaweco Sport Skyline Transparent Turquoise Fountain Pen - $25 Retail Value