Essential Writing Gear for Back to School, even if its remote
How will we achieve in this new learning environment? How do we stay on task to ensure our priorities are met? How do we manage our day to succeed and grow in knowledge?
While not everyone may be physically attending class in the fall, you'll go far in achieving high grades with essential writing tools from Goldspot Pens.
In this guide, we will share strategies you can apply to your learning experience (in the classroom or remote) to help manage your time, absorb new information, and get high marks on assignments. Along the way, we will highlight items that are beneficial for your studies.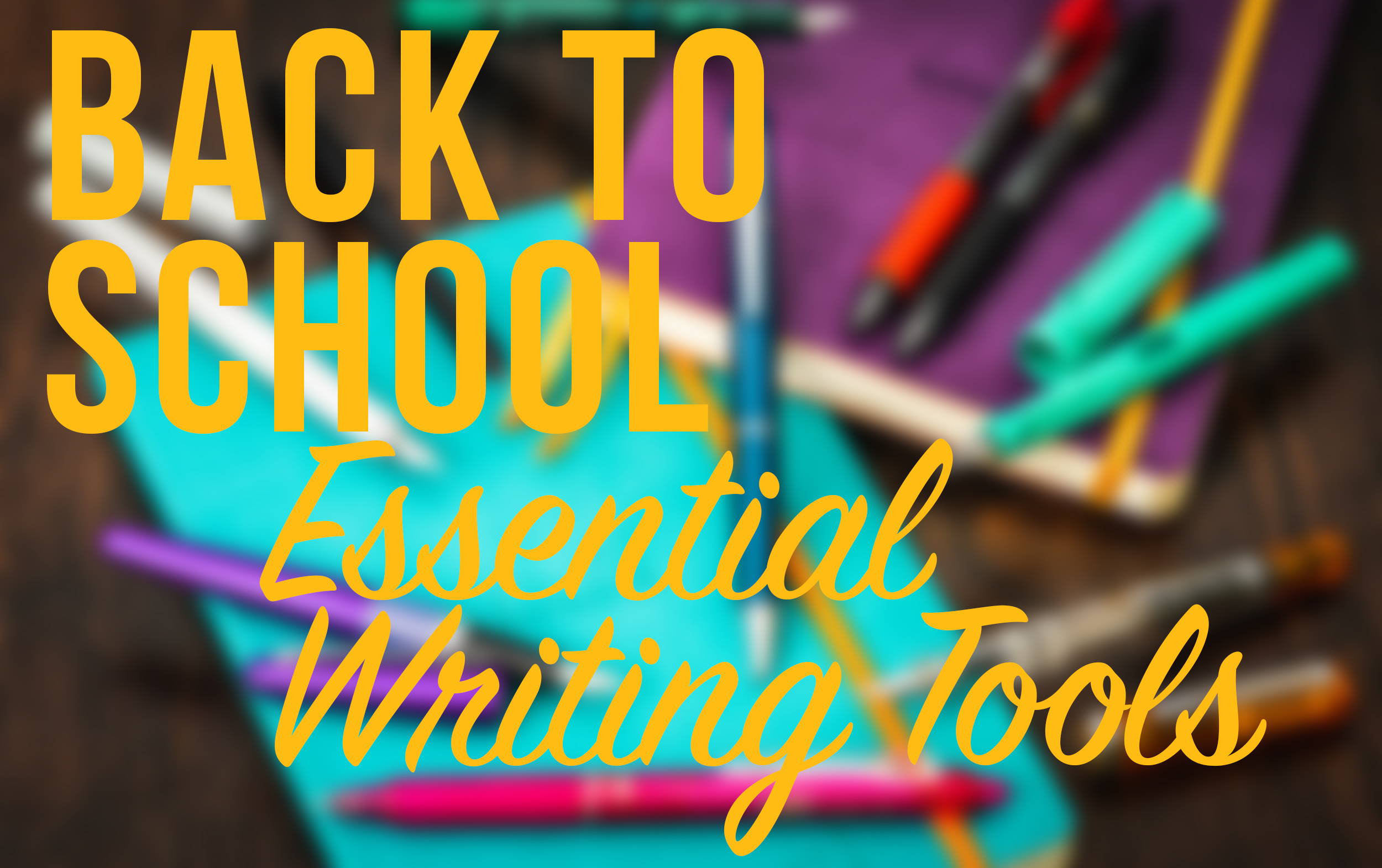 Time Management
Time is the one resource that is most precious and most often squandered. For many, the pandemic freed up hours of obligations and commuting, only to be replaced by binge-watching "Tiger King" on Netflix. Those who are making the most of their time in quarantine do so with intention.
To quote Founding Father, Benjamin Franklin, "if you fail to plan, you are planning to fail!" Franklin was known to keep a journal, plan out his days, and track important habits. How else could he have achieved so much in his 84 years of life?
So, how do we keep track of our zoom meetings, deadlines, projects, and goals for personal improvement? How can we be effective without feeling overwhelmed? How can we deal with all the various distractions and keep our eyes fixed on the important?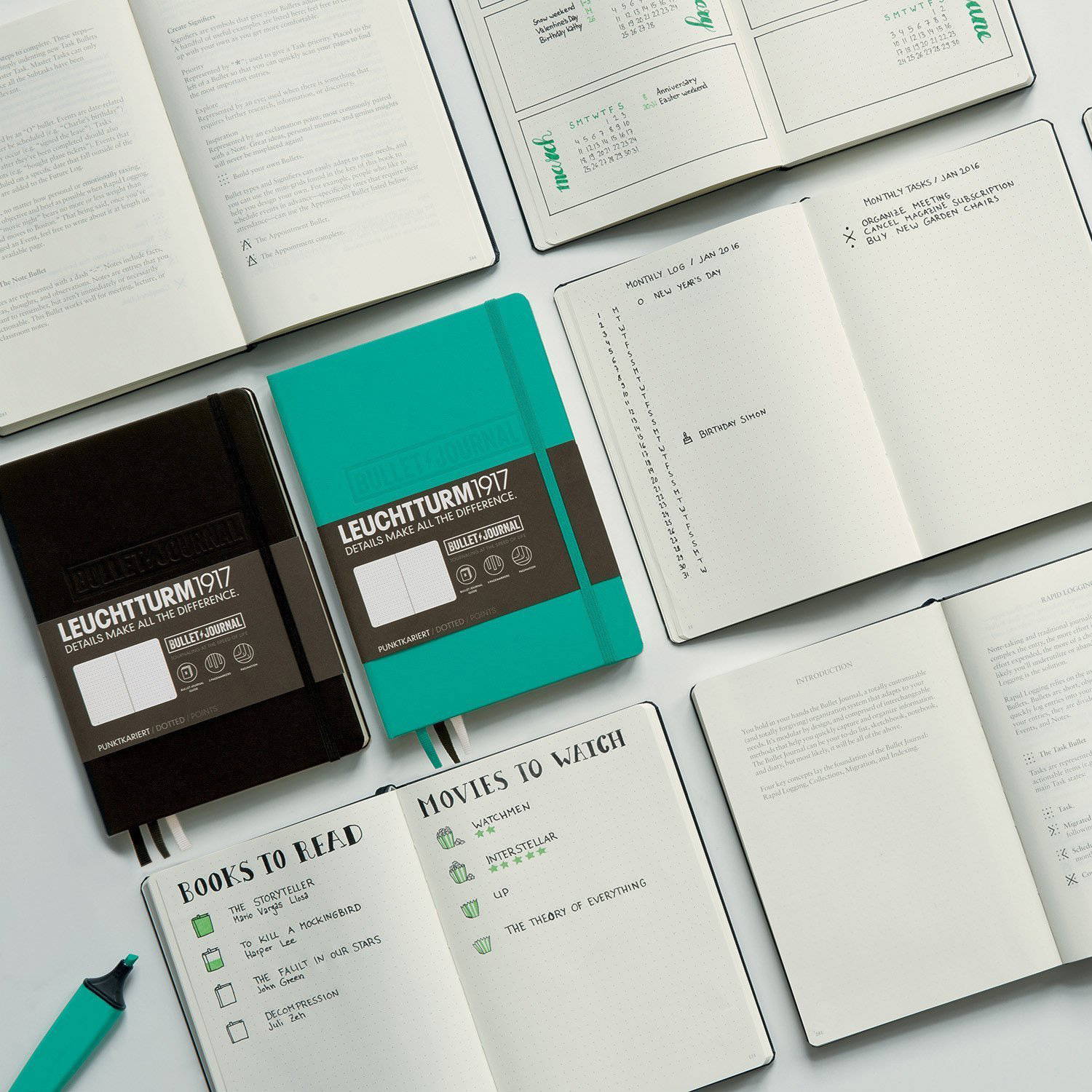 Welcome to the new era of journaling. Invented by Ryder Carroll, the Bullet Journal method has become a widely-used system for transforming a dot grid notebook into your personal productivity guidebook. The instructions on how to start a bullet journal take 5 minutes to digest. Once you start with the basics, you'll find the system is flexible to meet your needs and goals.
For starters, we suggest the officially-licensed Bullet Journal notebook by Leuchtturm1917. Besides being a great journal with thick, quality paper, this version of the dotted format has instructional pages at the beginning and end to help guide you along your first BuJo (short for Bullet Journal) journey.
If you're already familiar with the Bullet Journal method and don't need a primer, we suggest the Rhodia Goalbook - available in a wide array of colorful, flexible leatherette covers.
While the format of a dot-grid journal is a great tool for scheduling, prioritizing, and tracking long-term projects, it might not be an ideal jot pad for ideas and notes. When you're brainstorming (or -dumping, as the kids like to say these days), you need a space to write terrible first drafts, flesh out ideas, and scribble math equations. Practically everyone in the Goldspot office has at least one of these Rhodia notepads for such reasons. Made from quality, 80gsm paper in many different sizes, you can use all sorts of pencils, pens, inks, and markers to capture your thoughts.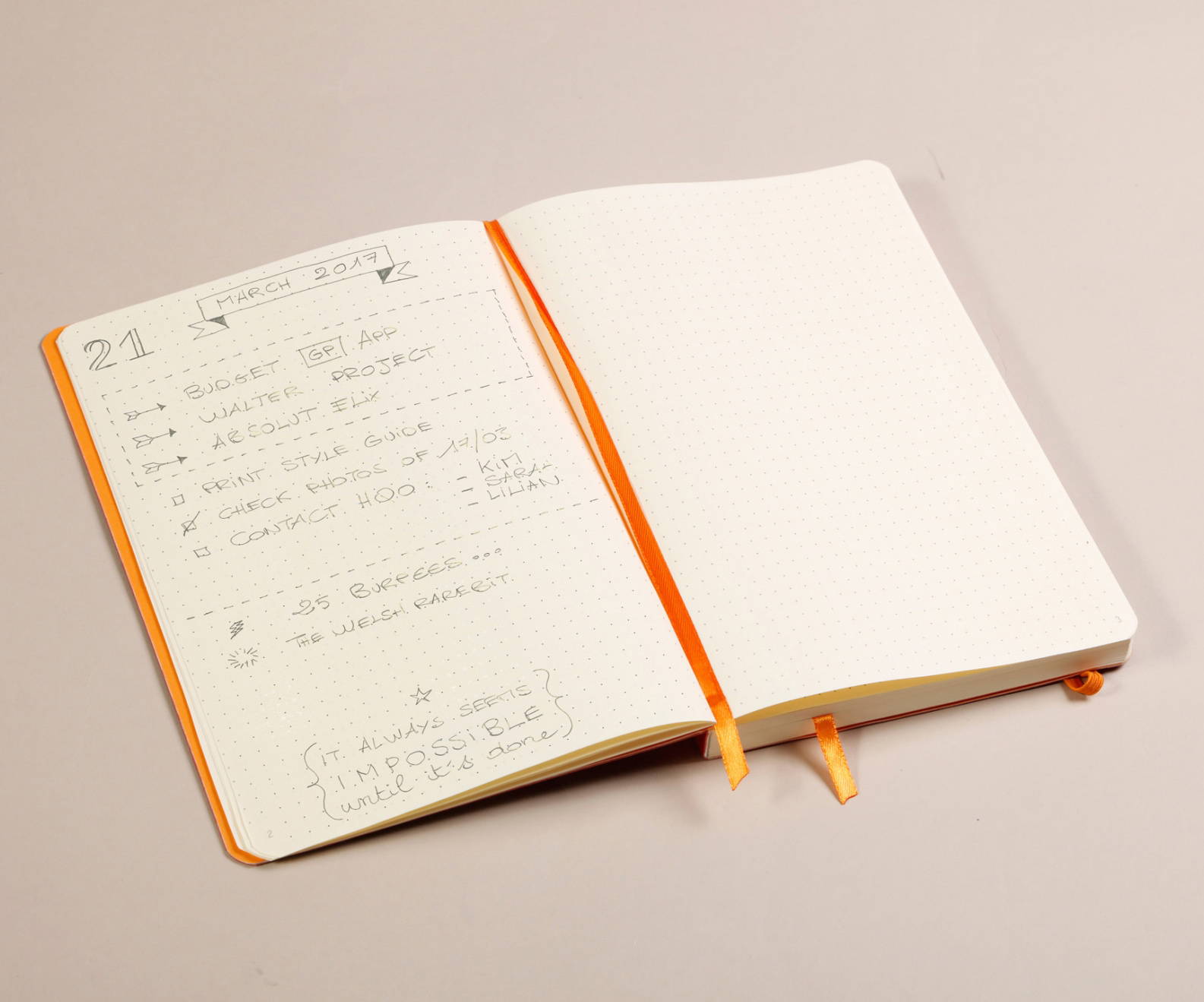 Absorb New Information
While you could type notes or record a virtual lecture, science proves time and time again that the brain is better at retaining knowledge written by hand. You're going to need a quick draw pen that can keep up with rapid notetaking. One of the best-selling, all-around quality pens popular with students is the Pilot G2. The ergonomic design and smooth-writing gel ink make the G2 one of the comfiest and most affordable pens for the classroom.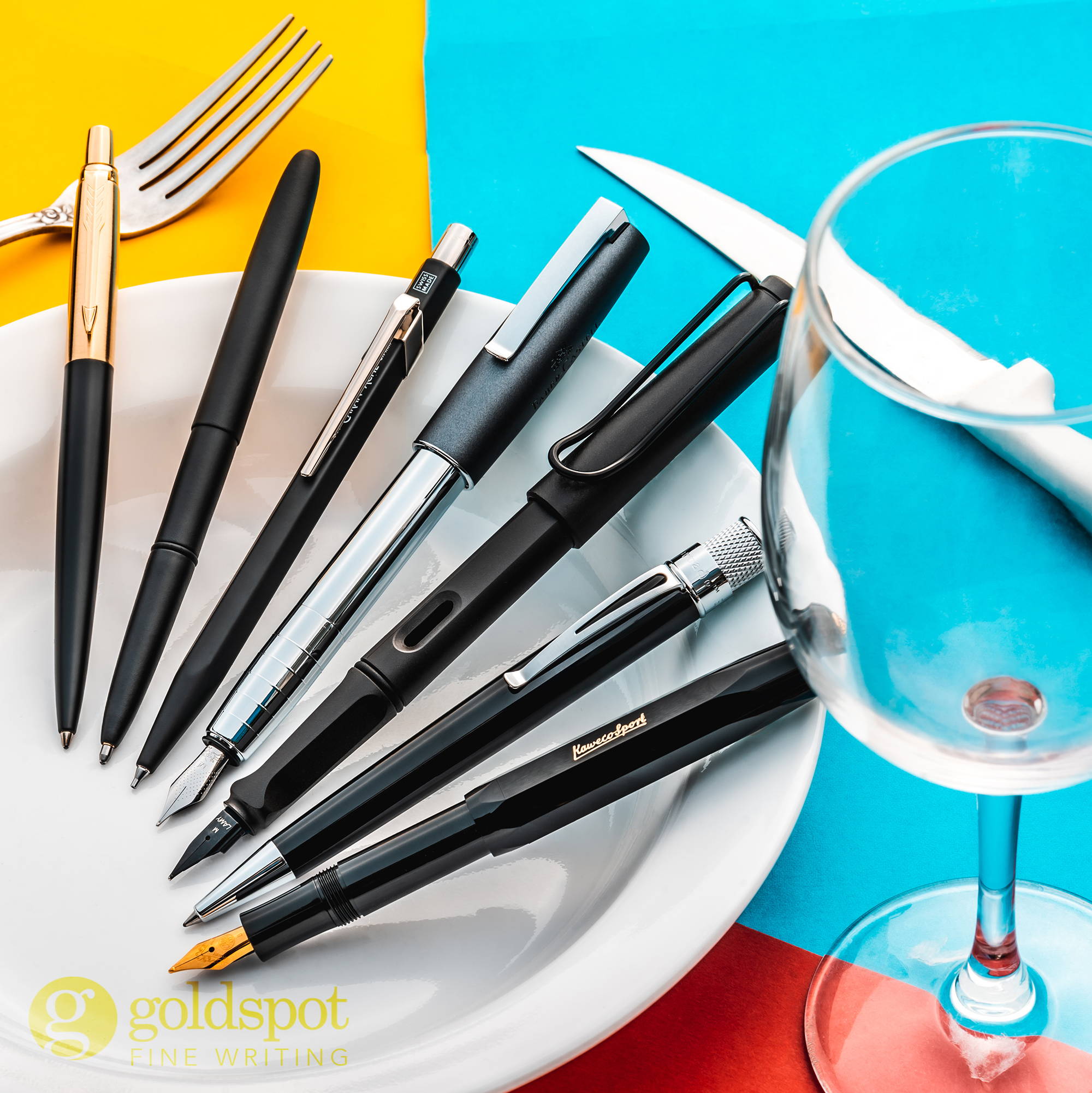 Let's say you have to do a lot of writing - term papers, thesis papers, and fully written exams - to succeed, you need to enjoy the act of writing. You need to savor the experience so that it won't be a chore every time the teacher assigns an essay. A fountain pen provides a deeper, more personal connection between the writer (you) and the written word (your homework). Besides having an old-school vibe, fountain pens are smoother and more satisfying to use than ballpoint pens. You can select from a variety of different nib sizes to best suit your handwriting. Most fountain pens can be filled with any fountain pen ink color of your choice, giving the writer a rainbow of options to find their favorite color.
There are plenty of starter options for students looking for a quality, budget-friendly fountain pen. Unlike the latest smartphone, these pens are built to last decades, if not a lifetime, when given good care.
Here are five beginner fountain pens for students:
While you're jotting down notes by hand, make sure to concentrate on making your handwriting legible. Not only does it help when you study your notes later, but it will also make you a more effective communicator when you collaborate with a group. Having nice handwriting is rare these days, and most people are impressed when they see it!
Get High Marks on Assignments
If you've been following along so far, we have a great set-up for success - a productivity journal built to keep you focused on achievement, a pad for brainstorming/dumping, and pens that will capture it all on paper. Despite our traditional setup and pen and paper, we need to lean on technology to maximize our productivity.
Although we believe earnestly that a pen and paper is more effective at learning and creating, technology can help us be more efficient at communication and scaling our work to new levels.
Let's say you're working on a class project that requires sharing notes and ideas without being physically present. Using an app-enabled notebook like the Rocketbook helps bridge the gap with technology. As you will see in our video demonstration, notes and drawings made in a Rocketbook are imported using your mobile phone and processed with your selection of productivity apps. You could share your notes with classmates or store them in the cloud for later reference.
Rocketbooks are also meant to be reused. If you write in them using the thermo-sensitive ink of Pilot Frixion pens, you could erase the entire notebook and start over. Nuke the Rocketbook Wave in a microwave oven to erase all the pages and start from scratch. Wipe down the Everlast for a clean slate.
If you find yourself constantly bouncing from digital to analog, there are a number of pens that provide a touchscreen stylus. Create on a screen or on paper - your choice! A multi-pen like the Cross Tech 3+ has been a popular choice for many years.
We hope that this guide helps you navigate the uncertain terrain of this upcoming school year. Just remember that you do not control your circumstances - you DO control how you respond to them. Prepare yourselves with the right mindset and the right tools to succeed.
Stay inky, my friends!