10 Most Unusual Ballpoint Pens
When you're a fountain pen enthusiast, most ballpoint pens seem boring, dull, and lacking excitement. They don't have the unique personality that comes with a fountain pen's nib and filling mechanism. When you've written with one ballpoint pen, you've written with them all, right? Well, we searched over 1,000 ballpoints in the Goldspot Pens store to bring you the 10 most unusual ballpoint pens that might change your mind.
You may watch the YouTube video presentation below or scroll to read all of our most unusual pen picks.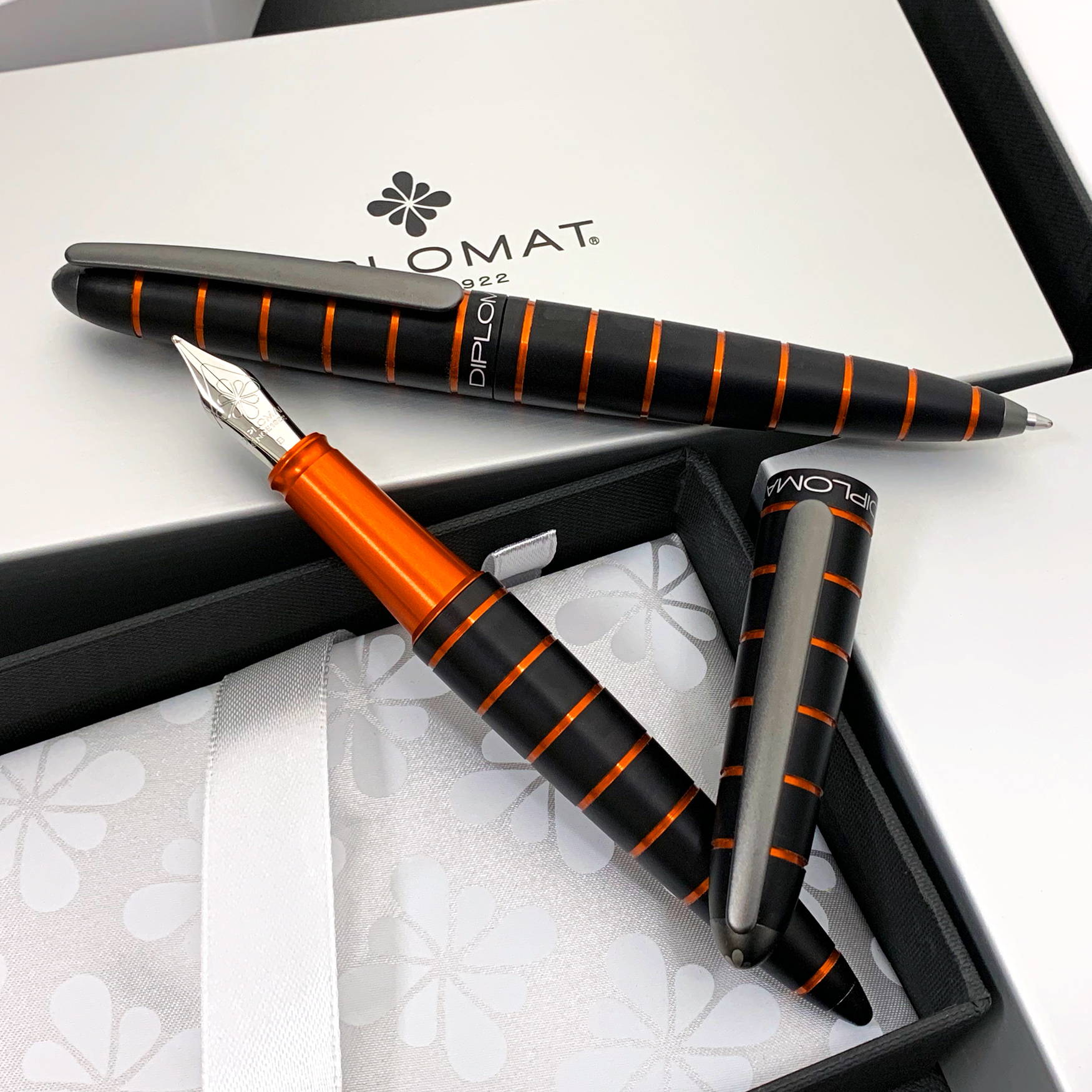 Made of twice-anodized solid aluminum
Matte textured
Cut with contrasting concentric rings
Comfortable balance and hold
Refill: Parker-style, "Easy flow" cartridge
Cost: $188
The Diplomat Elox is a different take on the popular Aero design. The pen's streamlined shape and aluminum construction offer a balanced, weighted feel in-hand. Fingers will find soothinig comfort in the black matte sections of the tapering profile. The smooth twist-action mechanism produces the tip of an Easy Flow, Parker-style ballpoint cartridge made in Germany.
Compact, pocket-friendly ballpoint pen
Made of solid steel
Hand-torched using a 600-degree flame
Cap screw-posts on back end
Refill: Mini D-1
Cost: $145
The Liliput is a small, minimalist ballpoint pen with a simple construction. The "Fireblue" takes it to another level with a hand-torched finish that shines blue, purple, ochre, and silver. When Goldspot visited the Kaweco headquarters in Germany, the CEO Michael Gutberlet gave us a demonstration of how he torches these pens to create such a gorgeous, colorful finish. The Liliput's cap screws on the back of the pen to extend to a comfortable size for most writers.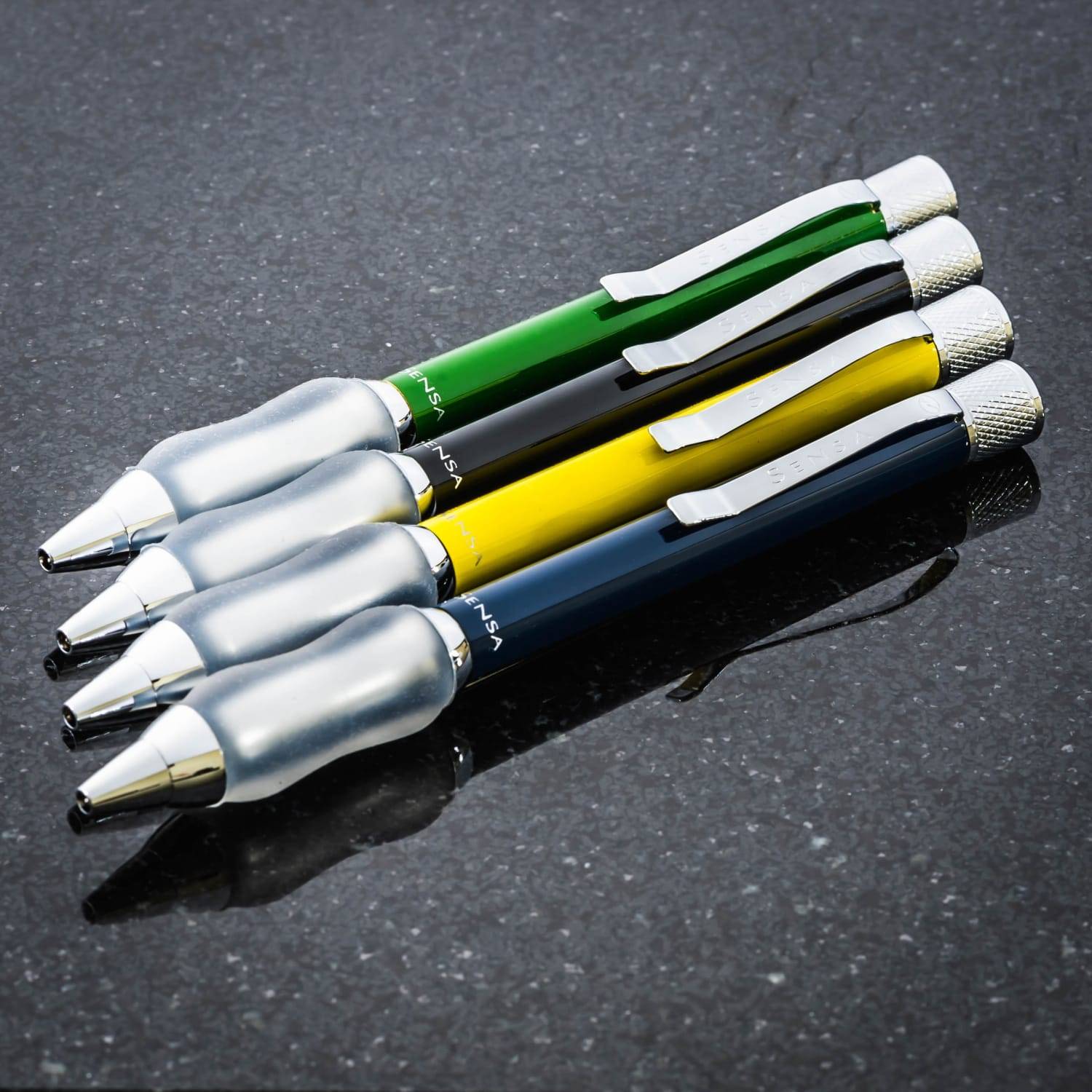 Advertised "the world's most comfortable pen"
Plasmium gel grip displaces finger pressure
Cylindrical body available in a vartiety of colors and patterns
Twist-top retraction mechanism
Refill: Parker-style
Cost: starting at $60.35
Goldspot will always have a soft spot for Sensa pens since the brand was one of the first sold on the Goldspot Pens website way back in the early 2000's. Sensa pens continue to delight writers who have a strong grip on their pens. The gel grip is comfortable - almost like your fingers are resting on a cloud.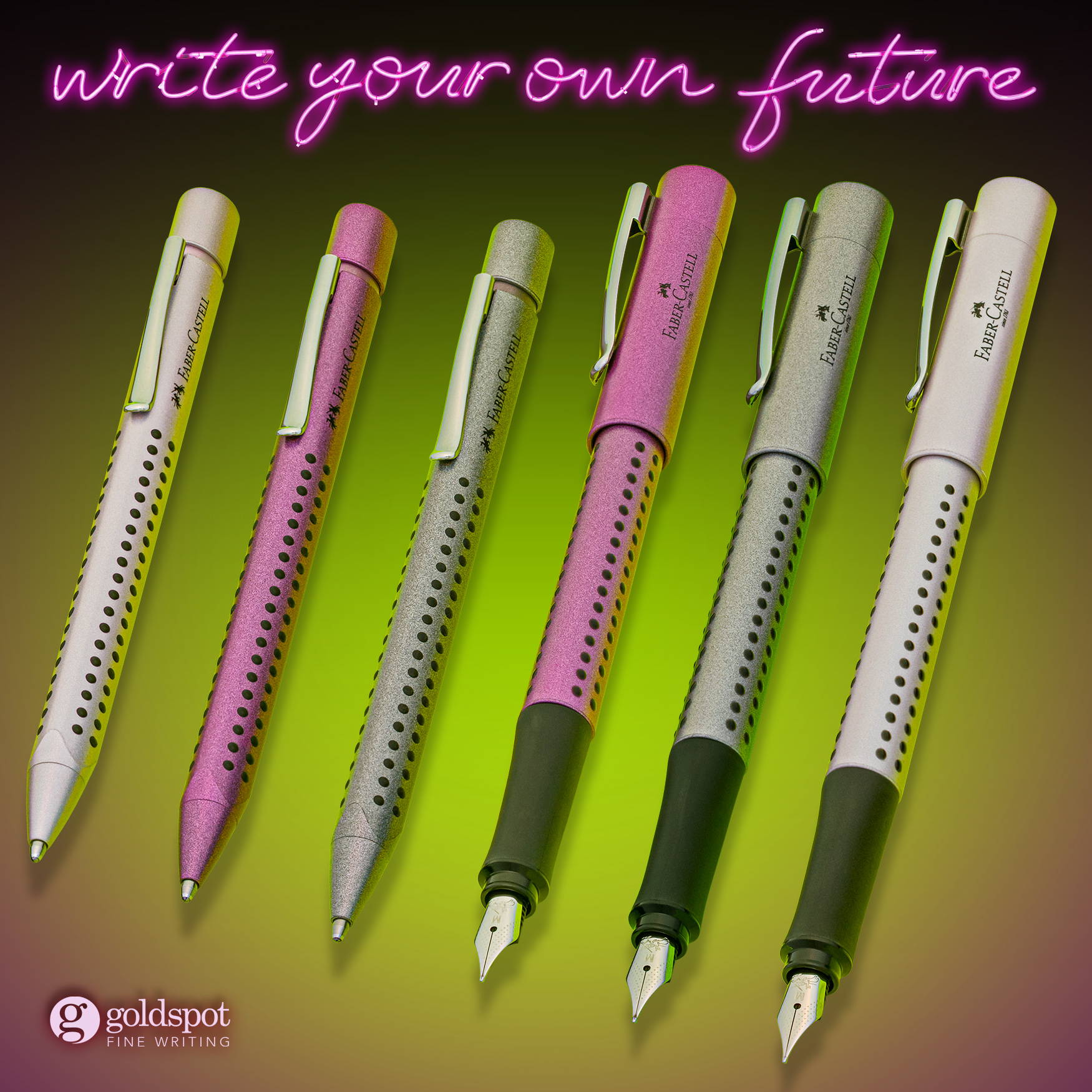 Ergonomic design
Rounded triangular profile
Raised dots with rubberized texture
Many colorful styles available, including new shimmering "Glam" collection.
Push-top retraction mechanism
Refill: Parker-style, XB cartridge
Cost: $14
Made in Germany, the Faber-Castell Grip ballpoint pen lives up to its name with a truly unique texture and feel. Even a blindfolded person could easily identify this pen by touch alone. The rounded, triangular profile promotes a tripod finger grip while the rubberized dots give fingers a comfortable, secure hold. At a comparatively low cost, this pen punches well above its weight.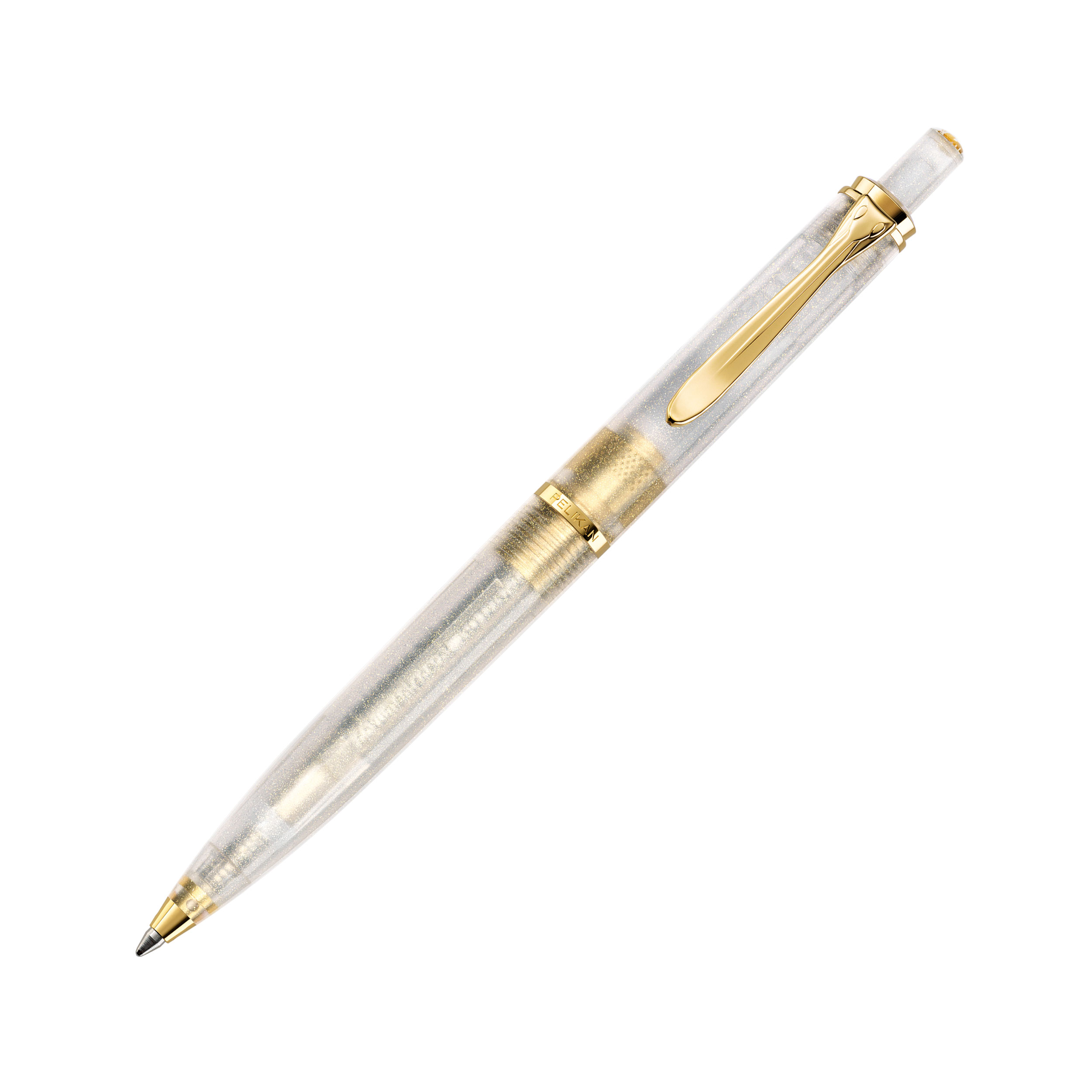 Demonstrator shows internal workings
Frosted, sparkling resin to match Edelstein Ink of the Year.
Raised dots with rubberized texture
Yearly special editions are limited in availability
Click-top mechanism
Refill: Parker-style, Pelikan 337 Cartridge
Cost: $165 and up
Pelikan makes some of the most refined, elegant-looking pens in the world. They are similar in prestige to Mont blanc ballpoint pens without the excessive cost. Each year, Pelikan introduces a new K200/K205 model in fountain pen and ballpoint that match the Edelstein Ink of the Year. The Golden Beryl is unique because it is a demonstrator that has a smoky, translucent barrel with a golden, sparkling shine.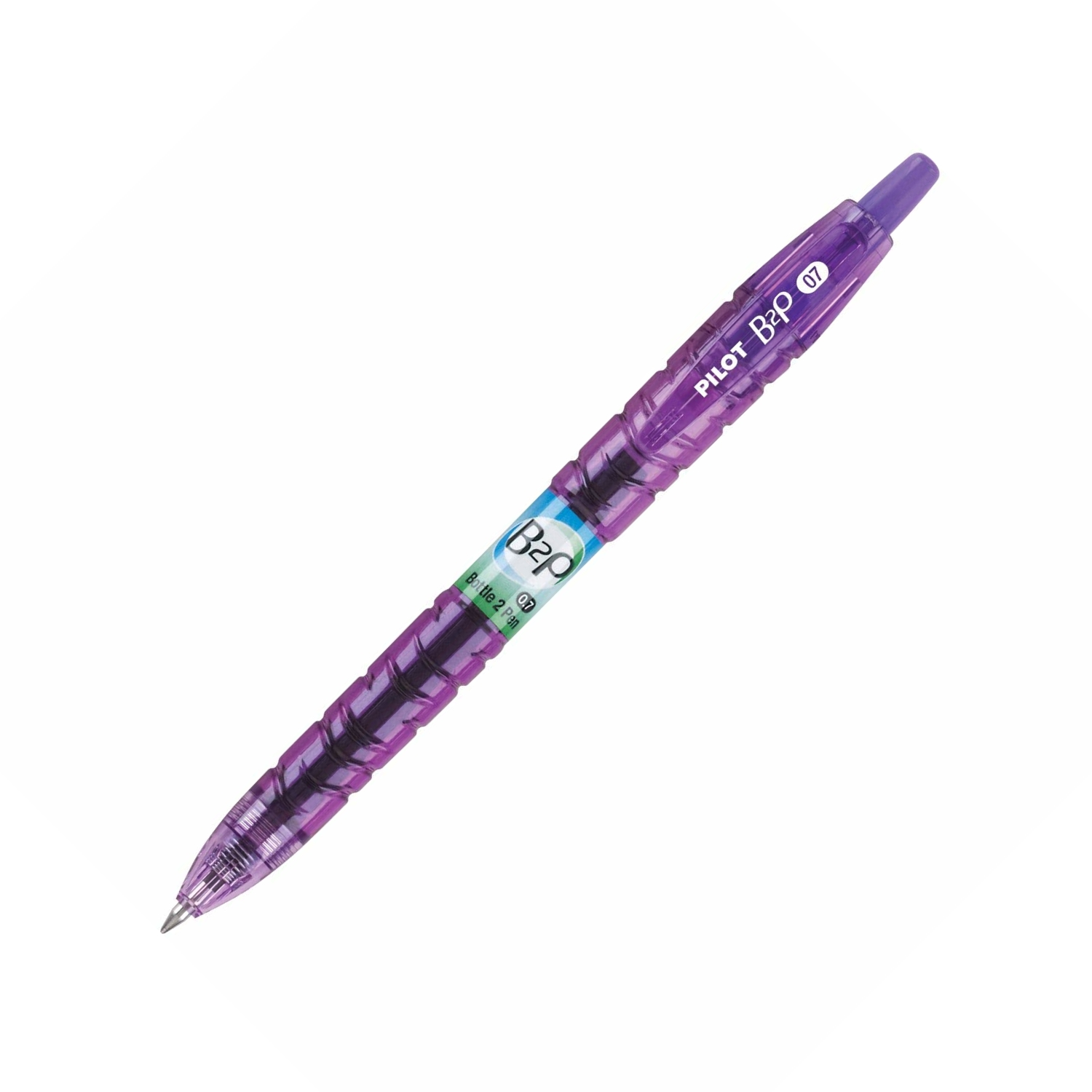 made from 86% recycled material from used water bottles
The pen design looks like a water bottle
Translucent plastic body matches
Click-top mechanism
Refill: Pilot G2 Gel rollerball refill
Cost: $2.29
The most inexpensive pen on this list is also the most eco-friendly. The Pilot B2P pen is made of recycled water bottles and even looks like one to remind the writer that they are playing their part in conserving the environment and reducing waste. The click-action mechanism serves the silky smooth gel ink of the Pilot G2 cartridge.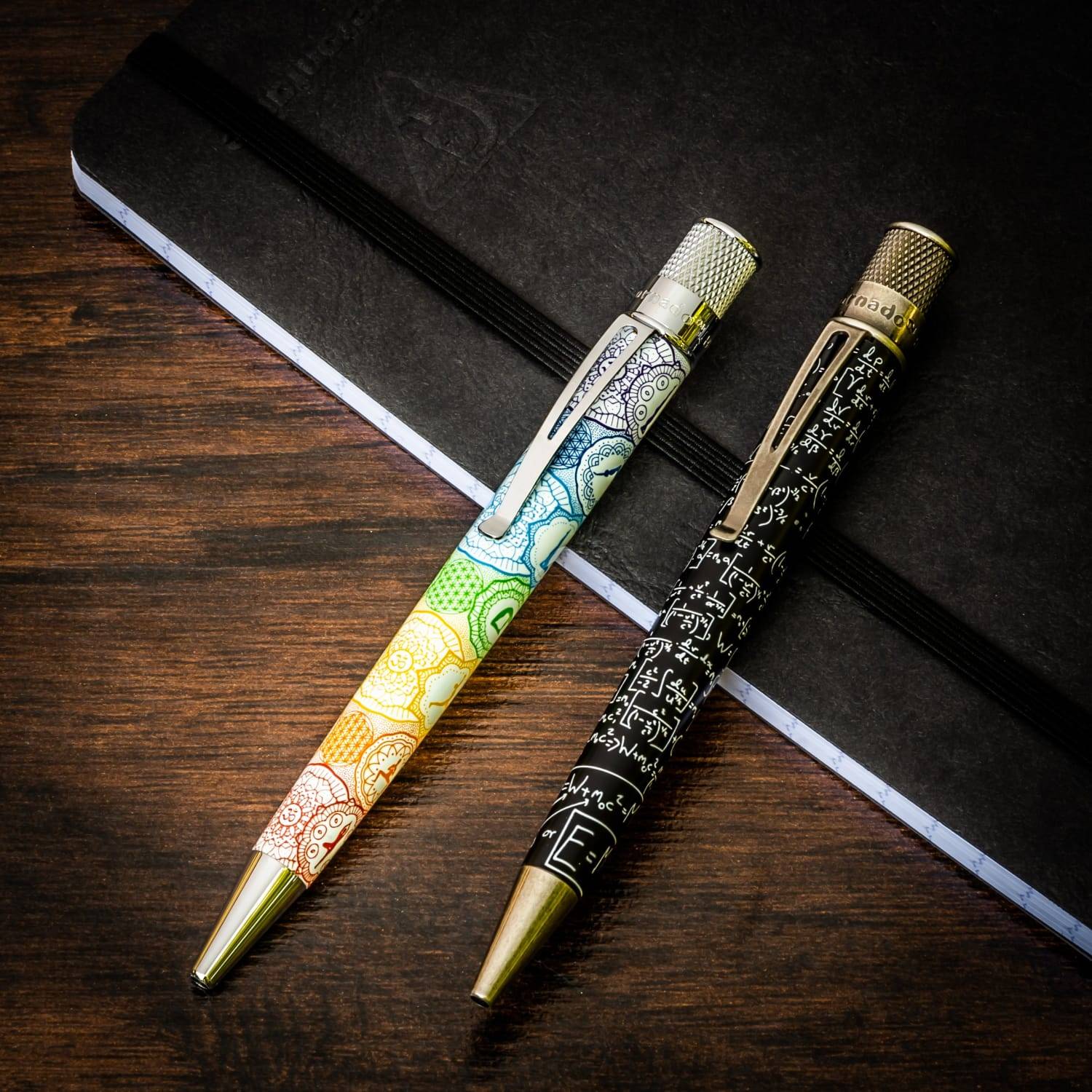 Tapered profile with a stainless steel base
Hundreds of designs with themes that resonate with people around the world
Screen printed, acid-etched patterns, lacquered, textured, glow-in-the-dark
Knurled, twist-top mechanism
Refill: Schmidt capless rollerball / Parker-style ballpoint compatible
Cost: Starting at $24 - $50 & up for certain finishes
No other pen collection can come close to the range of themes that the Retro 51 Tornado represents. Retro makes pens that honor science, meditation, history, aerospace, animal preservation, music, food, beverages, and much, much more. The Tornado's round, tapered shape serves as a canvas for creativity, taking pen design into new and exciting directions.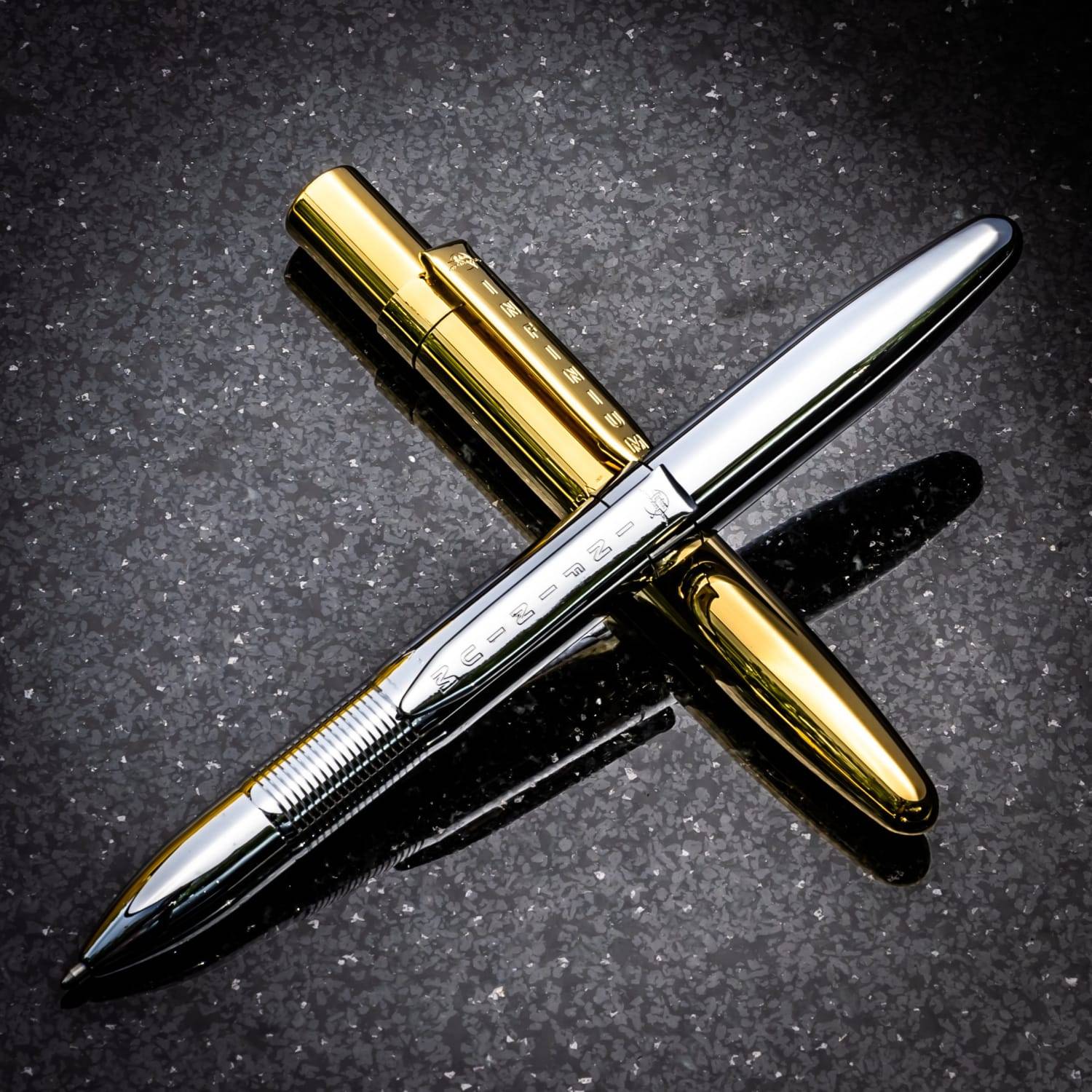 Pressurized ink delivery system with special ink formula
Writes in extreme temperatures, underwater, in zero gravity, and upside down
The Infinum holds enough ink to last a lifetime
Guaranteed for life by Fisher
Cost: Starting at $136 - $170 for Nitride finishes
Fisher Space Pen continues to be the choice writing instrument that accompanied astronauts since the Apollo missions of the 1960s. Its pressurized ink cartridge and special ink formula is capable of writing without the aid of gravity. The Infinium is unique because Fisher fills the pen with enough ink to last a lifetime. And, if it ever runs out during your lifetime, you can send it to Fisher for a refill or replacement.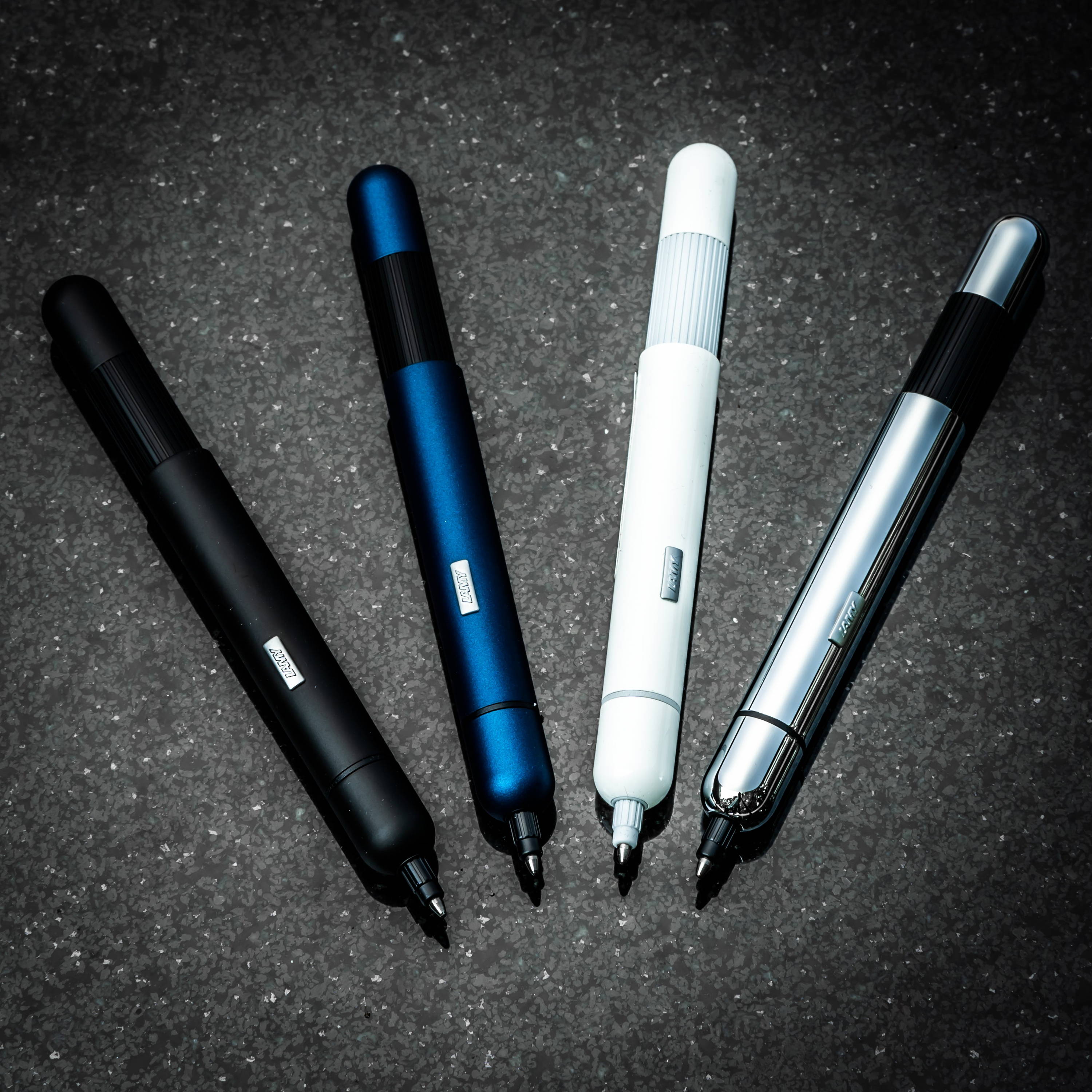 German Bauhaus inspired "form follows function"
Sleek, pocket-sized design
Press the back of the pen to extend the point and the overall pen length in one action
Roll stop prevents the cylindrical pen from rolling off tables, desks, etc.
Cost: Starting at $39.20
The Pico has a short name to match its short, cylindrical body shape. The sleek, minimalist design has only a small, rectangular protrusion with the Lamy logo on it to prevent the pen from rolling away. The backend plunger activates the pen's tip and extends the body to a full-length pen.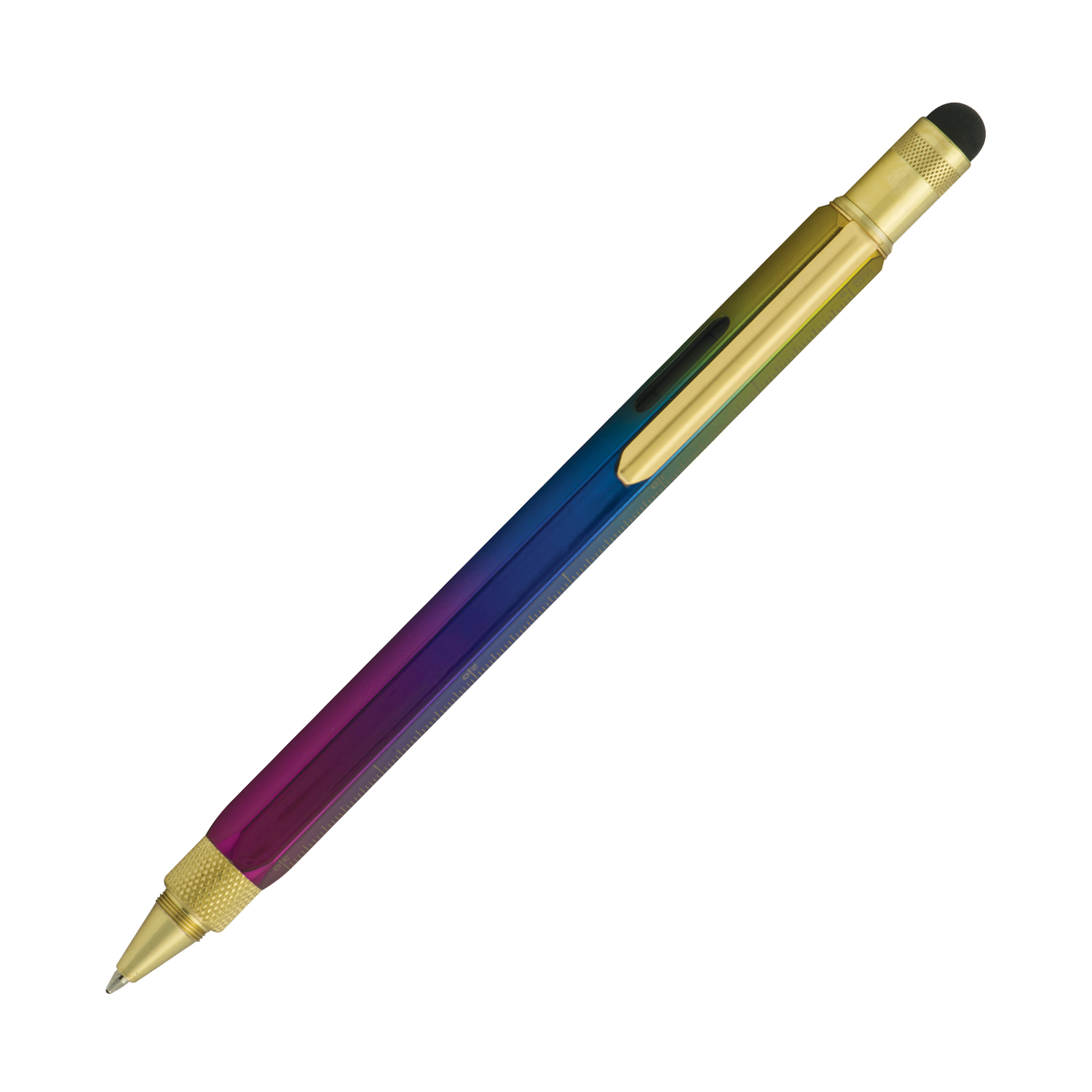 Brass base with PVD rainbow gradient finish
A ballpoint pen with many talents
Capacitive touch screen stylus
Philips & flat-head screw drivers
Bubble level & 4 different rules printed on barrel
Refill: D-1 Ballpoint
Cost: $31.95
The Monteverde One Touch Tool ballpoint pen has a multitude of useful function. Not only does the pen write, it can also measure, level, screw, and operate a touch screen device. Plus, this model has a beautiful rainbow gradient finish on it's weighted, faceted brass barrel. The One Touch redefines the utility of the common writing instrument.
Ready for more cool ballpoint pens you've never seen before?
Explore ballpoint pens made from the best manufacturers around the world. You'll find more exotic and exciting pens on the Goldspot Pens website than anywhere else on the internet. As you'll see from this list, there are many unique pen designs available at a wide range of prices - from under $10 to over $300 and beyond. Explore our collection using the website filters to find the pen color, brand, and price range that best fits your needs.