Introducing Shibui Leather Cases for Pen Enthusiasts
In 2017, a husband and wife duo founded Shibui out of a passion for fountain pens and journaling. In their own words, I'll share the following as part of their mission statement, quote:
"In our case, it was the search for the perfect leather pen case. One that fits our vision of a simple yet functional and timeless piece ... that would age with you just as your pen does in writing your memories. But we also wanted something flexible enough to journey with you as your preference and taste for pens evolve and collections grow - from regular-sized, to oversized and even pocket-sized pens."
Whereas most pen cases, even leather ones, will have loops made of elastic bands that may get stretched out or break over time, Shibui's trademark pen case innovation is the Pull-Tag. It's really simple, yet ingenious and highly functional. A thick strap of leather weaves in-and-out of the inner leather case lining with a tab at the end. To adjust for pens of various girth, you can either increase the slack or draw it tight.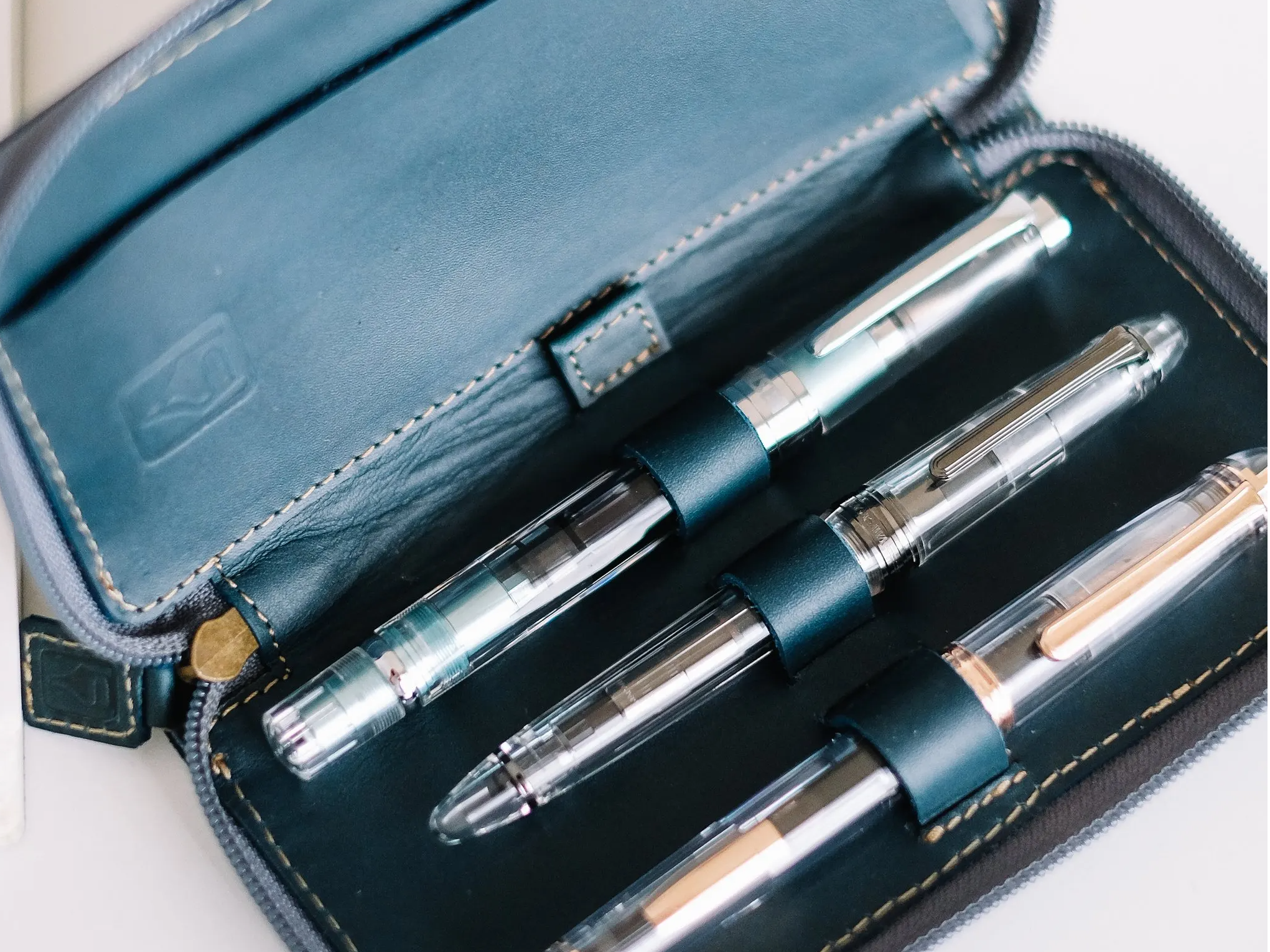 Here are some tips to using the Pull-Tag on a Shibui Pen Case:
Start loading your pen case from the outside, working your way inside toward the tab. Start with the loop closest to the zipper edge. Pull the loop to get enough slack to insert your pen. Slide the pen under the loop. Pull the next loop to tighten down the first pen. Continue until you've fully loaded the case. Last, pull the end of the tab to tighten everything.
When you remove a pen from the case, push from the bottom end of the pen and keep a hand at the top to make sure the pen doesn't rocket off your desk.
You may also want to keep track of which pen belongs to each loop. This is helpful, especially if you take out all your pens at one time. Since each loop is sized to fit the particular pen, it would make sense to put them back in the same loops. Instead, you'll have to repeat the process of loading your Shibui case from scratch.
So, as you can see, the Pull-Tag can accommodate pens of varying girth in your pen case and keep them snug without the fear of losing the elasticity of the band.
Shibui products are crafted from genuine leather. Each piece is unique and has its own characteristics and appearance. No two pieces are exactly alike and each carries its own look and personality.
There are four colors available in each of the cases we carry. There is Desert Tan, Saddle Brown, Olive Green, and Ocean Blue.
Desert Tan has a light, caramel coffee color that feels soft and smooth to the touch like suede.
Saddle Brown has vintage-look, basketball-like leather. The texture is more coarse and stiff than the others.
Olive green has a velvety texture and a darker greenish-brown tone.
Ocean blue has a smoother exterior, less nappy with a dark, greenish-blue color.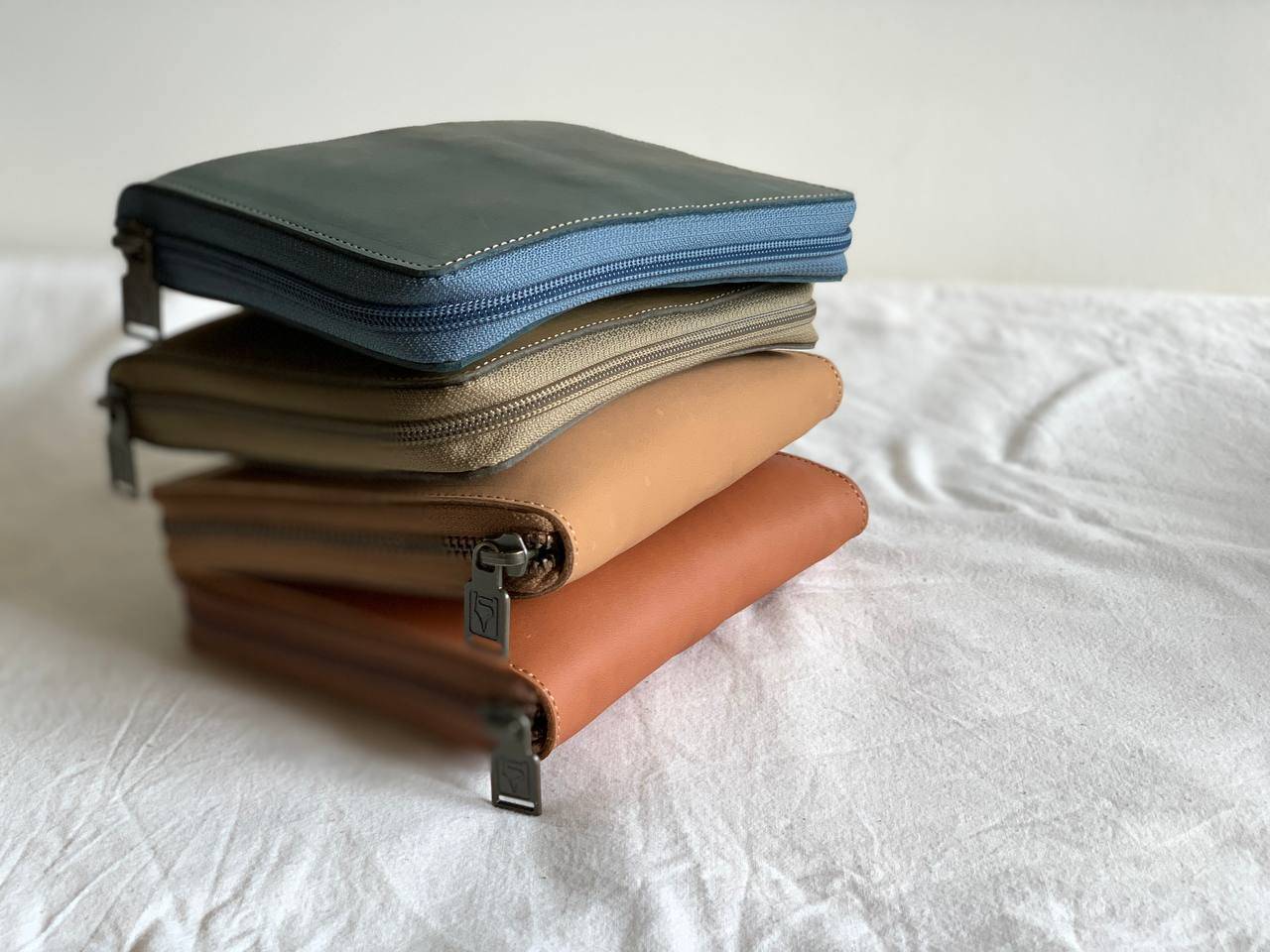 As per Shibui's care instructions:
The natural oils from your hands will help condition the leather. Over time, the leather will develop a patina to it, darkening with a nice gloss and shine. It will gain some scratch marks which helps develop a lived-in quality unique to your own experiences with the case.
"Use it, rub it, love it. A functional and versatile piece of art that is crafted to grow with you as you live, travel, and pursue your passions."
To protect the contents of your case, Shibui stitches in a YKK Zipper w/ branded Shibui Logo. These zippers are commonly found in the garment industry and are known for their reliability.
The only other area of branding is on the inside of the case where the nib logo is debossed into the leather.
The Life organizer is a landing pad for all daily essentials. The A5 size fits an A5-sized journal or an iPad mini. A zipper pouch on the opposite side can store a mobile phone. A charging cable could be put on the right side under this snap loop. There's a Pull-Tag loop to fit one pen, slots for cards, and another zipper for coins and other miscellaneous items.
Also available in a smaller, A6 size format.
Prices range from $25 for the single pen case and top out at $85 for the A5 Life organizer. You can find our lineup of Shibui leather cases on the Goldspot Pens website.