Esterbrook Fountain Pen Nib Size Comparison
Ages ago, before the personal computer and the smartphone, the Jersey-based Esterbrook Pen Company produced high-quality, affordable fountain pens with dozens of durable writing nibs. Today, the modern Esterbrook brand pays homage to the past by expanding the nib options available on the Estie fountain pen.
In this post, we take an in-depth comparison of Esterbrook's current nib size offerings so you can decide which nib is best suited for your handwriting enjoyment.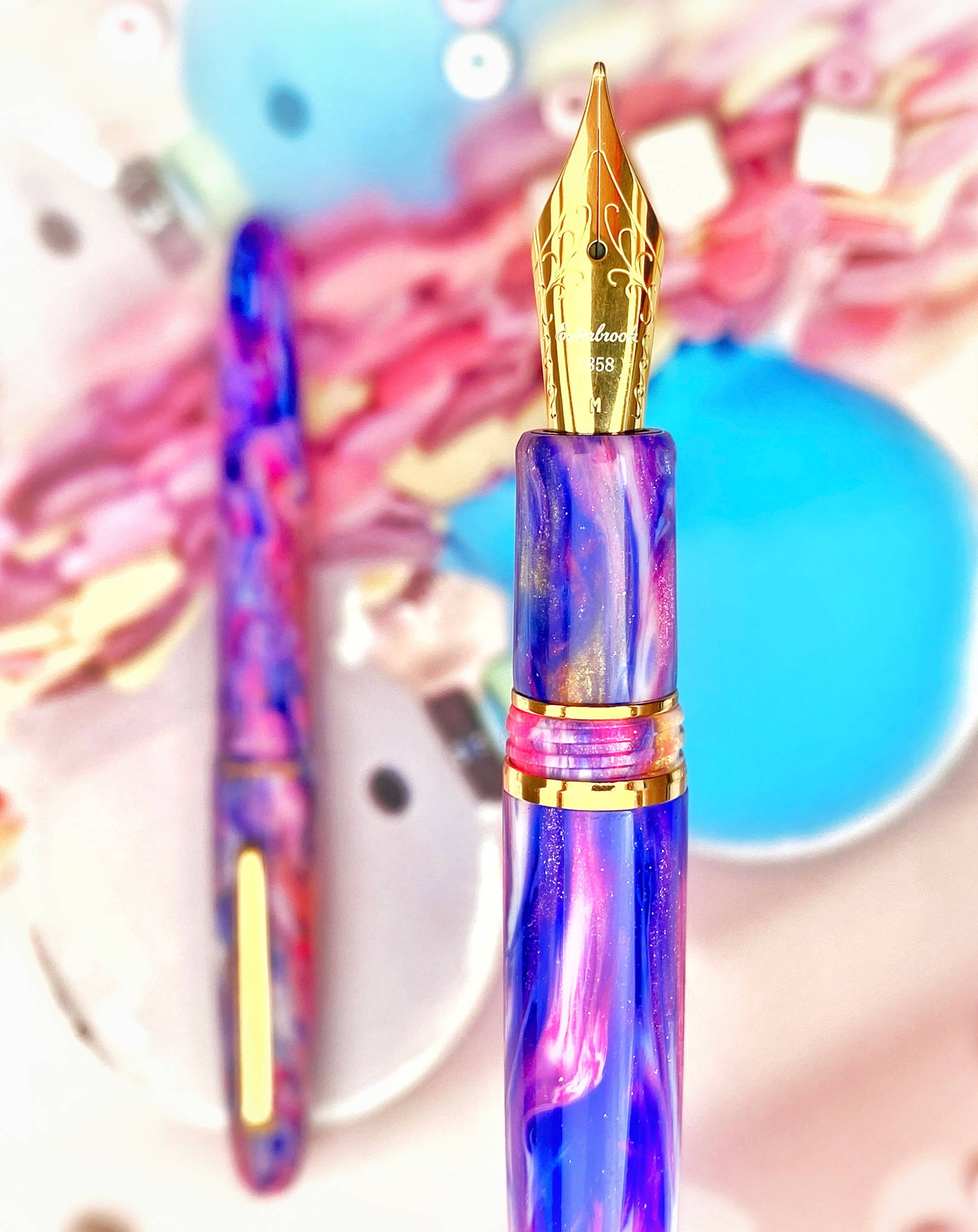 How do we test fountain pen nibs?
The pen is a deeply personal tool available in many shapes, sizes, materials, colors, and tip options to perfectly fit the writer. As there are pens to fit each hand, there are nibs to fit each writing style. While the Estie does use the common Jowo #6 nib, Esterbrook sets itself apart with the inclusion of specialty nib grinds to broaden the range of nib styles.
I'll show you all of these Esterbrook pen nibs starting with the standard range of Jowo nib sizes you might already be familiar with.
For this writing test, I inked each Esterbrook Estie fountain pen with Esterbrook Cobalt Blue ink and wrote on Rhodia 80gsm dot grid paper. Each nib was filled from the bottle and tested without any tuning or adjustment.
In evaluating each nib, I focused on three points of concern for most pen enthusiasts:
Line width (measured in mm)
Smoothness / Feedback
Ink Flow / Wetness
Results may vary if you use a different ink or paper, apply more or less hand pressure, or due to differing nib manufacturing tolerances. All measurements were taken with a pair of digital calipers and a jeweler's loupe.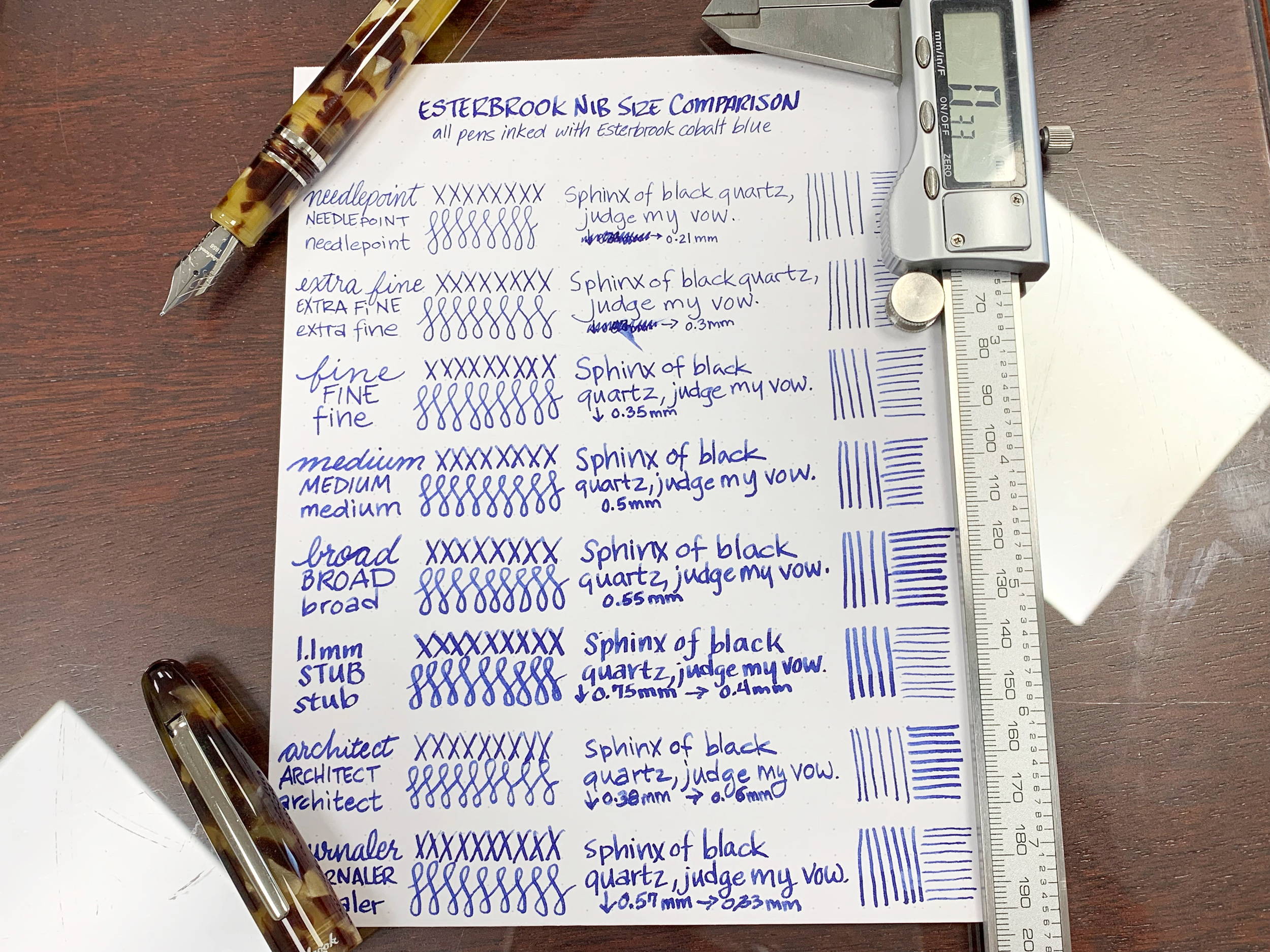 | | | |
| --- | --- | --- |
| Nib Size | Width of Downstroke | Width of Cross stroke |
| | | |
| | | |
| | | |
| | | |
| | | |
| | | |
| | | |
| | | |
*Indicates a specialty nib ground from a Jowo #6 nib.
Extra Fine
The extra-fine has a tight, controlled line that measures 0.3mm in width. Compared with other thicker nib sizes, it lays down a small amount of ink, making for shorter dry times. Unfortunately, that also means you won't see an ink's potential shading or sheen properties. EF is ideal for those who write small and prefer to feel the texture of the nib on paper. The relatively shorter dry time is a welcome feature for left-handed writers.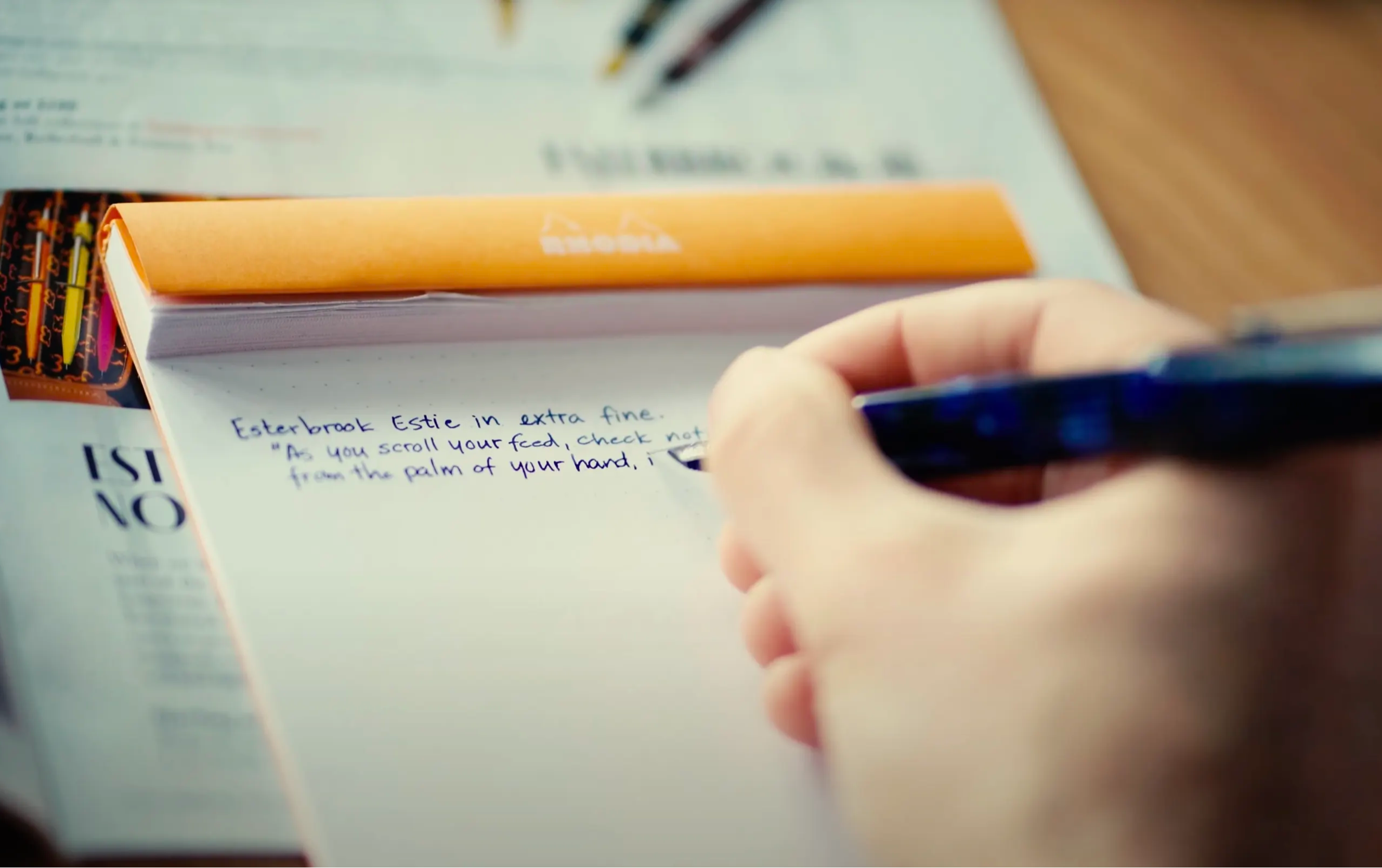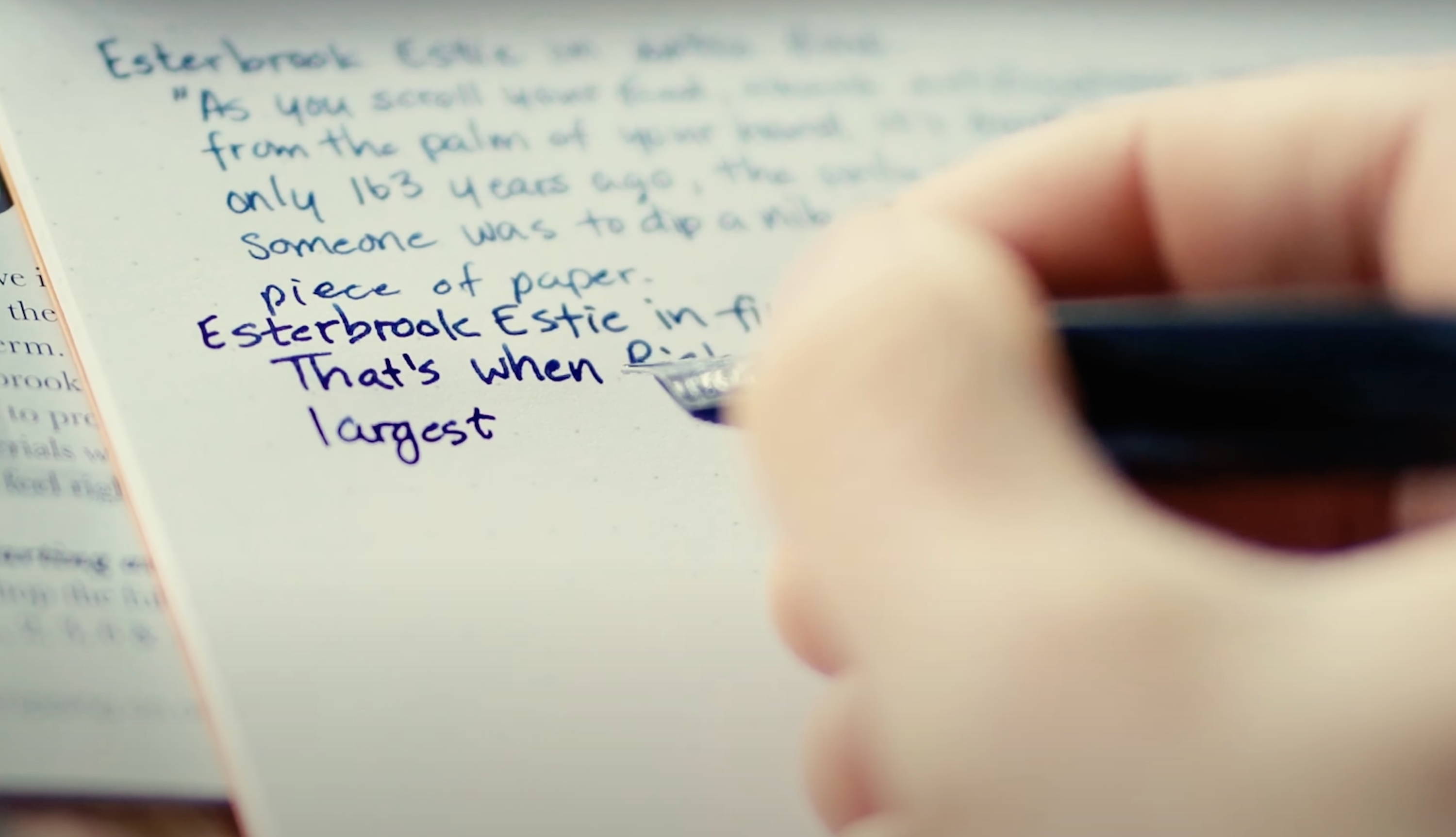 Fine
The next step up to a fine point is only .05mm thicker than the EF, yet it gives the writer a smoother experience. Since the line is still relatively thin, it is a good general-purpose nib to use on a variety of paper types, including those that might not be ideal for fountain pen ink.
Medium
Jumping up to the medium point that lays a 0.5mm line. In this size, the writing experience is significantly smoother and the ink is more noticeable on the page. Although medium can also be considered a general-use nib, it might encounter feathering and bleedthrough on papers that aren't fountain pen-friendly.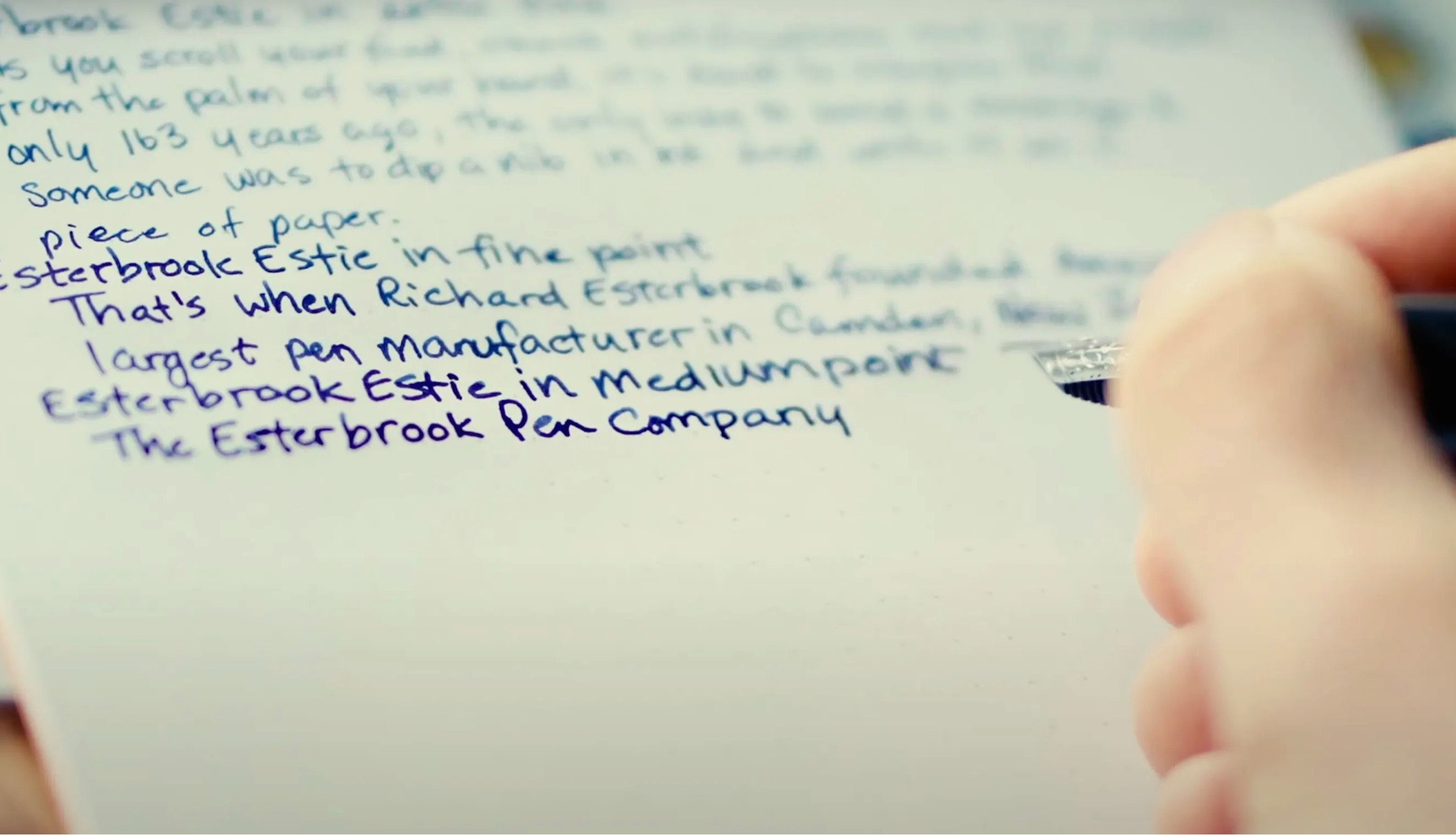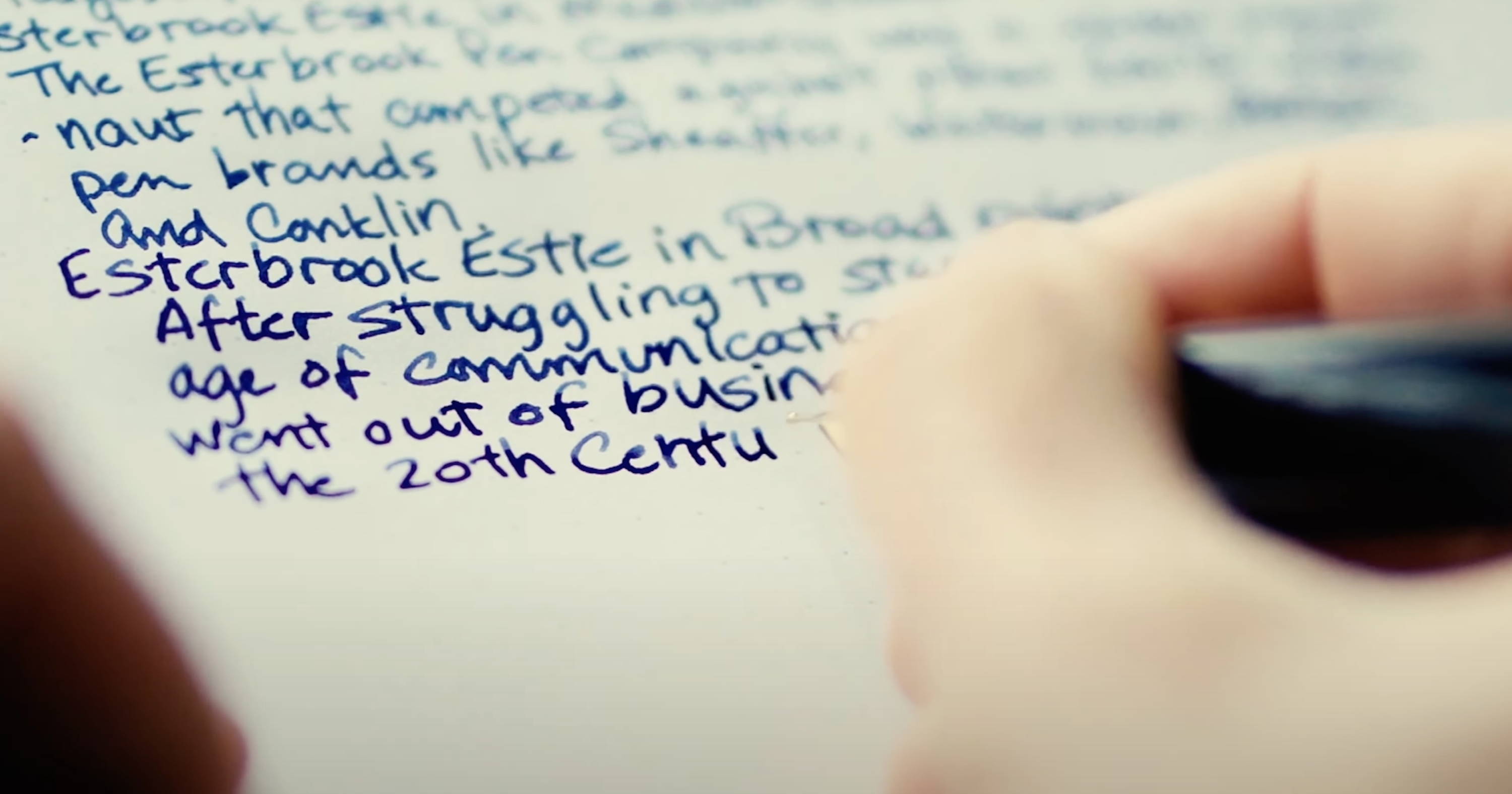 Broad
The smoothest and broadest of the round-tipped nibs, Broad lays down a wet 0.55mm line that will show shading and sheen on fountain pen-friendly papers like Tomoe River, Rhodia, and Clairefontaine. A broad nib is best suited for large, quick writing styles and signatures.
1.1mm Stub
Despite the fact that it's called a 1.1mm stub, this nib lays a thick downstroke of 0.75mm in width. As opposed to the round nibs we've reviewed, the stub has a flatter, rectangular shape that yields a thinner, line width when the nib moves side-to-side. The stub's horizontal line rates at a 0.4mm thickness, which is almost 50% thinner than its downstroke. This line variation adds a calligraphic flair to print or cursive writing.
Extra care should be given to selecting an appropriate paper to write on, as the stub's ink flow can overload lighter papers. Also, despite the fact that the tip is broader than the broad, the stub's tip shape is prone to more feedback.
Yet, if you love seeing the shading and sheen properties of fountain pen inks, a stub will put them on full display.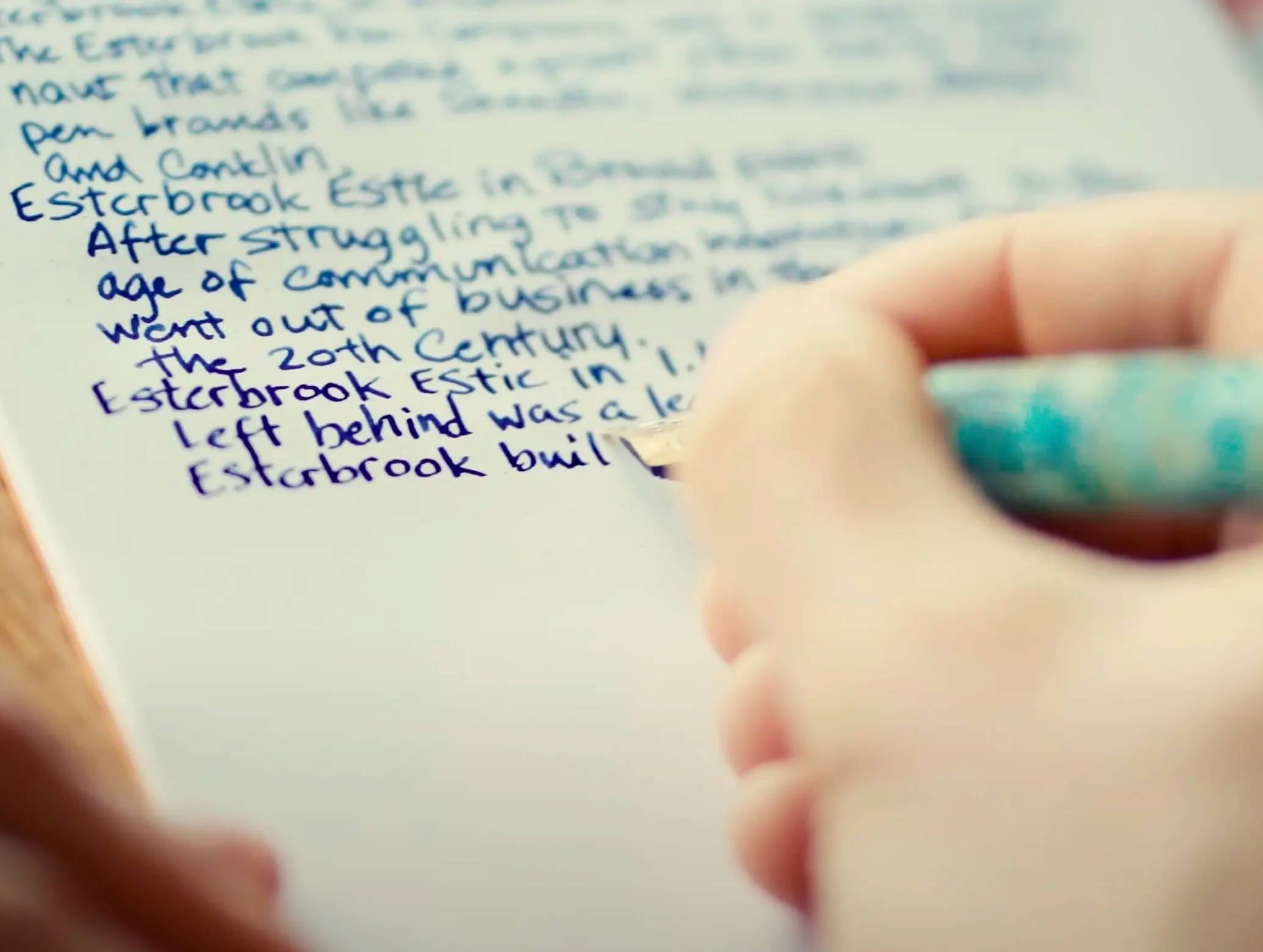 Journaler / Italic
If a 1.1mm stub is too thick but you still want a nib that has line variation, perhaps a Journaler nib is better suited for you. Custom ground from a medium-point Jowo nib by Gena Solerino of Custom Nib Studio, this nib has a 0.57mm downstroke with a 0.33 horizontal line. Its downstroke is comparable to the broad nib while the horizontal line is between an EF and F thickness. In terms of feedback, the Journaler has slightly more feedback than the 1.1mm stub.
Scribe / Architect
Ground from a standard broad nib by JJ Lax, the Scribe architect nib is the "bizarro-version" of a stub nib. Instead of a thicker downstroke and thinner horizontal line, the Scribe nib writes a 0.38mm vertical line and a 0.6mm horizontal one. Flip it upside down to reverse write with a drier 0.27mm monoline. In terms of smoothness - it's close - but I felt like the Scribe has just a slight degree more feedback than the Journaler nib.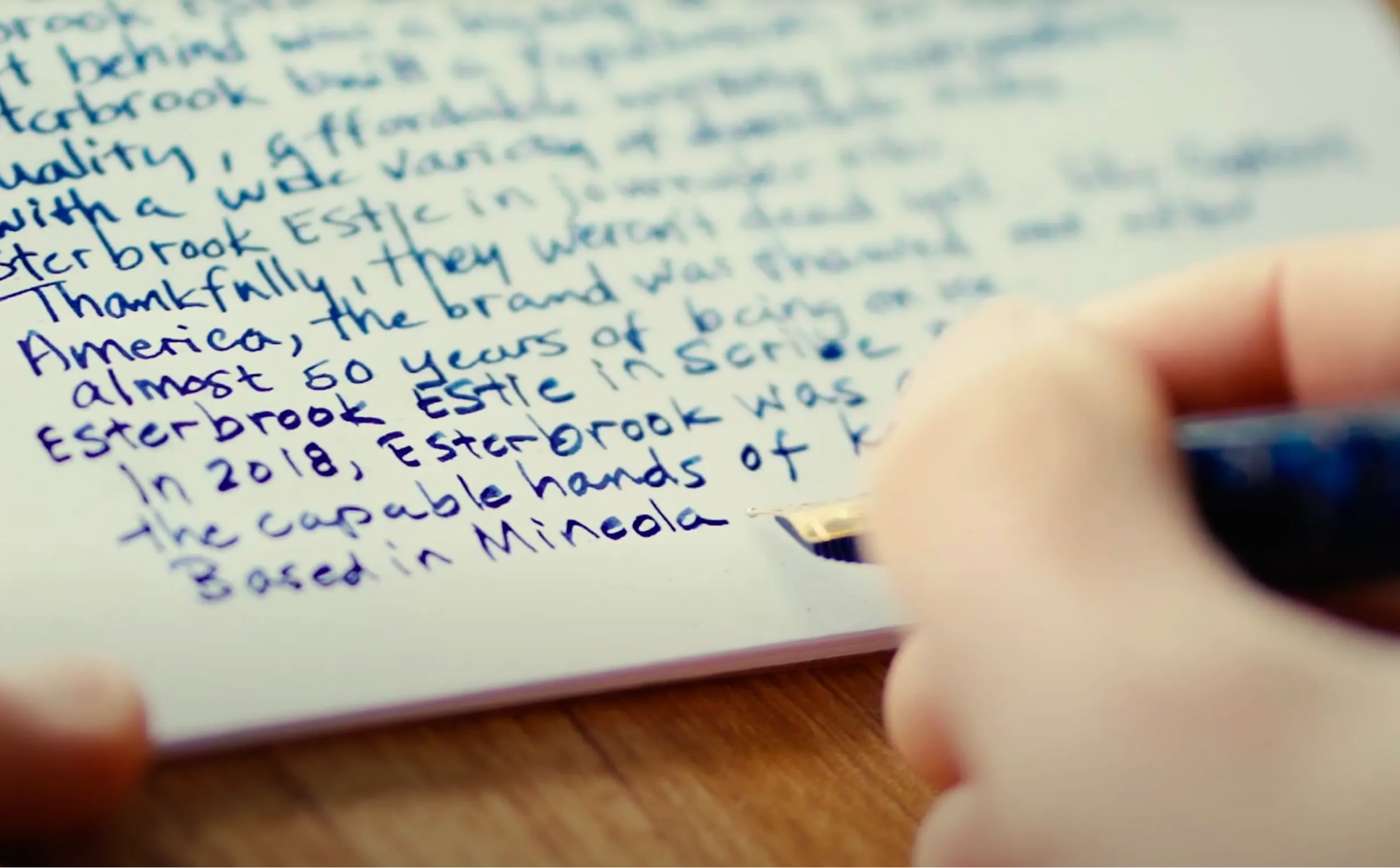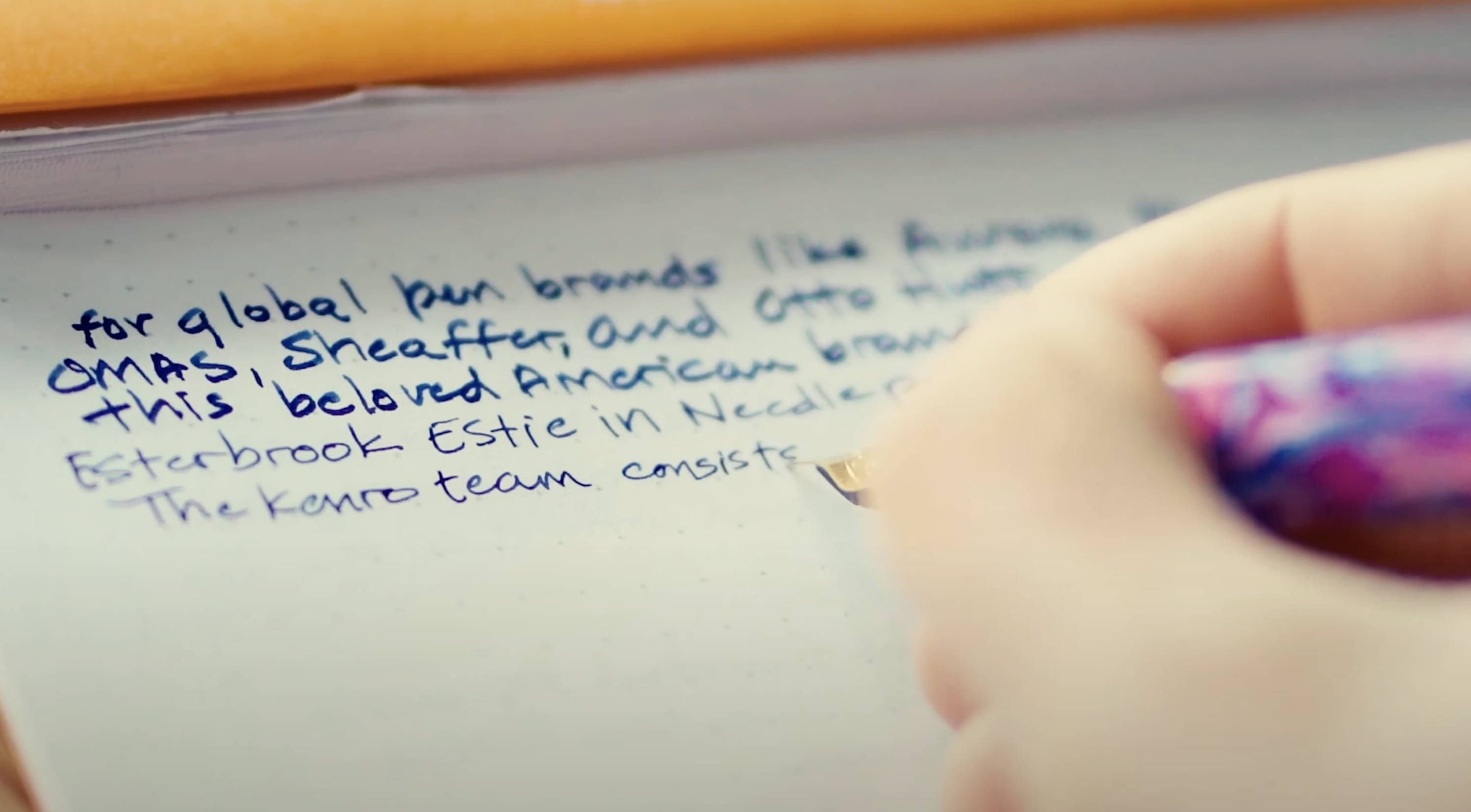 Needlepoint
If an extra fine isn't fine enough, put a pin in the Needlepoint nib from Kirk Speer. For cramming a semester's worth of notes on a 3x5 index card, the Needlepoint's 0.21mm line is up to the task. As you might expect from the thin line, the Needlepoint has the highest degree of feedback of all the Esterbrook nibs.
Reverse Writing
All Esterbrook nibs can be flipped over and written upside down. This is also called "reverse writing." You can expect a drier, thinner line that has plenty more feedback than if writing with the nib in a regular position. The exception is the Scribe, which drastically changes its line when you go to reverse writing.
Are modern Esterbrook Pens Compatible with Vintage Esterbrook Nibs?
So, what about the scores of nibs that Esterbrook used to produce back in its heyday? To bridge the gap between modern and vintage, the current Esterbrook company offers the MV nib adapter section. This screw-in grip section is engineered so that it can accept vintage Esterbrook nibs. The MV adapter is the first pen accessory that allow the writer to retrofit vintage nibs onto a modern fountain pen.
Limited edition and seasonal Estie pens are subject to current stock availability. Also, since the specialty nibs are ground by nib meisters, they can sometimes be difficult to keep in stock regularly. If you see anything you like that's out of stock, be sure to sign up for an in-stock notification and we'll let you know when it arrives.
I hope that this nib comparison helped you find the ideal nib size for your next Esterbrook fountain pen. What is your favorite nib size now versus when you started to write with fountain pens? Let us know in the comments.