December 3rd to the 14th, Goldspot Pens is celebrating the "12 Days of Pens," with an exclusive, 24-hour special each day. Get free buy-one, get-one offers, percentage discount coupons, and limited-time sales on the finest writing instruments in the world. Each day focuses on a particular brand or line of products that make great gifts for writers and thinkers of all ages.
Today's Special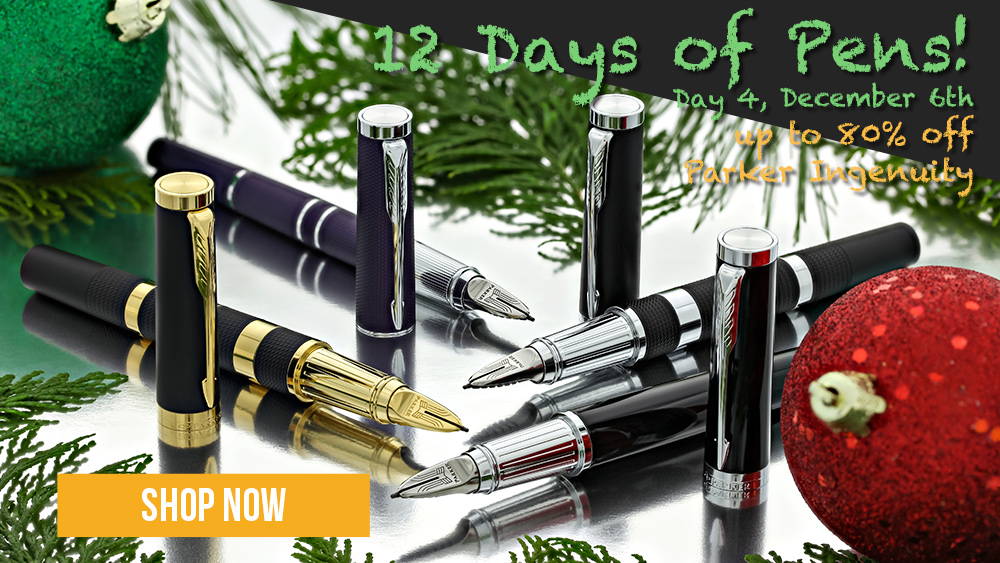 Day 4, December 6th
Up to 80% off the Parker Ingenuity 5th Mode Felt Tip Pens
Fans of rollerballs and felt-tip pens will feel right at home with the simple, plug & play style of the Parker 5th mode ink cartridge. The tip, which is made to appear like a fountain pen nib, lays down an impressive line of ink with every stroke.
The Parker Ingenuity 5th mode pen is a substantial writing instrument that provides an executive-level quality in its luxury finish and hefty profile. The tapered, cylindrical shape has brass as its foundation, which is then coated in lacquer and trimmed in either chrome or gold-tone appointments. The pen's large stature and significant weight-in-hand will be noticed when you pick it up to sign important documents, take notes or write in a journal.
Deal is only valid for 24 hours starting 10am 12/6 to 9:59am on 12/7
---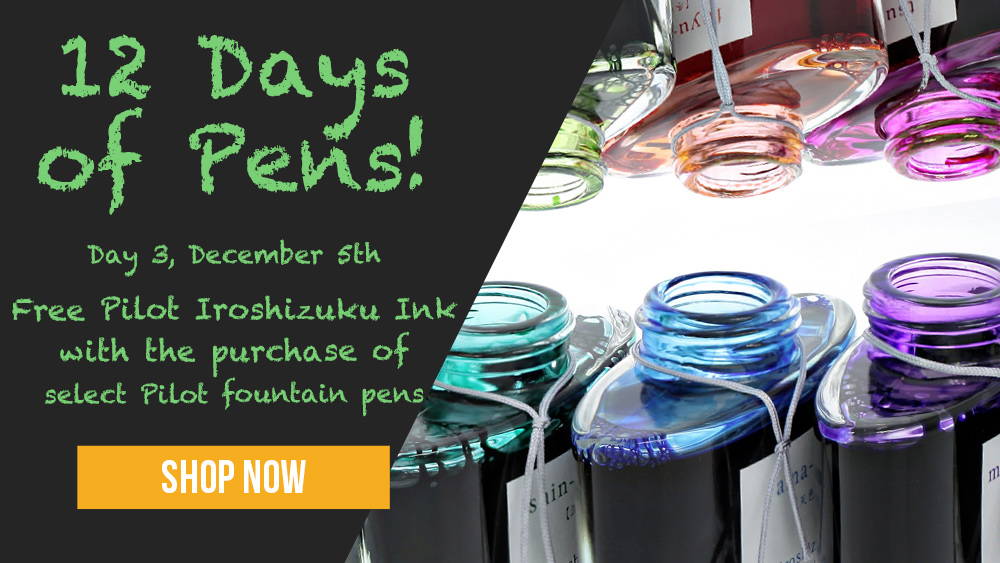 Day 3, December 5th
Free Bottle of Pilot Iroshizuku Ink with the purchase of select Pilot Pens
Get a free bottle of Pilot Iroshizuku ink (50ml) when you purchase any Pilot fountain pen from the following collections: Vanishing Point / Decimo, Custom 74, Custom 823, Custom 912, Custom Heritage 92, Falcon or Justus 95. Simply add one of these pens to your cart and you will be prompted to choose your ink color of choice. A complimentary bottle of ink will be included for each qualifying pen you purchase.
If you're looking for an even finer luxury gift, we've dropped the price on the gorgeous Namiki Yukari, Chinkin, and Emperor collections. Plus, we're including a complimentary set of Pilot's 100th Anniversary limited edition ink bottles (a $100 retail value) with your Namiki pen.
Deal is only valid for 24 hours starting 10am 12/5 to 9:59am on 12/6
---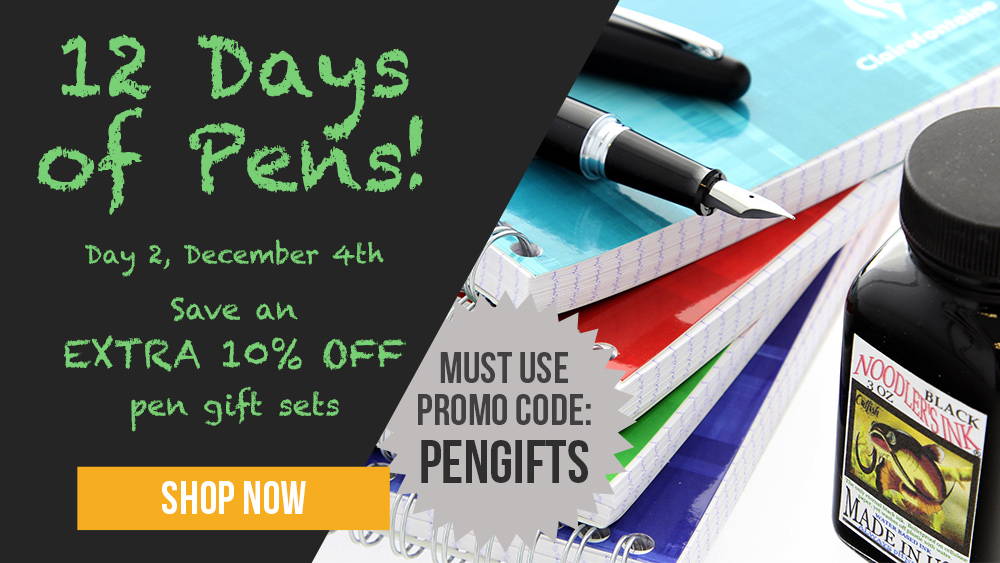 Day 2, December 4th
Extra 10% off Gift-worthy Pen, Paper and Ink Gift Sets
Save an extra 10% off the sale prices on our curated selection of fine writing gifts including the items you see in this e-mail. Use promo code PENGIFTS.
We make it easy to gift the full package - pens, ink, and paper - to your friends, family, and co-workers this holiday season. Check out all the pen gift sets on sale and use the limited-time promo code to save even more.
Deal is only valid for 24 hours starting 10am 12/4 to 9:59am on 12/5
---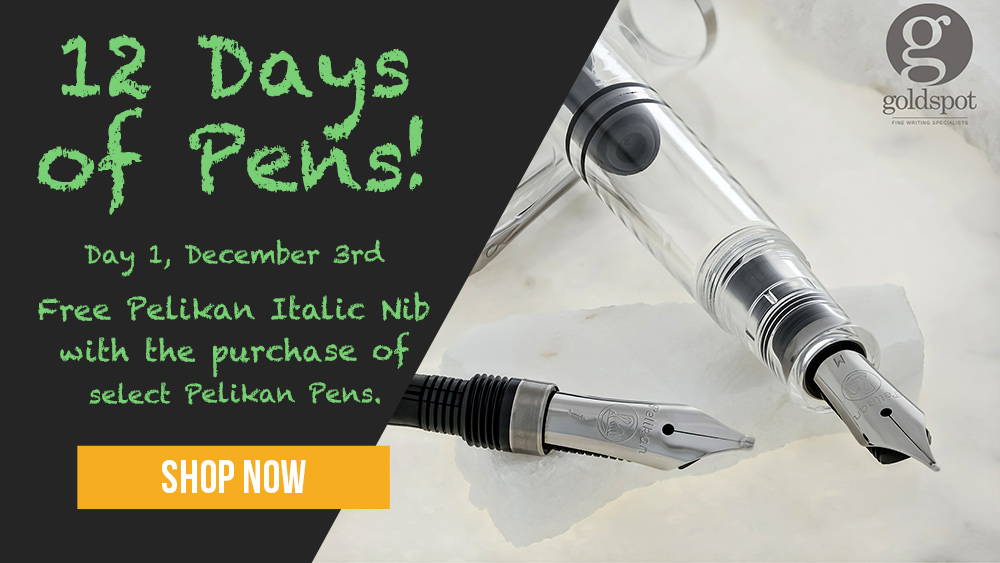 Day 1, December 3rd
Free Pelikan M205 Stainless Steel Italic Nib with the purchase of select Pelikan M205 fountain pens.
Part of the fun of owning a piston-fill Pelikan fountain pen is the ability to easily swap the nib and feed units by unscrewing them from the section. It's quite easy. If you're nervous about fiddling with your pen, we made a video to show you how. Pelikan's factory "italic" stainless steel nib is a smooth, wet-writing stub nib that provides a bit of line variation to give your handwriting calligraphic flair.
To obtain the complimentary italic nib, add one of the following pens to your cart and you will be prompted to add the italic nib for free: Pelikan M205 Star Ruby, Blue Marble, Green Marble, Brown Marble, Clear Demonstrator, 2018 Olivine, and 2017 Smoky Quartz. Please keep in mind that we only have the stainless steel version of the nib that will not match the gold-trim Pelikan pens on the list.
Savings - $65.00 Retail Value
Deal is only valid for 24 hours starting 10am 12/3 to 9:59am on 12/4
---
Sign up for the 12 Days of Pens so you won't miss another awesome deal. Enter your e-mail address below and confirm your free subscription to our weekly newsletter.