Letters to Santa Pen Giveaway 2017
Letters to Santa Pen Giveaway 2017
It's that time of year again! Santa is checking his list, reading your letters, and signing off on OT for the elves. For the third year running, he wants to do something special for all his pen pals around the world.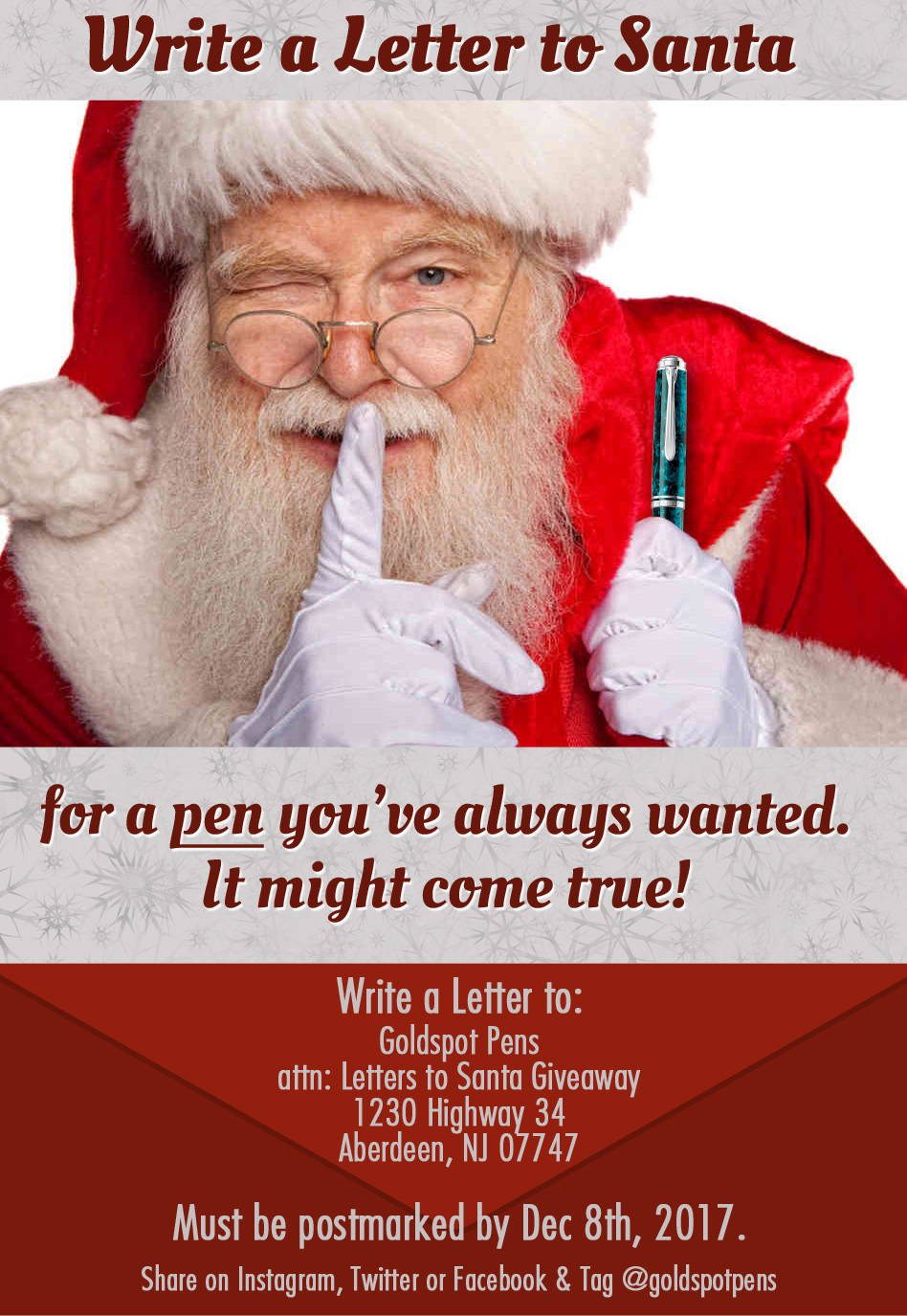 For those that prefer the snail mail method, write a letter to Santa and send it to C/O Goldspot Pens, ATTN: Letters to Santa Giveaway, 1230 Highway 34, Aberdeen, NJ 07747 and we'll get it forwarded to the big fella. You must have your letter postmarked by December 8th, 2017 to be considered for the giveaway.
If you would like to go the high-tech route, you can take a pic of your letter to Santa and share it on social media (Instagram, Twitter or Facebook). Tag us @goldspotpens so we can be notified of your entry and use the hashtag #letterstosanta so you can see others entries as well.
On December 18th, Santa will pick one lucky girl/boy to win the pen of their dreams. In the past two years, Santa had sent a Visconti Van Gogh Fountain Pen and a Sailor Pro Gear 4 Seasons Fountain Pen. What will it be this year? You will decide!
Three runners up will receive a Goldspot Pens Prize Pack that includes a pen, ink, and notebook valued at $50 total. Get inspired to write your letter and put pen to paper today!
On Dasher, on Dancer, on Fine Print....
All entries for the Letters to Santa giveaway drawing must be postmarked by December 8th, 2017 at 11:59pm EST. By participating in the Letters to Santa contest, you are giving us permission to share your name and images of your mailed-in submission on social media (your address and email will not be shared). Entries will not be returned to you and will become the property of Goldspot Pens. Please limit one entry per person.
No purchase is required to participate. Odds of winning will depend on the number of entries received, estimated to be 1/200.