Introduction to Stub Nib Fountain Pens
If you thought writing with a fountain pen is a game-changer for your handwriting, you're about to see what a stub nib can do to elevate it to the next level.


The name of the game is line variation. Most standard fountain pen nibs (extra-fine, fine, medium, broad) have a round writing nib and produce a monoline - a line that maintains a consistent thickness no matter the angle or the pressure put on the nib. A nib produces line variation when it is capable of thicker and thinner strokes, adding a calligraphic flair to your handwriting. Stub and flex nibs are capable of producing line variation. Today, we're going to focus on what stub nib fountain pens have to offer the writer.
Fountain pen enthusiasts usually start off with the standard round nib that produces a monoline. No matter which direction you write or how much pressure you put on the tines, it will produce the same line thickness. This is true of all the most common nib sizes like EF, F, M, or B. Stub nibs accomplish line variation by virtue of its nib shape. Your typical round nib has a spherical ball shape of iridium tipping material. The tipping of a stub nib is flattened to a rectangular shape. This allows the stub to lay down a thick downstroke and a thinner horizontal line.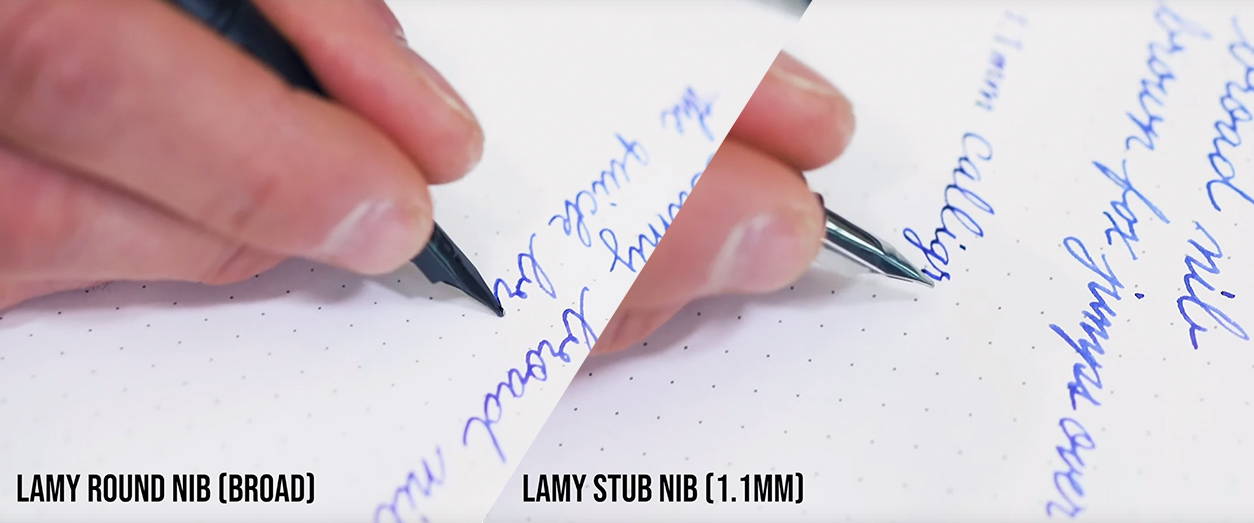 Writing the same sentence using a round nib versus a stub nib produces noticeably different results. The stub nib automatically adds calligraphic flair to your everyday handwriting with hardly any adjustment to your writing style.
Just like standard, round writing nibs, stub nib sizes vary in size from 0.6mm to 2.3mm, which is a measurement of the downstroke. The smaller the size, the less line variation is noticeable. The broader the size, the more drastic the variation and the more ink that is put upon the page.
You may have heard of italic nibs. They're quite similar to stub nibs with a subtle difference. Stub nibs have rounded corners to provide a smoother writing experience. Italic nibs have sharper edges to accentuate line variation, even with smaller tip sizes. Italic nibs tend to have a smaller sweet spot and exhibit more feedback.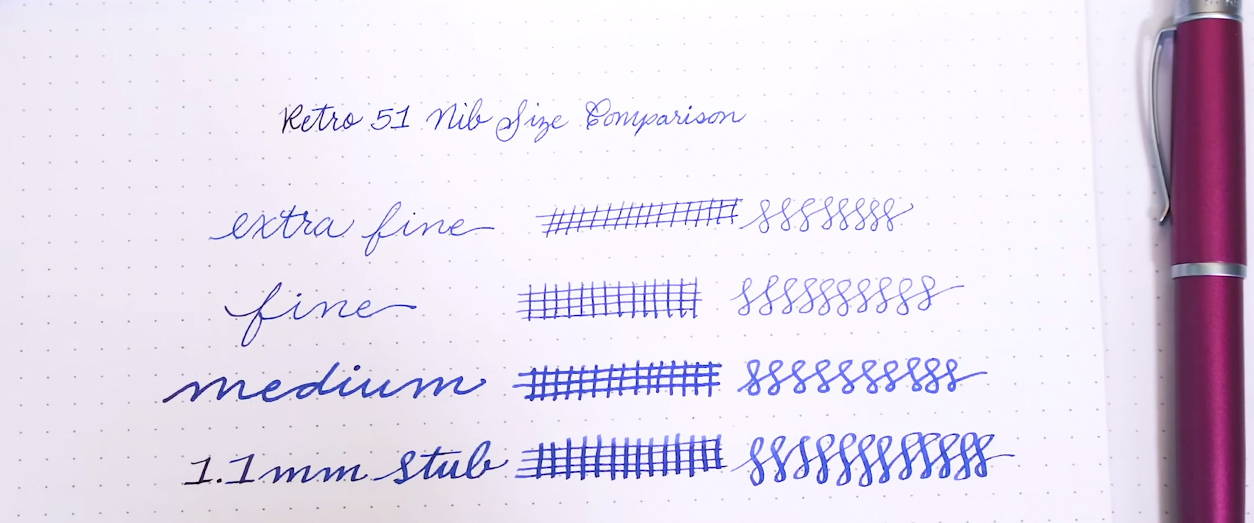 To add calligraphic flair to your everyday writing, I'd suggest starting with the 1.1mm stub size. The downstroke is a bit thicker than a Western broad nib, so you'll need to make sure you've got fountain pen friendly paper to handle the heavier lines of ink. To obtain a thinner line that would be more suitable on a wide range of papers, you may want to find a 0.6mm or 0.8mm nib. Just be aware that the smaller the stub nib size, the smaller the sweet spot on the nib and thus, more feedback you will feel writing with the pen.
For broad edge calligraphy, go for the 1.5mm, 1.9mm or 2.3mm size nibs. The bigger the nib, the more intentional you will have to be when it comes to drawing the stroke on the page. It is more important to keep both tines on the page when you have larger nib. A slight roll to one side or the other and you may miss the stroke entirely. Since these larger nib sizes will lay more ink on the page, not only will you need fountain pen friendly paper, you should consider opting for a pen that has a higher capacity filling system, like an OPUS 88 eyedropper filler or piston-fill mechanism.
Regardless if you're looking to spend $30 or $300 on a fountain pen, there's a great stub nib option for every budget.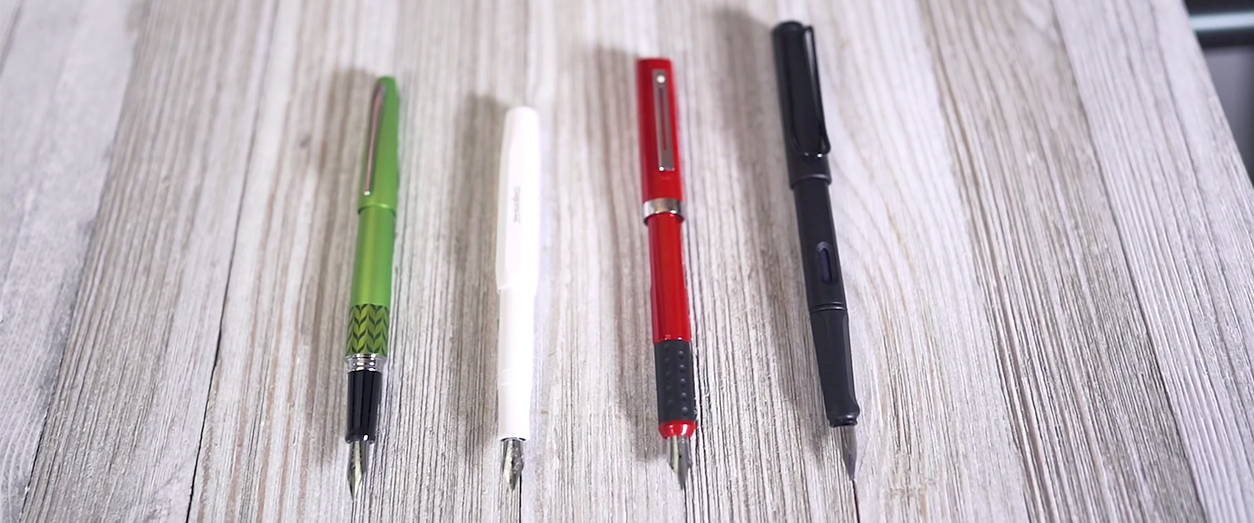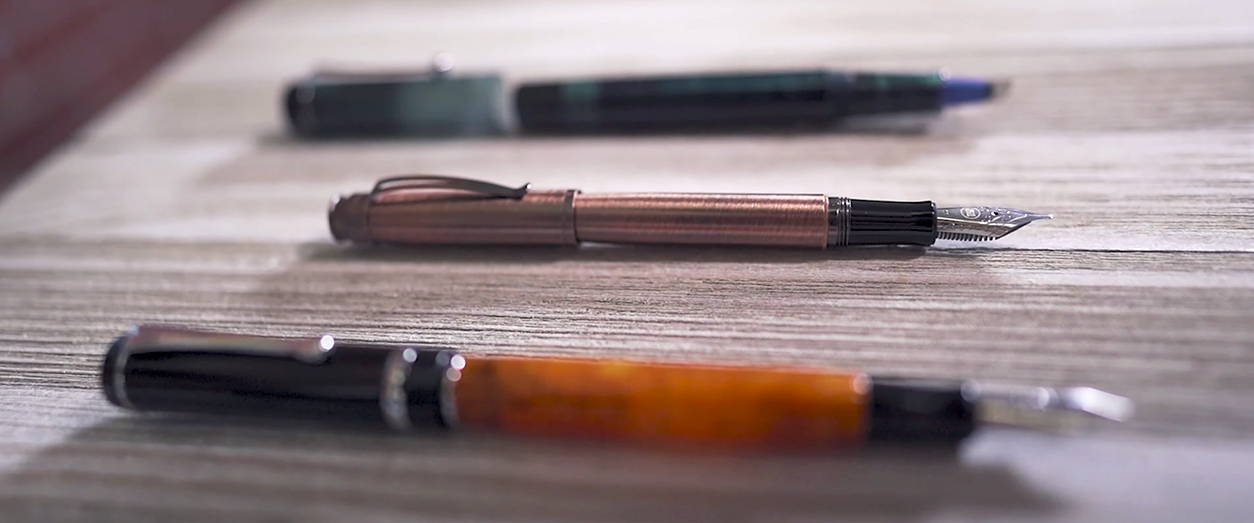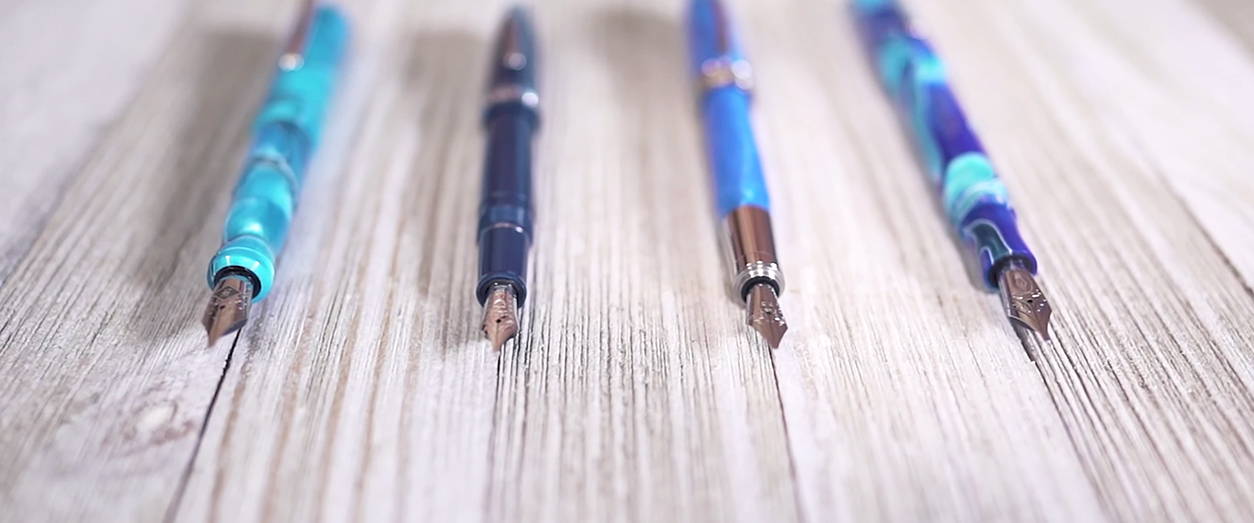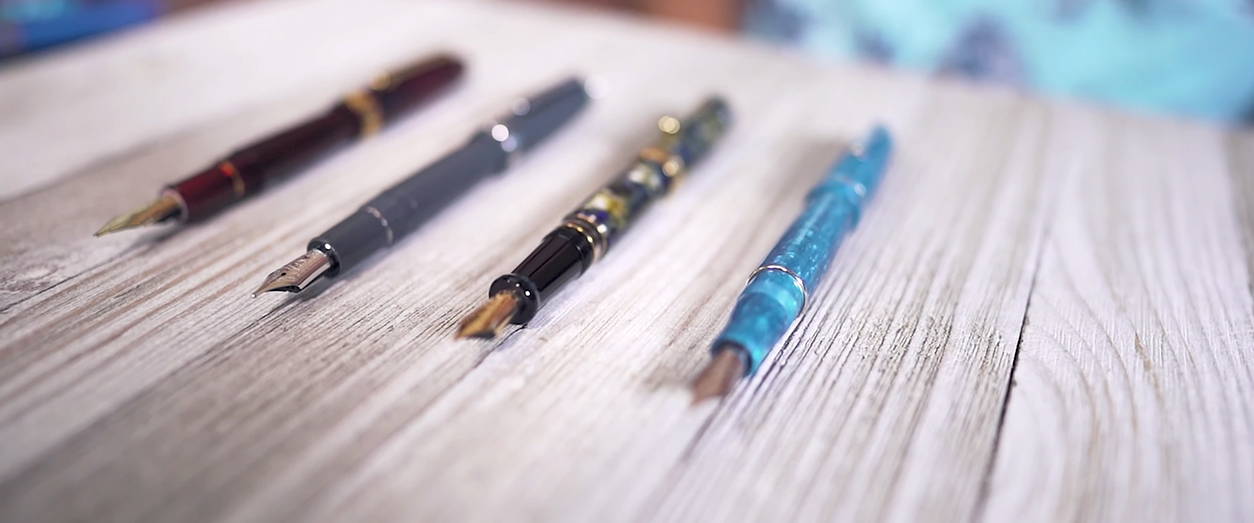 ---
Part 2: Tips and Tricks of Writing with a Stub Nib
So, let's say you've got your new stub nib fountain pen and are ready to get writing. Here are tips for a satisfying stub writing experience.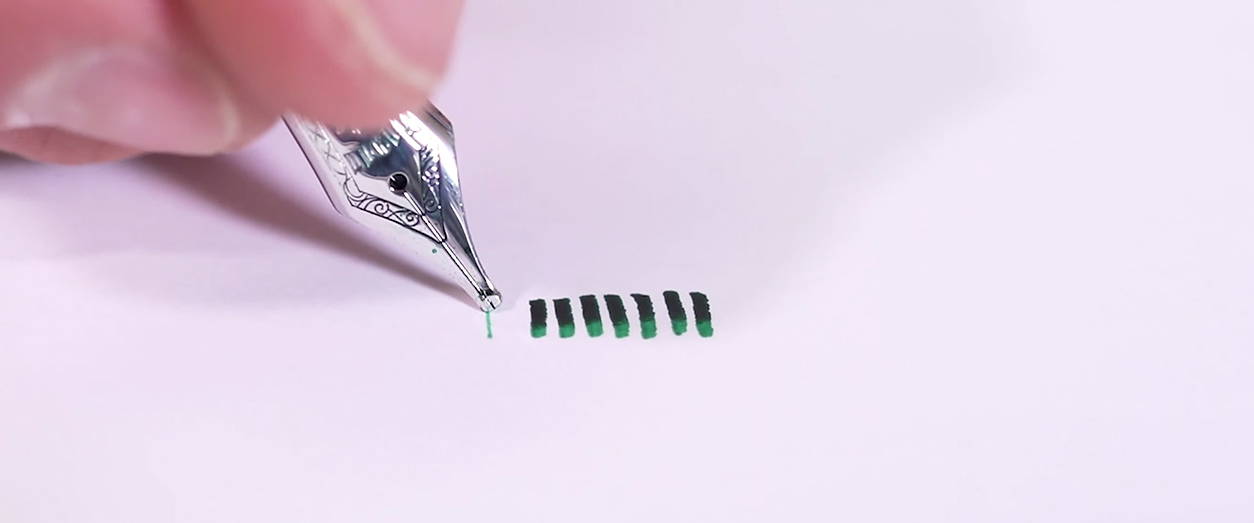 Make sure both tines are touching evenly on the page as you write. Rolling or leaning to one side will cause the pen to miss a part, if not all the stroke.
Use fountain pen friendly paper. Like I mentioned earlier, the stub will lay down more ink than a standard broad nib, so you'll need to make sure the paper will handle the increased flow.
Try different nib angles to the baseline. A zero-degree nib angle results in a thick downstroke and a thin horizontal stroke. A ninety-degree nib angle results in a thick horizontal stroke and a thin downstroke. This effect is similar to what is achieved with an architect nib grind. A forty-give degree nib angle will give an italic appearance to your cursive lettering.
Try reverse writing. Some stub nibs, like the Sailor music nib, write a thinner, drier line when you flip the nib over to write nib-side down.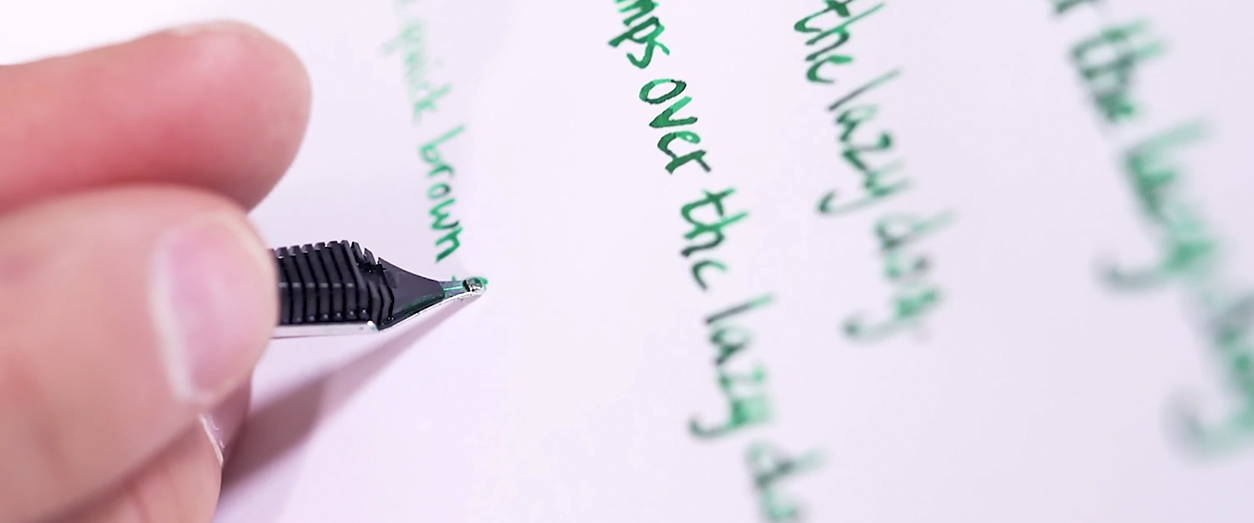 As you have undoubtedly learned from your experience in writing with a fountain pen, writing with a stub nib also takes a bit more patience and practice to fully appreciate. This is why I would not recommend jumping straight to a stub nib for beginners. The shape of the nib is less forgiving for people who have a tendency to roll their nib as they write. You have to be more conscious about the way a stub nib touches the surface of the paper. For writers looking to add that little extra bit of calligraphic flair, a stub is a great way to become introduced to the idea of line variation without having to dive into broad edge calligraphy.
We hope you found this post on Stub Nibs fountain pens for beginners helpful. If you have any questions or in need of some guidance, please feel free to leave a comment below.
August 5, 2019 - August 11th, 2019: Enter below for a chance to win your very own Retro 51 fountain pen with a 1.1mm stub nib in the Antique "Lincoln" Copper finish. Use the form below to find multiple ways to enter.