Goldspot Gold Rush 2019 Exclusive 2-Day Epic Pen Sale Event
In the mid-1800s, the Gold Rush brought hundreds of thousands of people to California in search of riches beyond their wildest dreams. Opportunists migrated by land and sea hoping to collect a fortune. On Monday, July 15th, pen enthusiasts from around the globe will tap and click their way to the Goldspot Pens Gold Rush to strike an amazing deal on brand new fine writing instruments and accessories.
What is the Gold Rush?
We figure the middle of July is a "PRIME" time to launch a Goldspot Pens Online Store event. During our epic 2-day sale, we will release our latest exclusive pen, offer select pens at discounts over 70% off, give additional discounts on exclusive gift sets, and provide a site-wide special that will give you even more value for your writing budget.
Get a FREE $10 Goldspot gift card when your cart reaches $125 or more. Plus, free shipping within the USA on orders of $75 or more. Looking for a steal of a deal? We've marked down select pen and ink gift sets up to 50% off retail for only 48 hours. Do you like free pens? Enter for a chance to be one of four winners of our giveaway with over $800 in pen prizes. Scroll on to find out how to enter.

SELECT Pen and Ink Gift Sets on Sale - up to 50% off for 48 hours
Introducing the retro 51 x goldspot pens tokyo skyline pen!
Almost two years ago, we started on our trip around the world with a jet-setting collection of limited edition pens. In collaboration with Retro 1951, we introduced the Skyline series with New York City followed by Paris and London.

Today, we write the next chapter in this series with the Tokyo Skyline! Check out the video below to take a closer look at this pen.
This limited edition Retro 51 Tornado Rollerball pen is screen printed in a color palette inspired by traditional Japanese woodcut prints with highlights of Tokyo's most famous landmarks, including: the Rainbow Bridge, Tokyo Skytree, Imperial Palace, and Mt. Fuji. When the sun sets, the cityscape comes alive with glow-in-the-dark highlights.
Each pen is individually numbered on the top ring. The top disc on the knurled twist knob features a meme-worthy illustration of a Shiba Inu (a Japanese breed of hunting dog). Each pen is packaged in a commemorative tube with matching artwork.

Now Shipping! Limit 1 per customer.  Shop Now >>
Save big on top pen brands in clearance
Choose from Parker, Lamy, Cross, Pelikan, Pilot, and more with than 450 pens, inks, and accessories on clearance during our hottest summer sale.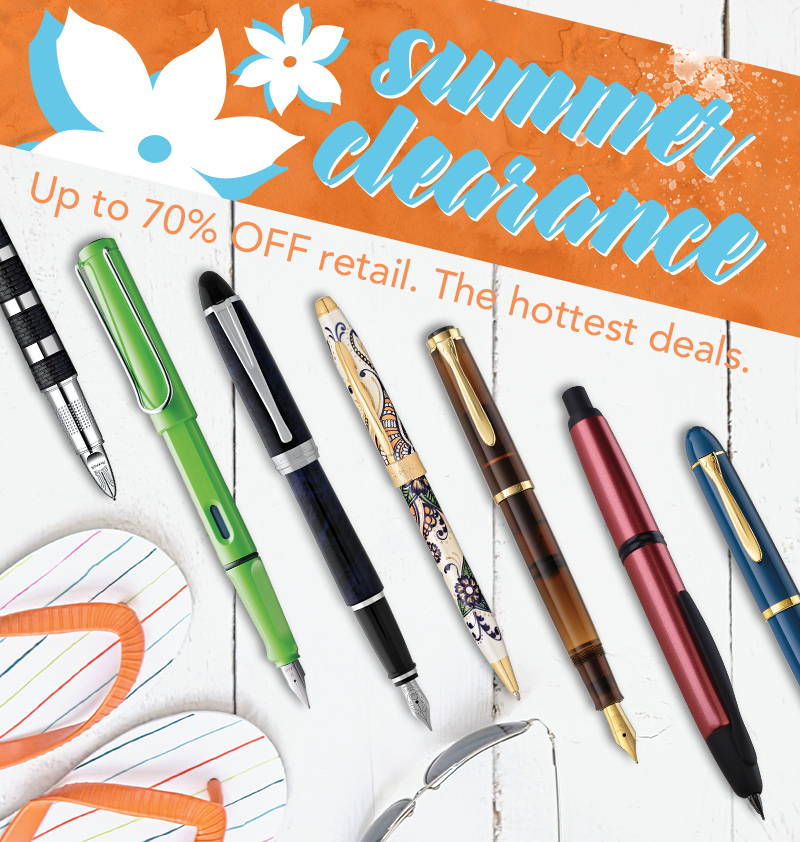 Free pens. How can I get free pens?
Enter the Gold Rush Giveaway below for a chance to be one of four winners! Prizes total over $800 in retail value!