2021 Pen Gift Guide - Holiday & Christmas Gifts for Writers
We know it's not easy to find the perfect gift for everyone on your list. With over 10,000 items on the Goldspot Pens website, it's easy to get overwhelmed when making these choices. For over 20 years, our team has helped pen pals around the world find the perfect writing gift at the right price.
In this 2021 Pen Gift Guide, we hand-picked the finest pen gifts that money can buy. Below, you'll find fountain pens, ballpoints, pencils, inks, cases, gift sets, and accessories that are made by the best brands from around the world. Shop with confidence that all of our writing tools are 100% authentic and obtained directly from the manufacturer or the distributor. We support every brand we represent with a 30-day return policy and courteous customer service.
It doesn't matter how much you want to spend - we have pen gift ideas for every budget. We also treat each customer with respect and appreciation. No matter where you come from, if you're spending $5 or $5,000, if you are new to fountain pens or not, we will take great care to serve you.
If you'd like personal recommendations from the Goldspot Pens team, we're glad to offer our favorite picks. Find out what pens the company owners, Sal & Kiran, would ask for as a gift. You might have seen the monthly Top 5 Pens list on YouTube before. Now you can see all Tom's favorite pen picks here. If you've ordered with us through eBay, chances are that Bella handled your order. Our videographer, Kris, has designed a few pens that became exclusive limited editions. If you've called us, you probably spoke with Asha, who loves chatting about fountain pens. We all put our heads together and created this comprehensive list of amazing pen gifts to browse. If you have any questions, please feel free to reach out and we'll be happy to help you.
Delivery by Christmas Shipping Deadlines:
Economy Shipping - December 15th
Priority Shipping - December 16th
Expedited Shipping - December 22nd
Due to increased custom processing time and delays due to COVID-19 international restrictions, we cannot guarantee the delivery times of any orders shipped outside of the USA.
What Makes a Great Pen Gift?
With so many options of size, shape, weight, color, theme, and nibs, there's a pen for almost everyone. At Goldspot, we carry one of the largest catalogs of writing instruments so you can find the perfect fit. To find a great pen gift, it helps to know the individual's taste. Do they prefer using items with a sleek, modern, functional style or are they more attracted to the traditional, classic, and ornate? What pens do they already enjoy using? What do they love about writing with a pen? The closer you can meet with their handwriting needs, the more appreciated the pen gift will be.
In this pen gift guide, you'll find several collections of writing gifts that will delight and impress. From seasonally-themed pens and inks to starter fountain pen sets and art supplies - there's a great pen gift for all.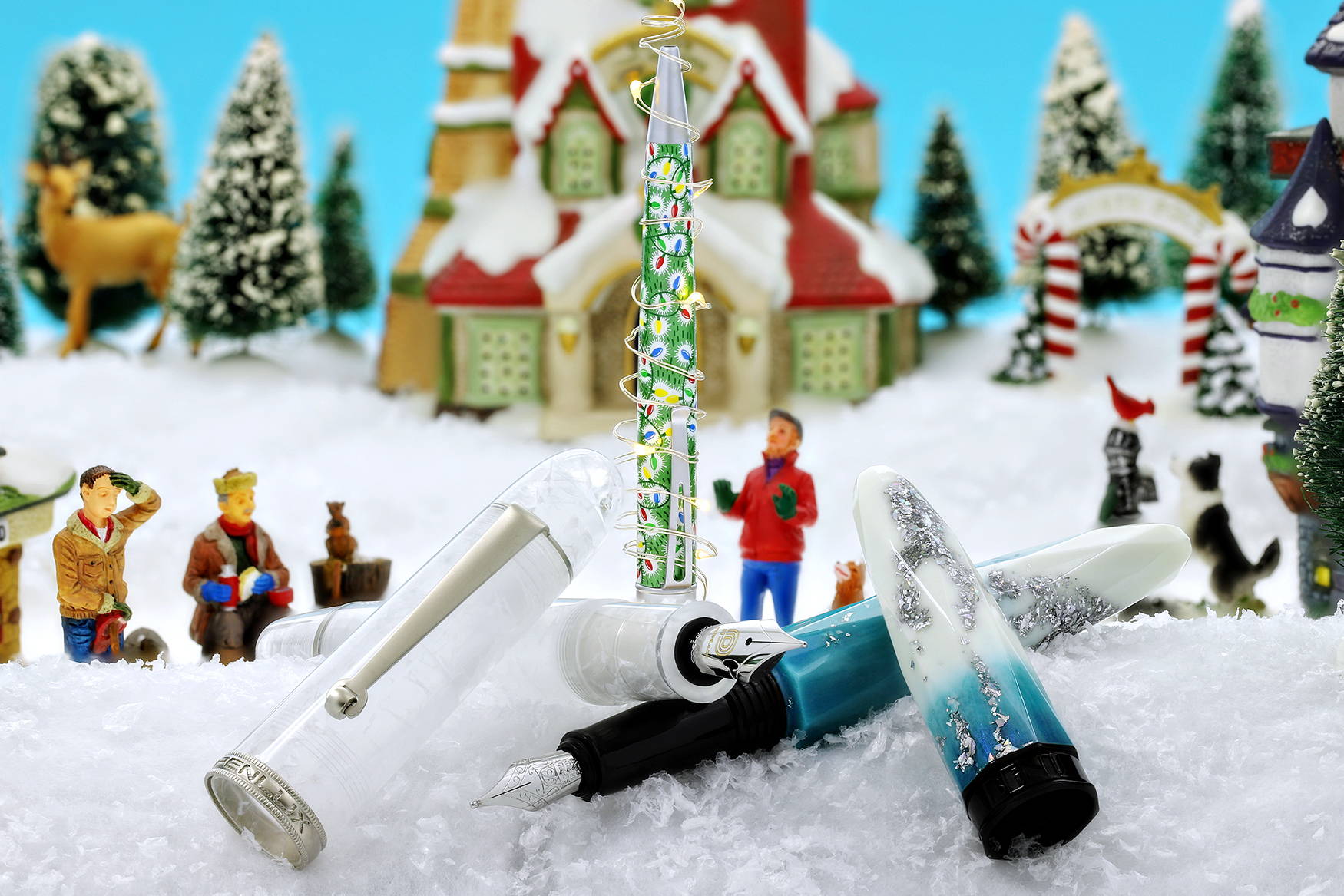 Christmas & Holiday Pen Gifts
Bag this selection of holiday-inspired pen designs from brands like Retro 51, Benu, Penlux, Caran d'Ache, Platinum (Japan), and more!
Fountain Pen Gift Sets
Shop complete fountain pen gift sets exquisitely boxed with the pen, ink and other accessories. These sets make a great gift for the beginner pen enthusiast.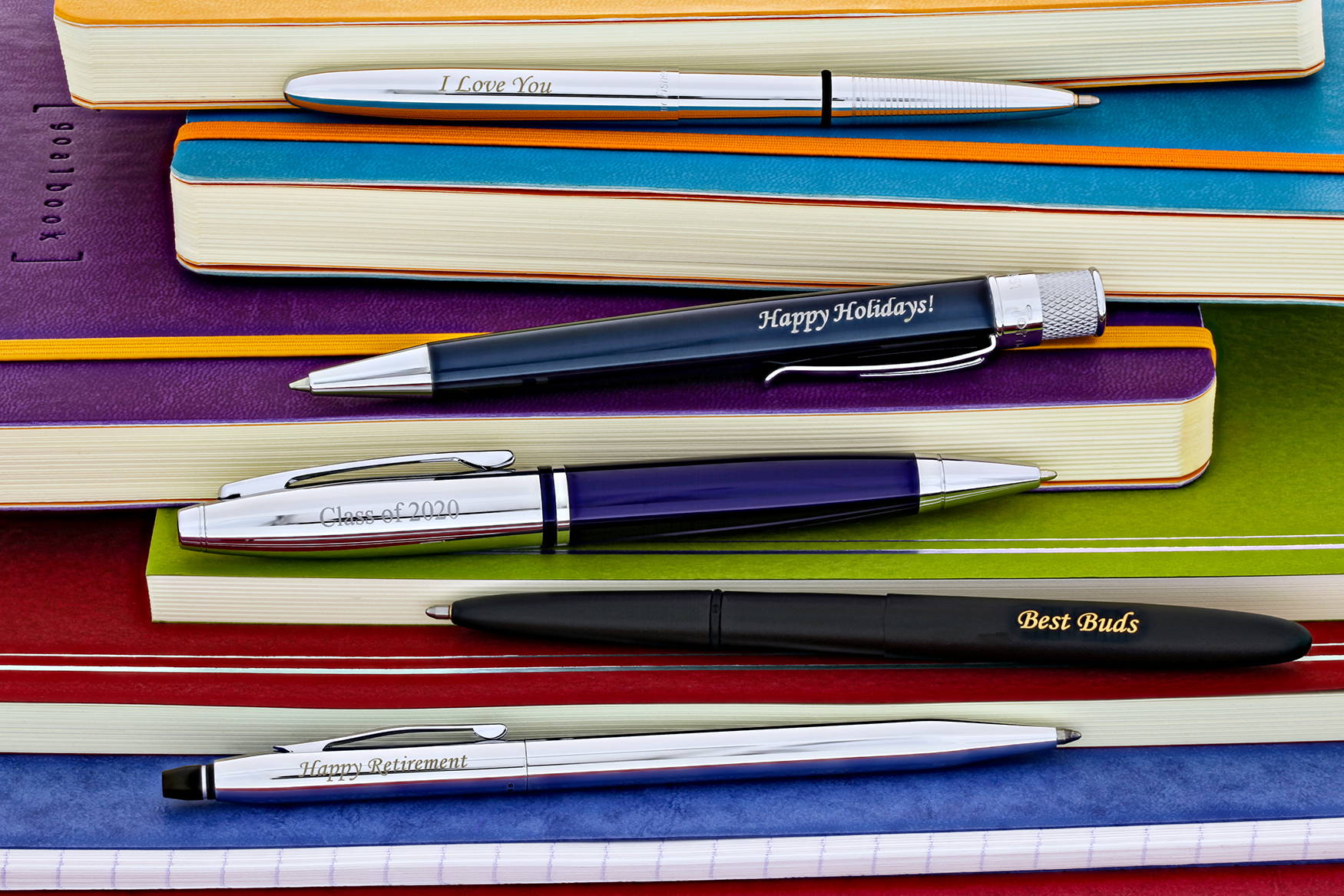 Personalized Pen Gifts
Give an heirloom gift that can be appreciated for decades - if not, for life! Get an engraved pen gift that makes a statement. Please allow an extra 24-48 hours for engraved orders to ship.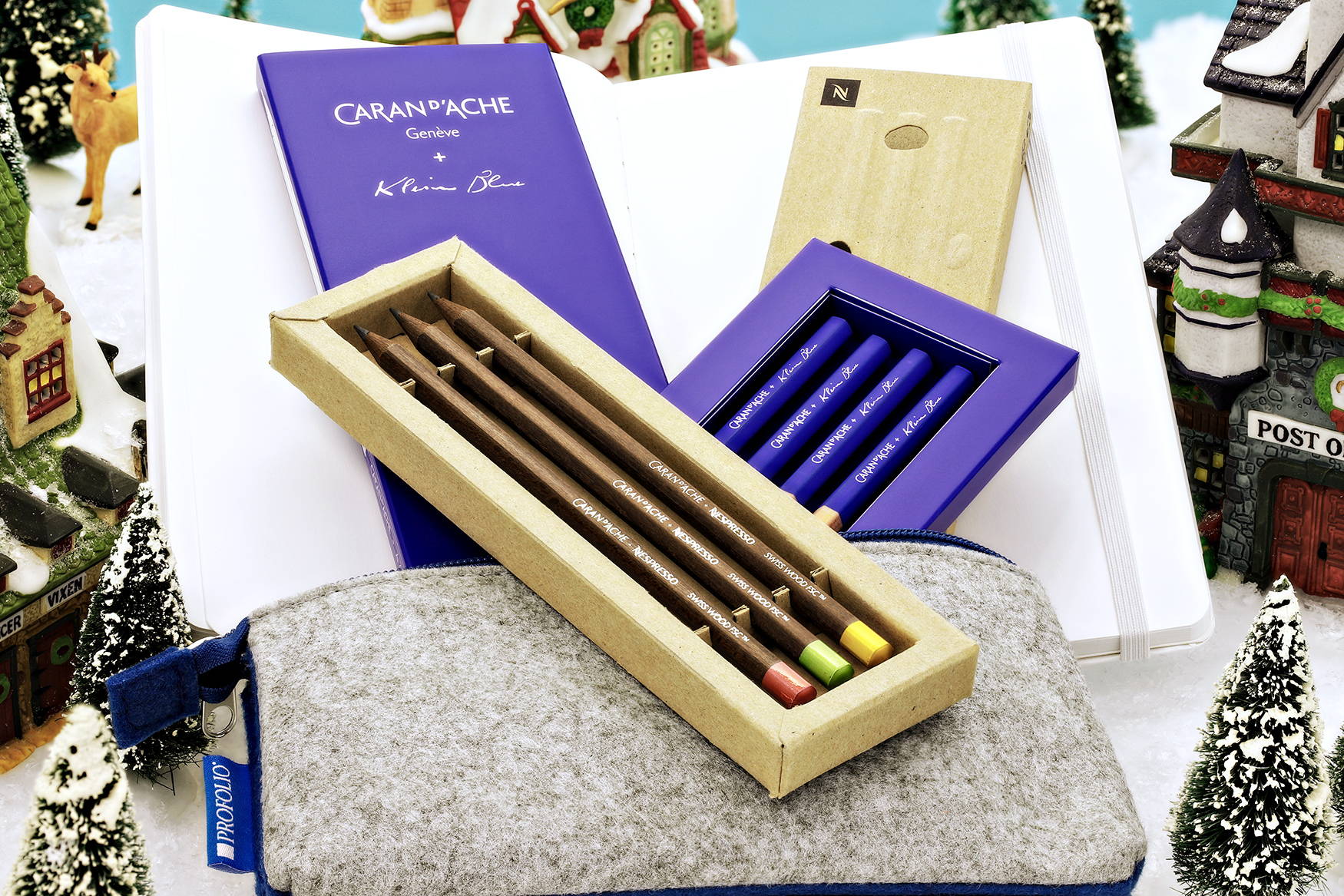 Christmas & Holiday Gifts for Artists
Fine gift ideas for the creative artist. These are tools that will help inspire art as well as create it. Each item is selected for its outstanding quality and durability.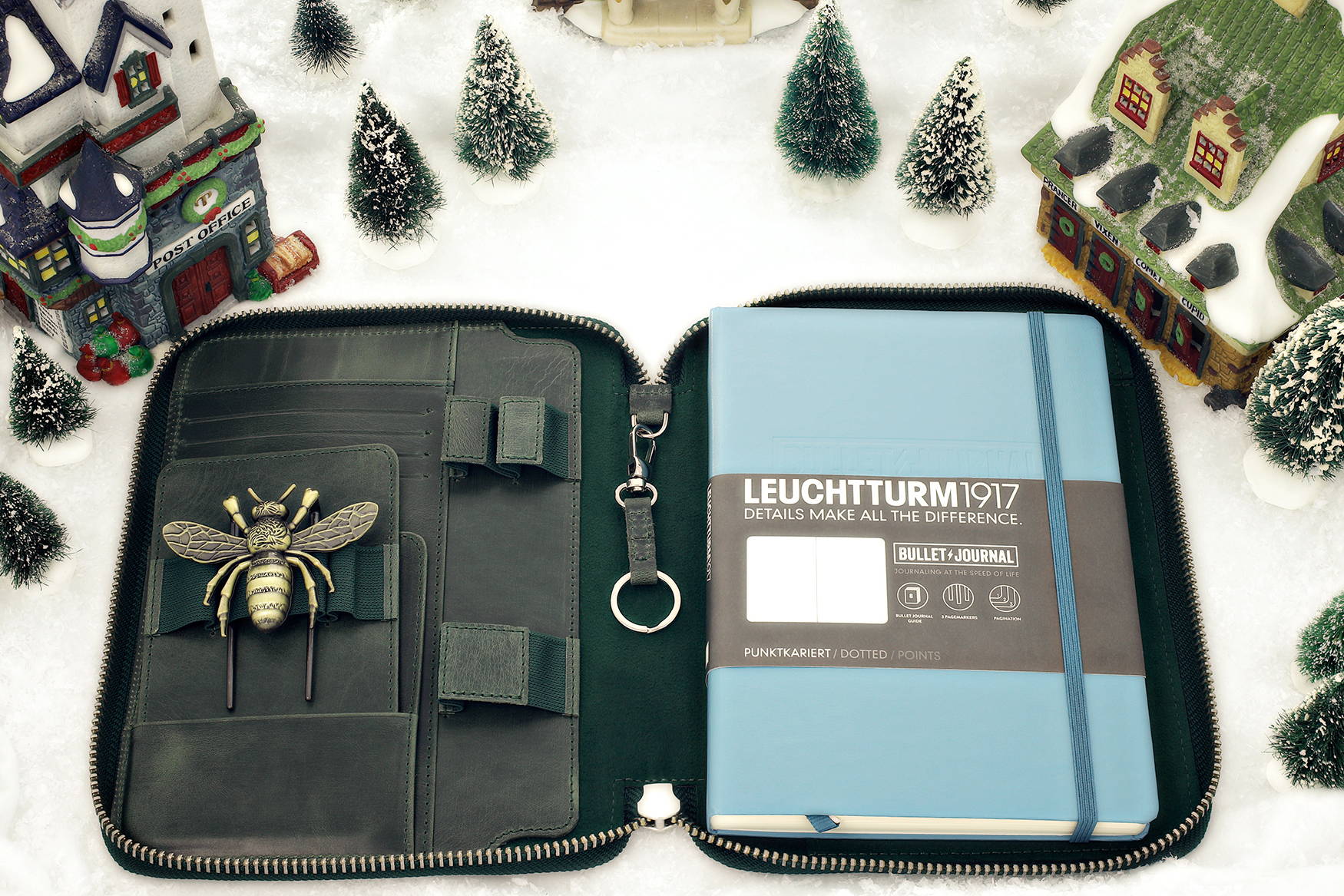 Noteworthy Journal Gifts
Notebooks and journals make a thoughtful, practical gift that inspires one to become their best self through self-reflection, goal setting, and creative expression.
Christmas & Holiday Fountain Pen Inks
Load your fountain pen with a seasonally-themed fountain pen ink. Perfect for writing Holiday cards & personal messages to your loved ones!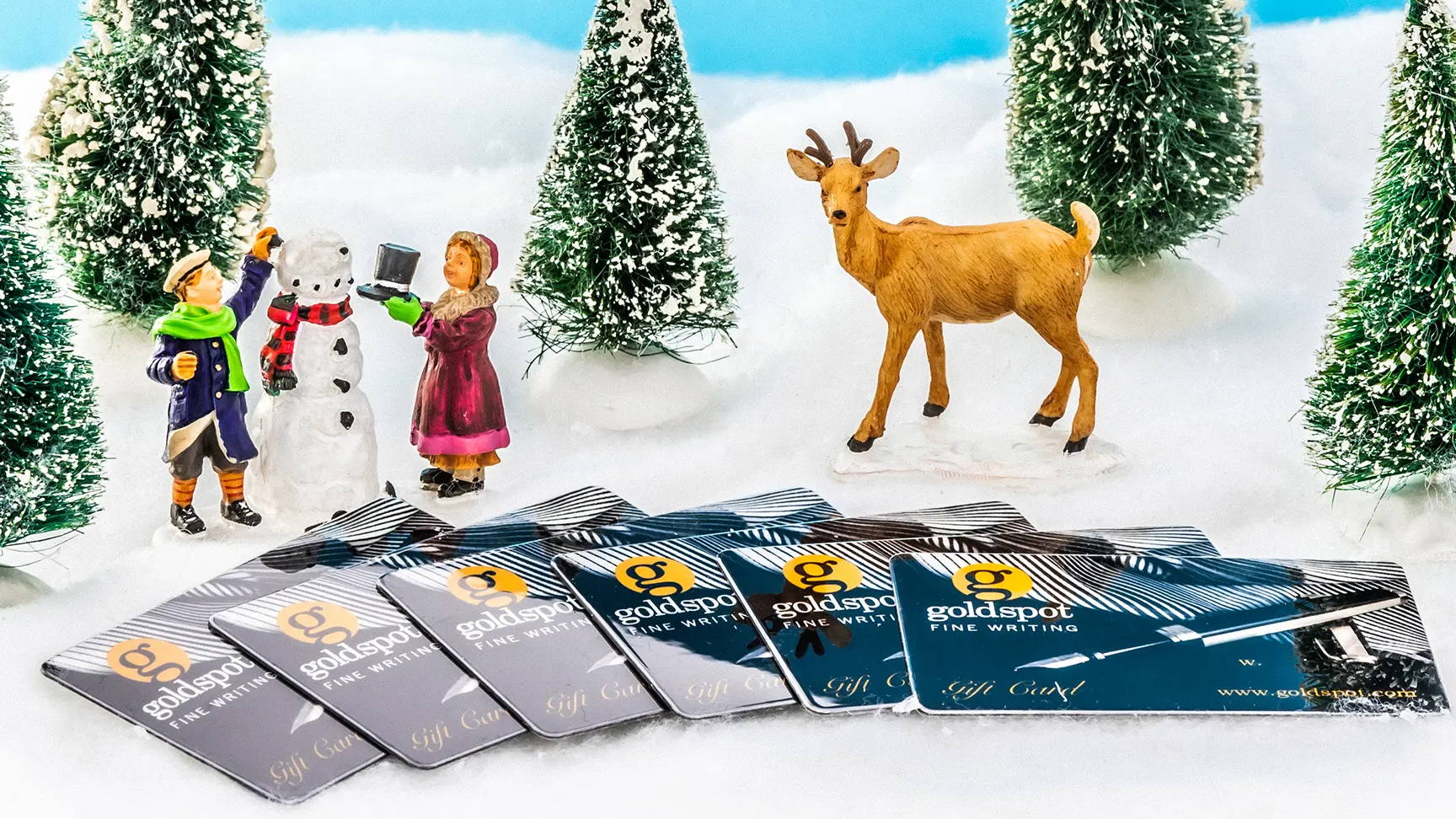 Goldspot Fine Writing Gift Cards
Yes, pen enthusiasts can be a persnickety bunch. It's part of the process in becoming a full-blown pen addict. Thankfully, you can find the perfect one-size-fits-all gift for the writer in your life. Goldspot gift cards are available instantly through e-mail delivery. If you are short on time, the instant digital gift card is the perfect present in a pinch. Goldspot gift cards are available in a variety of denominations, starting at $10, and do not expire.