2017 Holiday Shipping Deadlines
2017 Holiday Shipping Deadlines
It doesn't matter if you're a seasoned veteran of online shopping or if this is your first foray, it wait to receive your package can be nerve-wracking!
We here at Goldspot Pens know that everyone has a deadline in the month of December. Whether you need your order to arrive on Christmas Eve or a week before for your company's holiday party, here is some helpful information on our shipping schedule this month.
First, and most importantly, if you have a rush order that needs to be delivered, engraved and/or gift-wrapped ASAP, please give us a quick call at 1-800-963-7367 once you have placed your order to make us aware of your urgent needs. We are constantly downloading, processing, and shipping throughout each business day. If you require any changes or need to check on your order, please contact us as soon as possible. Calling us by phone will get a hold of us the quickest, but you can also send us an e-mail or message us on Facebook as well.
We always encourage our customers to check off their lists sooner than later. But, we get it. Life gets in the way. Below, you'll find a handy "crunch time" calendar to see when our last call for Christmas packages are. Since Christmas Eve falls on a Sunday, you would need to make sure your package will arrive by Friday, December 22nd by UPS or Saturday, December 23rd for USPS mail.
UPDATED 12/8/17 : Due to reported delays with the USPS, UPS, and FedEx, we have adjusted our deadlines from the original dates below.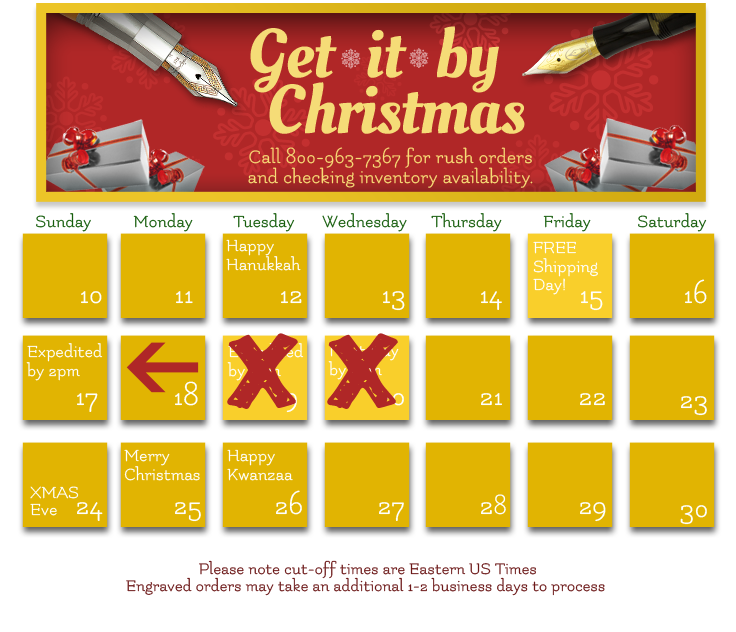 For our Economy Shipping (First class), the last possible date to place an order that will have an expected delivery date of December 23rd would be on December 13th. We'll run a special that week on Free Shipping, so be sure to sign up for our e-mail newsletter so you can be notified when that all goes down.
You can select Expedited Shipping to arrive on or before December 23rd if you place your order by December 17th by 2 PM Eastern Time. If you miss that time, then we would recommend for you to call us at 800-963-7367 and see if there is anything we can do. We can't offer guarantees, but Santa has been known to work miracles before!
Please note that these estimates are based on addresses within the Continental United States. Shipping to Alaska, Hawaii, and US territories will take additional time to deliver and would have to be shipped 2-3 days sooner to allow enough time.
Due to the inconsistent and longer transit times for international deliveries, we cannot list a cut-off date for shipping international orders for guaranteed Christmas delivery.